Fraud victims face call waiting lottery from banks
By Kevin Peachey
Personal finance correspondent, BBC News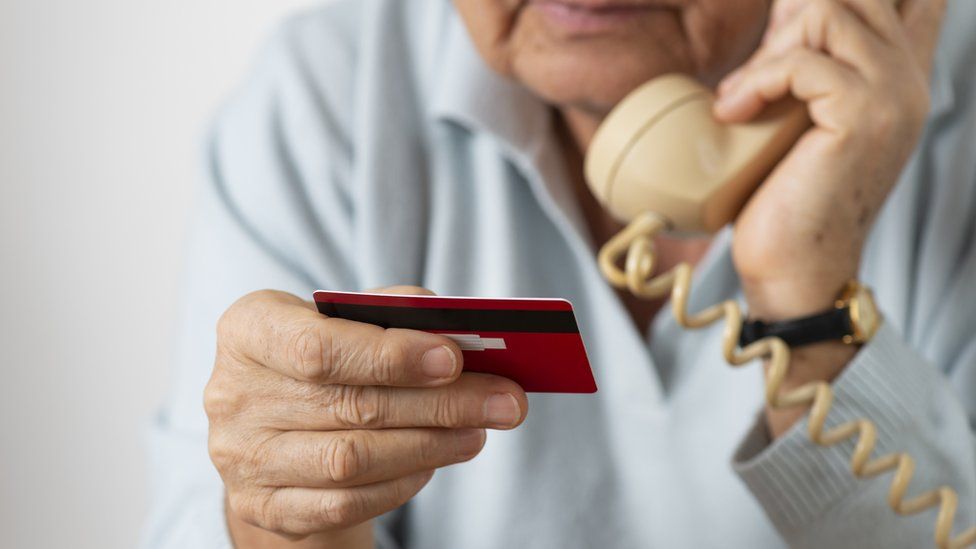 Victims of fraud have no idea how long they will be stuck on the phone trying to report the crime to their bank, an investigation has found.
Average waiting times can range from 16 seconds to more than 30 minutes - depending on the bank, according to tests by the consumer group Which?.
More priority should be given to distressed victims, it said.
The Co-operative Bank, which recorded the worst times in the exercise, said it had faced staff recruitment issues.
It added that retention of workers had also been a problem, as had sickness levels as a result of the pandemic.
Which? tested 11 banks and building societies by calling each of them 12 times at different times of the day over the course of a week in March.
It dialled the phone numbers listed on each bank's website for reporting current account fraud - only some of which are dedicated hotlines. Monzo was excluded as it told people to use an in-app chat function. Six of 11 banks' helplines charged a fee, Which? said.
The call to be answered fastest lasted only 10 seconds. That was made to First Direct - a bank designed to communicate with customers primarily over the phone. First Direct also had the shortest average call waiting time of 16 seconds.
One call to the Co-operative Bank went on for more than an hour before being answered. Its average waiting time was the longest, at 31 minutes and 40 seconds.
Typically, across all the calls to all the banks, the testers from Which? had to wait for 10 minutes and 51 seconds before speaking to someone.
Rocio Concha, Which? director of policy and advocacy, said: "The feeling of being scammed is already stressful enough for victims, without having to wait long periods just to get through to your bank.
"Victims are told to contact their bank immediately because every second counts. Some firms taking longer than half an hour to answer victims' calls shows the lack of support with which certain banks have treated fraud victims for far too long."
Tony Hutt is among those to have faced a long wait trying to deal with a potential fraud on his account.
The 71-year-old had spotted a suspicious transaction on his balance and called his bank to stop what looked like a fraudulent subscription.
After three or four attempts, including waiting for over an hour, he eventually got through. The web-chat system he tried directed him to the same phone number.
"I'm sure I wouldn't have had to wait for more than an hour if I was in a branch," he said.
A spokeswoman for UK Finance, which represents the banking industry, said: "We know the devastating impact that fraud can have on victims and so firms always strive to respond to calls in good time.
"Given fraud cases are often complex an appropriate amount of time needs to be spent on each call so customers get the right support, which can have an impact on call times."
Hundreds of millions of pounds a year are stolen in so-called authorised push payment fraud - when victims transfer money to a business or organisation they believe to be genuine but is actually a con-artist.
Some victims have got their money back from banks, while others have lost out.
Proposed legislation in the Queen's Speech should mean there is a consistent approach to refunds in the future. It will be up to the Payment Systems Regulator to frame those rules, after banks were unable to do so between themselves.
At present, some banks have signed up to the 159 pilot scheme. It encourages customers to hang up from a phone call that might be a scam, for example one that asks for personal information or money, and to dial 159 to speak to their bank.
Citizens Advice urges anyone who believes they are the victim of a scam to protect from further loss by resetting passwords, reporting the issue to their bank immediately - and possibly to the police on the 101 number - and checking if they are entitled to the money back.