Rishi Sunak warns of tough few months as inflation soars
By Michael Race
Business reporter, BBC News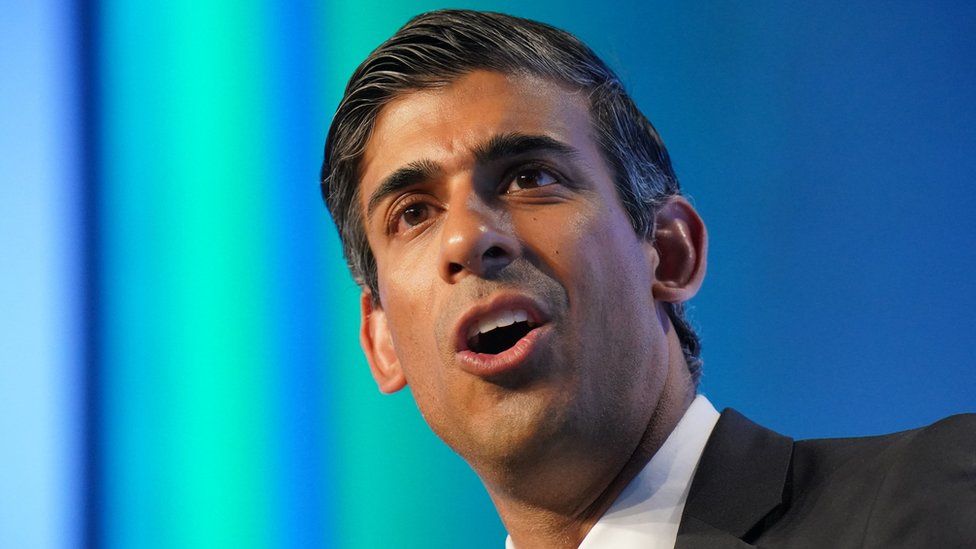 Chancellor Rishi Sunak has warned the next few months "will be tough" after it was revealed prices are rising at the fastest rate for 40 years.
In a speech to businesses, he said the government was "ready to do more" to help households facing soaring energy, fuel and food costs.
He also said he would cut taxes for businesses to encourage them to invest.
It comes as a think tank said the poorest were being hit hardest by steep rises in energy bills.
Inflation is the rate at which prices are rising. For example, if a bottle of milk costs £1 and that rises by 9p, then milk inflation is 9%.
April's jump in inflation came as millions of people saw an unprecedented £700-a-year increase in energy costs last month.
At the annual CBI dinner, the chancellor told businesses the economic situation was "extremely serious", with the country facing "a perfect storm of global supply shocks", including the impact of the war in Ukraine and lockdowns in China.
"There is no measure any government could take, no law we could pass, that can make these global forces disappear overnight," he said.
"The next few months will be tough. But where we can act, we will."
However, he added that he "cannot pretend" it will be easy to cut costs for families.
Mr Sunak also called on businesses to boost investment and training in order to grow the economy and help ease the cost of living crunch.
"And as I've said previously, our firm plan is to reduce and reform your taxes to support you to do all three of those things," he said.
"That is the path to higher productivity, higher living standards, and a more prosperous and secure future."
The chancellor and business leaders agreed on one thing - the economy is taking a turn for the worse.
Mr Sunak conceded things are going to be tough in the months ahead and the CBI president Karan Bilimoria said firms were worried about stalling growth, rampant inflation and high taxes.
But while the chancellor said his response to the cost of living crisis would evolve, business leaders said waiting for an autumn Budget would be too late.
The chancellor challenged business to do their part by increasing investment levels which were lower than other developed economies.
Business leaders at the event felt there were mixed messages from the government.
The president of the CBI pointed to the highest tax burden in 70 years with corporation tax and national insurance contributions set to rise further next April.
With business and consumer confidence evaporating fast, their message was if you are going to do something, do it now.
Around three quarters of the rise in inflation in April came from higher electricity and gas bills, according to the Office for National Statistics (ONS).
A higher energy price cap - which is the maximum price per unit that suppliers can charge customers - kicked in last month, meaning homes using a typical amount of gas and electricity are now paying £1,971 per year on average.
Fuel prices have also surged, with the RAC motoring group warning on Wednesday that petrol and diesel prices have hit new records of £1.68 and £1.81 per litre respectively.
Up until now households of all incomes had faced similar rates of inflation, but the poorest are now being hit hardest by rising prices because they have to spend far more of their household budgets on gas and electricity, the Institute for Fiscal Studies said.
Retail Economics, a research consultancy, said the poorest people were experiencing a drop of £59 per month in their discretionary spending budgets compared to this time last year.
Citizens Advice said "the warning lights could not be flashing brighter" and the government needed to offer households more support.
"There are desperate stories behind these figures," Dame Clare Moriarty, the charity's chief executive, said. "People washing in their kitchen sinks because they can't afford a hot shower; parents skipping meals to feed their kids; disabled people who can't afford to use vital equipment because of soaring energy bills."
Health analyst Cheryl Holmes, a mother-of-two, said she was trying to keep her living costs "as low as possible" by spending less on food and clothes, and cancelling TV subscriptions.
"I've already for several years been turning the lights off in each room, setting the heating on a timer, making sure I'm using a full dishwasher and washing machine and I'm running out of ideas.
"It's a battle and it seems like there's not really much more that I can do."
The Bank of England has warned the UK's cost crunch could leave the country on the brink of recession, with inflation peaking at over 10% later this year due to further expected rises in energy bills.
The Bank has raised interest rates four times since December to try to cool prices, but MPs have accused it of not doing enough.
However the UK now has the highest rate of inflation (9%) of any G7 country, including Germany (7.4%) and France (4.8%).
How have prices affected your day to day spending? If you have a small business, how has it been impacted by the price hikes? Email: haveyoursay@bbc.co.uk.
Please include a contact number if you are willing to speak to a BBC journalist. You can also get in touch in the following ways:
If you are reading this page and can't see the form you will need to visit the mobile version of the BBC website to submit your question or comment or you can email us at HaveYourSay@bbc.co.uk. Please include your name, age and location with any submission.