Love Island's eBay styling could change second-hand buying habits
By Star McFarlane
BBC Business reporter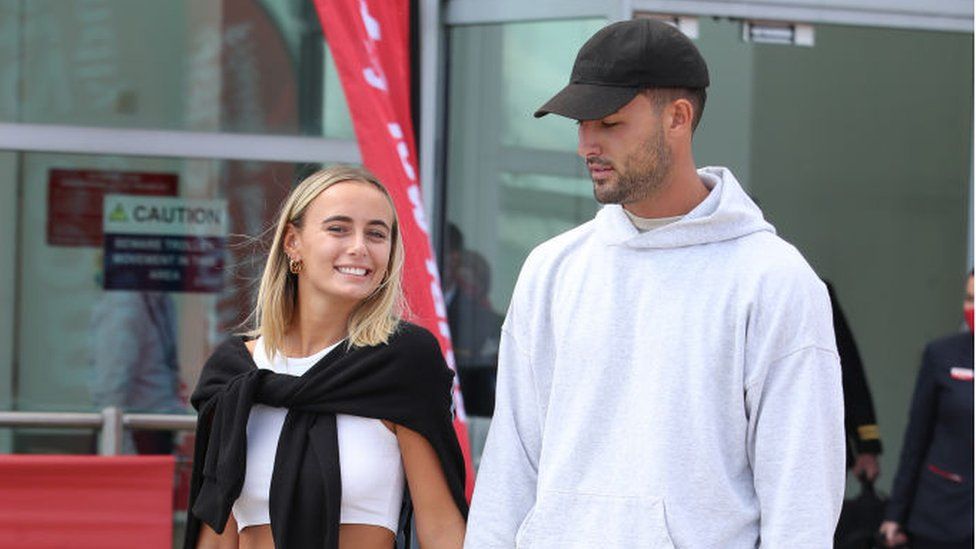 Love Island's decision to dress contestants in second-hand clothes from eBay could spark a change in viewers' shopping habits, fashion experts say.
The show had attracted criticism from sustainability advocates for promoting fast fashion with previous sponsors like Missguided and I Saw It First.
But a new partnership with eBay UK could change the way its viewers shop, said fashion consultant Natalie Binns.
The show's bosses said it was striving to be "a more eco-friendly production."
Ms Binns, a fashion buying and sustainability consultant, said promoting second-hand clothing on the popular TV show would make viewers think and shop differently.
"This is going into the homes of normal people who may have never considered the impact of their clothing before," she told BBC Radio 4's Woman's Hour.
"Regardless of whether [viewers] are ready to make a change, there's going to be a change forced upon them as previously you could buy what [contestants] were wearing immediately after or even during the show whereas you're not going to be able to do that anymore."
In the past, clothes worn by contestants have sold out in minutes on fast fashion retailers' websites.
This year, viewers will be able to access a "shop the look" tab via the Love Island app or eBay website where they can buy similar items to those seen on screen.
Although eBay sells both new and second hand clothing, it confirmed that anything sourced from eBay for the purpose of the campaign will be second hand.
Contestants in this year's show will dress in a mix of new and preloved clothing. Jemma Tadd, head of fashion at eBay, said this reflected the way young people in particular are increasingly choosing to dress.
"Our goal with this partnership is get people to consider switching up their shopping habits with pre-loved fashion - whether that's taking baby steps and adding one or two items to your wardrobe, or selling something you no longer wear to make way for something else," she said.
Dr Amna Khan, senior lecturer in consumer behaviours and retail at Manchester Metropolitan University, said the move was in response to the changing values of shoppers.
"The perception of preloved clothing has changed. Where it was once a case of only buying it if you couldn't afford anything else, it's now become trendy to wear second-hand," Dr Khan explained.
Research from eBay UK showed it saw one sale of second-hand clothing for every second of 2022.
Dr Khan went on to say that the cost of living had played a big part in the popularity of buying second hand.
"Consumers have never had to think that buying clothes are a luxury," she said. "Now they are having to reconsider the way they approach shopping and how they can get the most for their money."
Many former contestants of the show have also gone on to high-profile partnerships with fast fashion brands.
Molly-Mae Hague became creative director of Pretty Little Thing, Maura Higgins signed with Boohoo and Amber Gill with MissPap - further emphasising the show's ties to the fast fashion industry.
The announcement of the partnership with eBay UK is a move to make the reality TV show "a more eco-friendly production" according to Love Island's executive producer Mike Spencer.
The impact of fast fashion on the environment is widely documented with Oxfam reporting that 13 million items of clothing goes to UK landfill every week.
According to the European Environment Agency in March this year, clothes use in Europe had on average the fourth highest impact on the environment and climate, exceeded only by food, housing and transport.
Eve Williams, chief marketing officer at eBay, said the firm is hoping to "inspire the nation to think differently and make more conscious choices" when it comes to their wardrobes.