'Rising prices are harder on my money than the pandemic was'
By Noor Nanji, Jennifer Meierhans & Osob Elmi
Business reporters, BBC News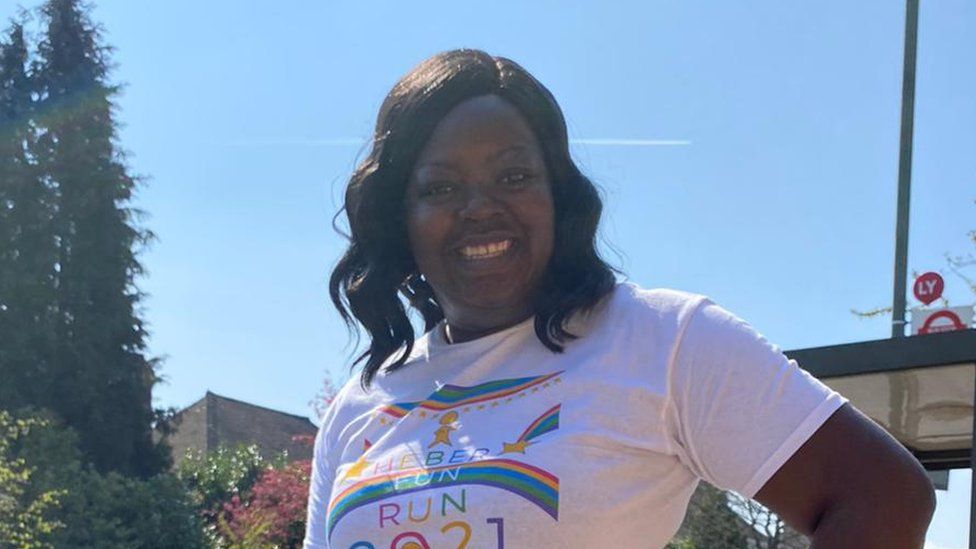 Single mum Faith Angwet struggled to make ends meet during the pandemic but says the cost of living crisis has hit her even harder.
"I was starting to feel like I was getting to a good place but now the price of everything has gone up it has pushed me right back," she said.
Ms Angwet is one of an estimated 1.5m UK households that will struggle to pay food and energy bills in the next year.
That's according to research which also predicts a UK recession in 2022.
The National Institute of Economic and Social Research (NIESR) has also warned that a combination of rising prices and measures announced in the Chancellor's Spring Statement - such as the decision not to scrap a planned rise in National Insurance tax - are hitting the poorest households hardest.
Ms Angwet, 36, from Southwark in south London, is a single mother-of-two who has been unemployed since having her daughter two years ago.
"In the pandemic if you couldn't afford something you could shop around or buy in bulk. But now you can't afford it everywhere. And if I am able to buy in bulk, if the kids see it they want to eat it now. So I find myself hiding things from them so I can bring it out another day like magic."
Things have got so bad that Ms Angwet sometimes forgoes her prescription for blood pressure medication so she can afford to buy formula and nappies for her daughter.
As she is unemployed, she cannot get any other form of benefit or financial help from the government so has turned to food banks for support.
She said her five-year-old son's free school meals were a "huge help" and that she was grateful for nappies and clothes from Little Village baby bank.
"It's got to the point that I turned to a payday loan, but they want you to borrow more than you need. We can't always go to the food bank, it's a vicious cycle," she said.
Inflation - the rate at which prices rise - is at a 30-year high, as the Ukraine war drives up fuel and energy prices.
The Bank of England has warned inflation might reach 10% within months.
The think tank urged the government to raise Universal Credit by £25 per week between May and October, which would cost around £1.35bn, and give £250 each to 11.3 million lower income households.
"Without this targeted support we expect a further increase in extreme poverty," the think tank said, with about a quarter of a million households sliding into extreme poverty, taking the number to about a million.
About half a million households would "face the choice between eating and heating" without these payments, it said, adding that the chancellor had a reported £20bn of "headroom" for government spending that could be used to cushion the shock to income.
The think tank predicted that inflation would average 7.8% in 2022 and will remain above 3% until 2024 - above the Bank of England's 2% target.
At the same time, economic growth is set to slow.
While NIESR forecast that UK economic growth in 2022 would increase by 3.5% on average, it predicted a fall in the final two quarters of the year.
This would push the UK into a recession, which is two consecutive quarters of economic decline.
Meanwhile, government policies are set to leave households with even less disposable income, according to NIESR.
It forecasts household income when adjusted for inflation will fall by 2.4% in 2022, along with a small rise in unemployment next year.
Tony Danker, director general of the CBI, which represents big businesses, told the BBC's Today programme that companies were suffering too.
He said inflation, higher energy prices, labour shortages and the war in Ukraine had made firms "pause before investing", and that this was stopping them "creating jobs and paying good wages".
He said the government needed to create "reasons to invest" such as subsidising the shift to clean energy or cutting business rates for shops.
"If we wait... the economy will end up in more trouble," he added. "Get firms investing now because that will stop us facing dire consequences later on."
Professor Stephen Millard, NIESR's deputy director for macroeconomics, said: "Although the war in Ukraine is fundamentally a human tragedy, it has resulted in another supply shock for the UK economy: pushing down growth and pushing up on inflation."
He added: "We need fiscal policy to loosen and monetary policy to tighten if the UK economy is going to sail safely through these treacherous seas."
A Treasury spokesperson said the country has had a "strong economic recovery" from the pandemic but acknowledged that these are "anxious times", and said the government is taking action to support households.
"This includes a tax cut of over £330 a year for the typical employee, lowering the Universal Credit taper rate to help people keep more of the money they earn, and providing millions of households with up to £350 each to help with rising energy bills," the spokesperson said.
"Public debt is at the highest levels since the 1960s and rising inflation is pushing up our debt interest costs, which means we must manage public finances sustainably to avoid saddling future generations with further debt."
Shadow chancellor Rachel Reeves said the government should bring in an emergency budget "urgently", adding: "With a one-off windfall tax on oil and gas producer profits we can cut household bills by up to £600 and support businesses through the cost of living storm."
It comes as NIESR separately forecast that global economic growth would be 1% lower, or about $1.5tn, at the end of 2022, due to the Ukraine war.
Please include a contact number if you are willing to speak to a BBC journalist. You can also get in touch in the following ways:
If you are reading this page and can't see the form you will need to visit the mobile version of the BBC website to submit your question or comment or you can email us at HaveYourSay@bbc.co.uk. Please include your name, age and location with any submission.