Post Office strike: Workers to walk out over pay dispute
By Beth Timmins
Business reporter, BBC News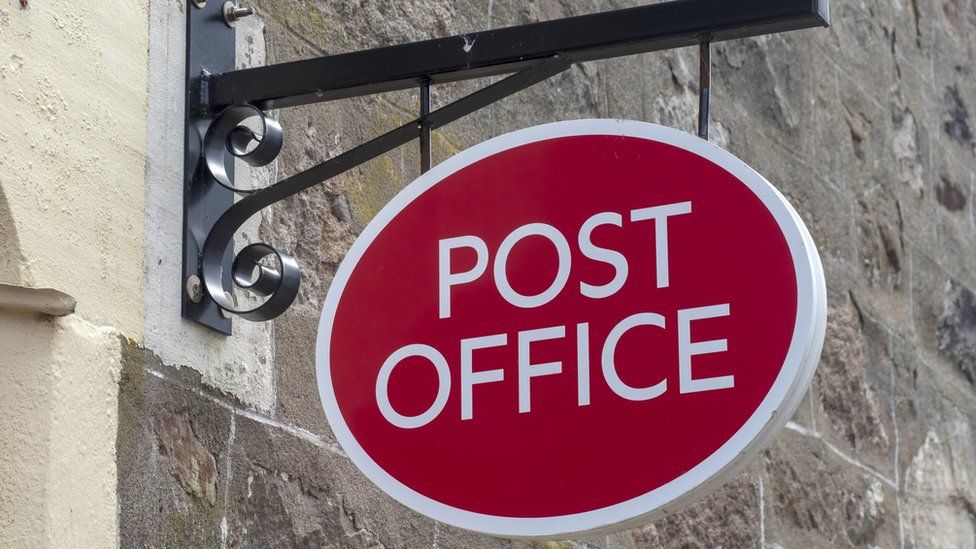 Thousands of Post Office workers are on strike on Saturday over a pay dispute.
Some 114 Crown Post Offices - those directly owned by the company - will close for a 24-hour period, while sub-post offices will have no cash deliveries or collections.
The Communication Workers Union are angry over a pay freeze in 2021-22 and a 2% rise for the following year.
The Post Office said the vast majority of its 11,000 branches were not covered by the strike and will open as usual.
It said in a statement: "There are 114 branches - typically in city centres - across the UK that are directly managed by Post Office.
"Posters are displayed which show where the nearest alternative branches are located. Customers can also find more information at postoffice.co.uk/branch-finder."
The branches impacted are larger ones - often located on the high street - which are directly owned by the Post Office itself.
Around 3,500 members of staff are involved in the dispute. A strike already took place at the start of May - and there are further walkouts planned for Monday.
The CWU said that Post Office managers had been insisting on a pay freeze for 2021-22 "despite the company generating a profit for the last two years during the pandemic from the efforts of their key worker employees".
"Insultingly, Post Office has offered just a 2% pay increase - plus a £250 one-off payment (pro-rata for part-timers) for 2022-23," a spokesperson from the CWU added.
The union said this offer was not enough to keep up with rapid increases in the cost of living, which is currently rising at 7% a year.
The CWU said its members voted by 97.3% on a 70.2% turnout to take strike action.
Post Office Postal Assistants - a significant sector of the workforce - currently earn less than £24,000 per year, the CWU continued.
If management strictly followed government policy, these workers would have received a wage increase of at least £250, yet they have not.
Union assistant secretary Andy Furey said: "Post Office management are insisting they are simply following government policy on public sector pay policy.
"But they have repeatedly contradicted themselves, and have also said that it's their decision to impose a pay freeze.
"We know Post Office has turned over huge profits in these past few years - management can afford to provide our members with a reasonable pay increase if they wanted.
"This is not an issue of affordability. This is about power play from a management that is needlessly antagonising its key worker employees."
The union said it had a mandate for more strikes in coming weeks.