Jersey court seizes $7bn of Roman Abramovich's assets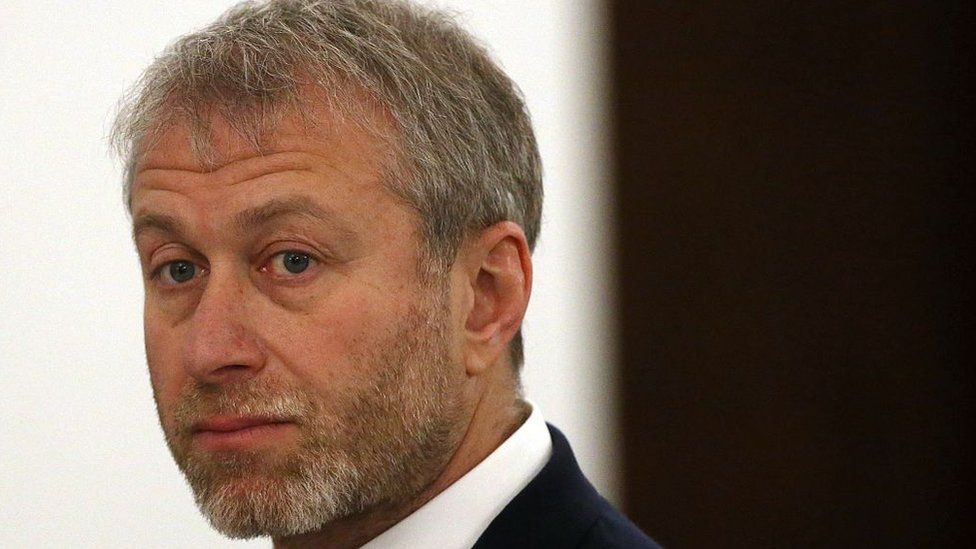 Russian billionaire Roman Abramovich has had $7bn (£5.4bn) of assets linked to him frozen by a Jersey court.
On Tuesday, Jersey Police searched premises suspected to be connected to Mr Abramovich's business activities on the island, Jersey Law Officers' Department said.
The billionaire is on the UK sanctions list over Russia's war in Ukraine.
Channel Island Jersey follows UK policy and imposes sanctions on the same people.
"The Royal Court also imposed a formal freezing order on 12 April, known as a saisie judiciaire, over assets understood to be valued in excess of US$7bn which are suspected to be connected to Mr Abramovich and which are either located in Jersey or owned by Jersey incorporated entities," the Jersey Law Officers' Department said.
Mr Abramovich was among several wealthy Russians added last month to the UK and European Union sanctions lists over Russia's invasion of Ukraine, and governments have since been taking action to seize yachts and other luxury assets from them.
The billionaire tried to sell Chelsea Football Club in March, but that process was taken out of his hands by the government after he was sanctioned.
Earlier this month, the Caribbean nation Antigua and Barbuda said it was willing to help the UK seize yachts owned by Abramovich.
Superyachts linked to the businessman, together worth an estimated $1.2bn, have also been docked in southwest Turkey, outside the jurisdiction of the EU and the UK.
Analysis by Ben King, business reporter
Mystery surrounds Chelsea investment.
The Jersey Royal Court has frozen a staggering $7bn of Roman Abramovich's assets in Jersey.
And one company in particular will be of interest to football fans.
Camberley International Investments, based in the Jersey capital St. Helier, has loaned £1.4bn to Fordstam Ltd, the company through which Roman Abramovich owns Chelsea FC, according to its latest accounts.
That's money which has helped to fund Chelsea's triumphs on the pitch.
Camberley International Investments is described in the accounts as a 'related party' - suggesting it could also be controlled by Mr Abramovich.
We don't know for sure if it is among the assets frozen by the Jersey court. But if it is - what will that mean for the ongoing sale of the Chelsea?
Mr Abramovich has previously said that he won't seek for the loan to be repaid. But if the company which made the loan were to be frozen, the decision may be out of his hands.
The Jersey Law Officers' department gave no detail on what would happen to specific assets.
It will come under a lot of pressure to fill in some of the blanks in coming days.