Are paper football programmes on their way out?
By Bill Wilson
Business reporter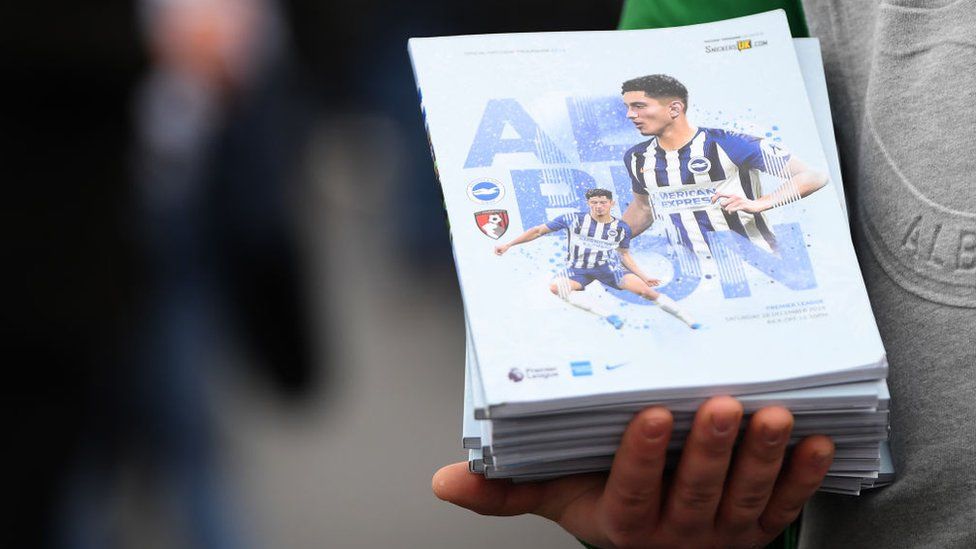 For a great many football fans an essential thing to do when going to watch a game is to buy the match-day programme.
Yet as Paul Matz, editor of collectors' magazine, Programme Monthly, admits, some people now wonder if paper programmes are set to become a thing of the past.
"Some suggest that the days of the printed programme are numbered," he says. "I don't agree, although they will be if professional clubs do not recognise the potential of the programme, as well as the role it plays as a major part of the match-day experience."
Football, like most parts of society, has seen lasting changes as a result of the Covid-19 pandemic.
One of those changes was that with fans not being able to attend games during lockdowns, sales of match-day programmes fell sharply. This was because only a very limited number of supporters made the effort to arrange to get them sent out in the post.
On other occasions, clubs have had to pulp thousands of copies of programmes after games were postponed at short notice due to a coronavirus outbreak.
As a result, a growing number of teams in England and Scotland have now stopped producing physical programmes. These include Hibernian from the Scottish Premiership, and five sides from the Championship, England's second tier - Blackburn Rovers, Bristol City, Derby County, Reading, and Swansea City.
Hibernian and Derby have instead moved to a regular club magazine, and Blackburn, Bristol City and Swansea have switched to publishing online versions of the matchday programme.
Mr Matz says the problem is that the days when printed programmes were the only way for clubs to directly communicate with fans are long gone. In this ever more digital world teams now have websites, numerous social media accounts, plus even their own TV stations for the largest clubs.
However, he points out that the vast majority of clubs are still selling physical programmes. "Big championship clubs like Blackburn and Swansea going over to digital programmes has made headline news, but the fact is the majority of clubs still put out hard copies."
Teams in the English Football League could choose to stop selling physical programmes after a 2018 ruling that ended their obligation to do so.
Swansea City went down the digital-only route from the start of the current 2021-22 season. The previous two seasons were transitional ones, with the Welsh club introducing a digital programme, but also physical copies for those supporters wishing to buy them.
Now, the digital programme is available for fans to download free from the club website before home games. Season ticket holders and supporters club members also receive it by email.
The club says going digital offers "all the elements provided by a printed programme", plus the added ability to link to highlights clips and other video.
A club spokesman adds it also removes printing costs, while later digital deadlines allow more up-to-date information, and there is also no need to discard printed programmes if a game is postponed.
He adds that the move to a digital programme was mainly precipitated by a decline in printed sales, and income, each season over the past decade. Although sales did go up in their first, historic, Premier League season, in 2011/12.
"With most things being online now, we felt that it was the right move for us as a club, and we have plans to improve our digital offering even further next season and strive to give our supporters as much quality content as possible," says the spokesman. "[Yet] there is no doubt that some supporters would prefer a physical copy, as such items are considered collectables."
For those Swansea fans there is good news, as at the end of this season they will be able to buy a complete physical set of the 2021/22 home programmes for £69.
David Cottrell, programme editor for Premier League club Liverpool, says "people still have this desire for a printed programme, it is our staple bread and butter".
He adds: "Programmes are still popular and more so when the team is doing well, when we see big increases in sales.
"Also, when it is a big historic occasion, people want something they can hold, touch, flick through. You might not get that tangible feeling on the internet or on a phone."
New Economy is a new series exploring how businesses, trade, economies and working life are changing fast.
While Liverpool does also provide the programmes digitally, Mr Cottrell says that the extensive historical content - including archive photos - found in many programmes nowadays, as well as longer-form interviews, work better in print.
Mr Cottrell, who works for publisher Reach Sports, adds that print numbers vary according to visiting opposition, with more produced for Everton or Manchester United than Brighton or Norwich.
Two memorable Liverpool programmes from recent years were for the 2019 Champions League semi-final against Barcelona, with its mural-style cover, and the sell-out programme for the last home match of the 2019/20 championship-winning season, against Chelsea. The latter sold 60,000 initially and had a second print run.
Mr Cottrell adds: "We can't compete with the speed and accessibility of social media on breaking news, but we can think differently about what we put in the programme, and we have two exclusive columns - by manager Jurgen Klopp and captain Jordan Henderson."
The future of the printed football programme may be more secure at the non-league levels of the game, where clubs get gates in the hundreds or thousands.
Elsa Jones has been marketing manager of Isthmian League club, Hanwell Town, for the past two years.
As well as overseeing a paper programme for every game, she also produces the west London club's digital presence on Twitter, Facebook, Instagram and WhatsApp.
The club's programme print run varies from between 75 and 100 for each game, depending on the estimated away support.
"Nine out of ten times we sell out, or we will have maybe a maximum of five programmes left," says Ms Jones.
"I know there is talk of a move towards [a] digital programme, and they are becoming a lot more popular. But I think - if you are going to produce the programme, why not print it as well?"
She says that as well as the programme promoting Hanwell Town's presence and history, it also brings in a valuable source of revenue through advertising.
The only downside the club has experienced with paper programmes, was with four postponed home games during the 2021-22 winter. It meant the club was left with unused printed programmes from those games.
"We can't afford to throw them in the bin and print new programmes, so we put inside an updated insert sheet, and put a sticker with the new match date over the old one," Ms Jones says.
Programme Monthly's Mr Matz says he is upbeat about the future of printed programmes. "Clubs are thinking more about programme content, and I think they recognise there is still a strong demand for them."