Full fuel duty cut not being passed on to drivers
By Tom Espiner
Business reporter, BBC News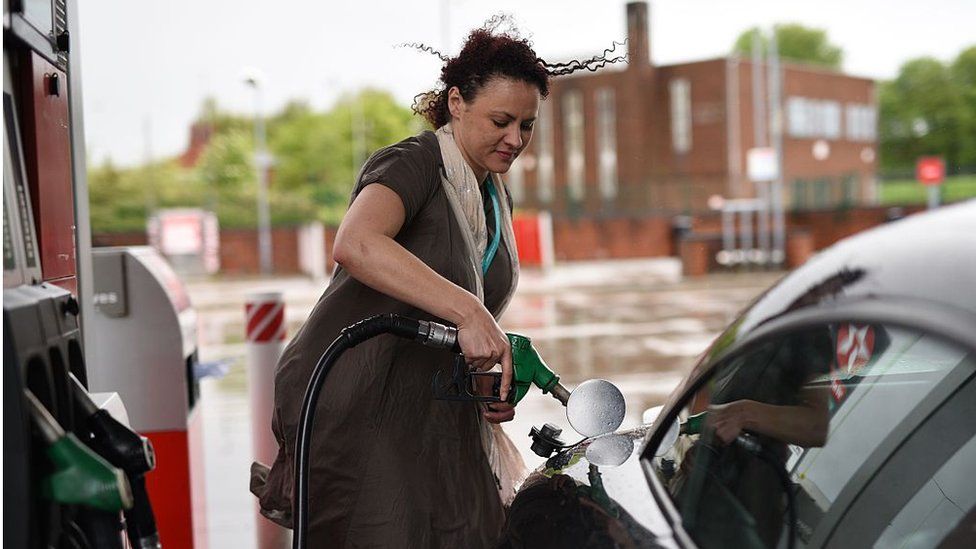 Average petrol prices are not fully reflecting a recent cut in fuel tax, according to motoring group the RAC.
While fuel duty was cut by 5p per litre last week, petrol has fallen less than 4p, and diesel by less than 3p, it said.
Big retailers such as supermarkets and oil giants Shell and BP have already passed on the tax cut.
But smaller retailers said last week that it would take time for the fuel duty cut to be passed on.
The price of fuel was rising rapidly in the UK even before Russia invaded Ukraine, as economies started to recover from the Covid pandemic.
But the war has pushed up crude oil prices, which has fed through to pump prices.
The 5p cut in fuel duty announced by Chancellor Rishi Sunak last week is intended to help people struggling with the cost of living crisis - but because prices have risen so quickly, its impact is likely to be minimal, the RAC said at the time.
Now, the motoring group says that the cut is not being fully passed on to consumers.
Since last Wednesday, the average price for a litre of petrol has fallen by 3.71p to 163.30p per litre, while diesel has fallen 2.79p to 177.11p.
RAC spokesman Rod Dennis said: "Unfortunately, wholesale fuel prices were already rising before the chancellor made his announcement on fuel duty last week.
"This meant retailers were buying fuel in at a higher cost than they were a week earlier, which meant drivers may not have immediately and fully benefitted from the duty cut.
"Wholesale prices are currently falling, but it's likely to be next week before we see what impact this has at the pumps."
Mr Dennis added that drivers "remain entirely dependent on what is happening on the wholesale market and the extent to which retailers are able or willing to pass on savings they make".
On Monday, rival motoring group the AA said: "Why are drivers not surprised that on average a third of the petrol saving has yet to be passed on at the pumps?
"The fuel trade always disputes the accusation that pump prices shoot up like a rocket and fall like a feather. Now we know the truth," said Luke Bosdet, the AA's fuel price spokesman.
The big four supermarkets - Tesco, Sainsbury's, Asda and Morrisons - have brought in the duty cut in full.
Oil giants Shell and BP have also implemented the cut in petrol stations that they own - but many of their branded forecourts are franchised, with prices set by franchisees.
Shell owns and operates about half of its 1,000 branded UK stations, while BP owns about 300 of its 1,200 stations.
Independent retailers warned last week that it would take time for the fuel duty cut to be reflected in pump prices.
Gordon Balmer, executive director of the Petrol Retailers Association, said at the time that petrol stations had bought the fuel they were selling at the higher fuel duty rate.
"As a result, they must first deplete their stocks and resupply with fuel bought at a reduced rate before motorists will see a change in pump prices," he said.