Charities warn fuel poverty could double in a year
By Kevin Peachey
Personal finance correspondent, BBC News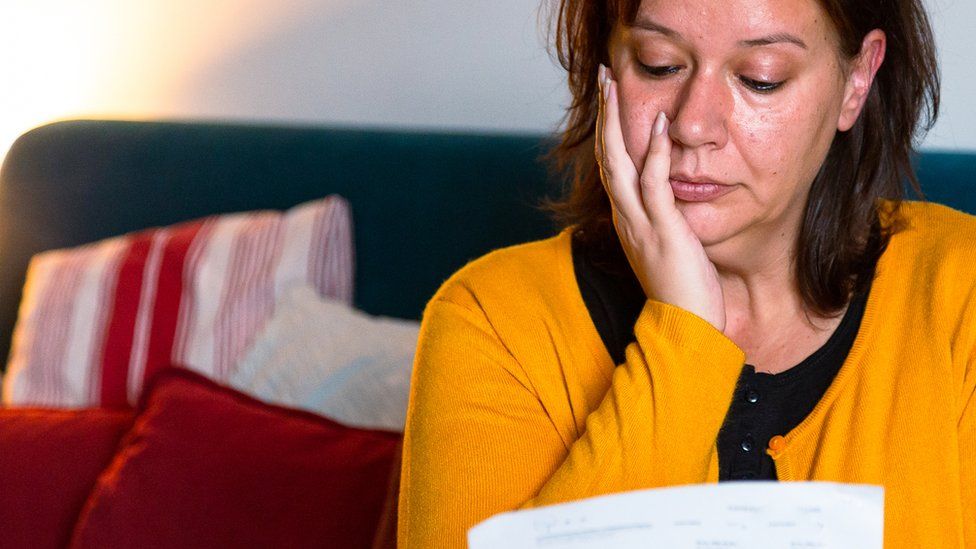 The number of fuel poor households in the UK will double in a year if the crisis in Ukraine leads to higher energy bills, charities are warning.
Analysts are predicting that the war has pushed up wholesale prices, and could mean the average domestic bill in the UK hits £3,000 in October.
National Energy Action said that would put 8.5 million households in serious financial difficulty from fuel bills.
That would be twice the number of a year earlier, equating to 30% of homes.
Charity Age UK said such an increase would have a "devastating" impact on the health and wellbeing of older people, many of whom could go without heating for weeks.
The cost of gas and electricity for the typical household, on a tariff governed by the energy regulator Ofgem's price cap in England, Wales and Scotland, is already rising by 54% to nearly £2,000 from the start of April. Prices are also rising sharply in Northern Ireland.
A string of energy analysts have predicted that the conflict in Ukraine, and the knock-on for gas supplied by Russia, could have a relatively sustained impact on the wholesale price of energy.
Analysts have suggested that could be reflected in the next calculation of Ofgem's price cap, which would take effect at the start of October. Many, including the suppliers' own trade body, say the average household bill could get close to, or reach £3,000 a year.
National Energy Action, which campaigns for warm, dry homes, said the number of households in fuel poverty was already expected to go up from four million in October 2021, to 6.5 million after April's price rise.
That would go up again to 8.5 million in October this year, if the typical bill increases to £3,000. That is a possibility but still far from certain, owing to the volatility of the war, the international picture, and wholesale prices.
The charity's definition of fuel poverty is a household which needs to spend more than 10% of their household income on fuel to heat their home to a satisfactory standard. Similar definitions are used officially in parts of the UK, although in England the definition of fuel poverty used by the government is a more complex calculation.
When George Mycock, moved to London from Stoke-on-Trent, he ended up having to pay £950 a month for a room in a four-bedroom flat share. With bills included, it works out at about 70% of his monthly income.
His flatmates have already seen bills go up by between £50 and £100 each in the last few months. But he says the rise in energy bills is "scary".
"We don't know how much we're going to have to pay [on our default tariff]," he says. "It's plunged people into uncertainty."
National Energy Action has joined with 50 charity and campaign groups to call for support from the government for financially-stretched bill-payers.
The coalition has claimed that further price rises could lead to more people dying prematurely across the UK next winter.
"This is a disaster and, inevitably, will lead to more needless winter deaths. The government must act now, to protect the most vulnerable, and to save lives," said Adam Scorer, chief executive of National Energy Action.
A government spokeswoman said: "It is hard to predict what longer term impacts the current situation in Ukraine will have on energy costs. However, the energy price cap will continue to insulate millions of customers from volatile global gas prices
"We are also taking decisive action to help more than 27 million households with rising energy costs, with a £200 reduction on bills this autumn and a £150 non-repayable reduction in council tax bills."