Post Office scandal: MPs call for full postmaster compensation
By Lora Jones & Rebecca Wearn
Business reporters, BBC News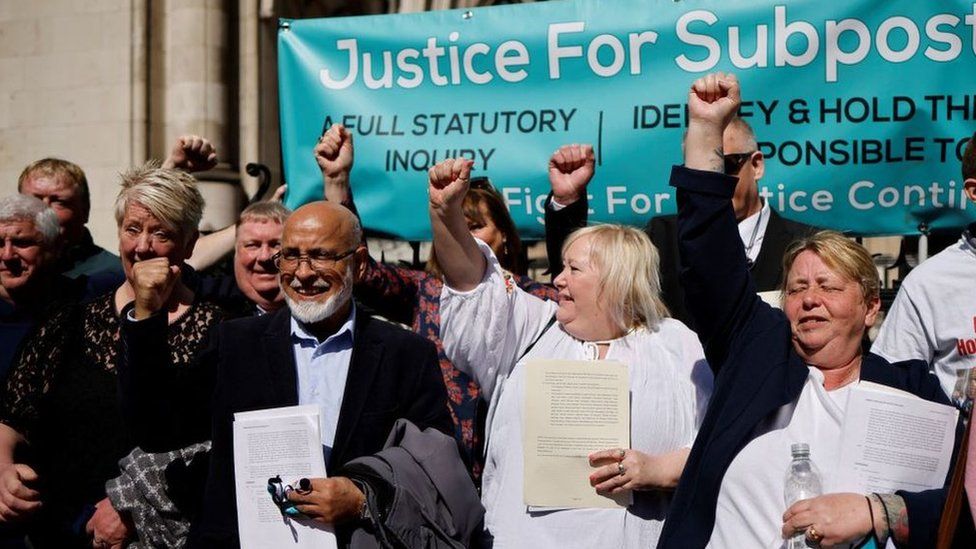 Post Office workers who successfully challenged faulty Horizon software in civil courts should be fully compensated, MPs have said.
A new report from a cross-party group of MPs says the 555 people who took the Post Office to court should receive money for their losses.
It comes days after a public inquiry into the Post Office scandal began.
Hundreds were taken to court for fraud after Horizon led to accounting errors at branches across the UK.
But in 2019, a group of 555 subpostmasters and mistresses successfully challenged the Post Office over the Horizon system in the High Court.
While the government has since opened a fund to compensate more than 700 wrongfully convicted former branch managers, the 555 people were not able to claim from this because of settlements with the Post Office.
They claim they are out of pocket due to legal costs, while others have since passed away.
Labour MP Darren Jones, who chairs the Business Select Committee which wrote the report, described the scandal as "one of the largest miscarriages of justice in British history".
"It is clearly entirely unacceptable that the group of 555 victims who first brought this scandal successfully to court are being left in a worse position than those who are being compensated thanks to their action," he added.
But the committee called for clarity about whether this funding would be available to the 555 former branch managers who won the civil case.
Its interim report said the funding the government had provided was "far in excess of the costs incurred so far", with estimated pay-outs of about £258m to date.
Mr Jones also said that it was his "personal view" that the families of sub-postmasters who had died without being refunded for the scandal should be able to claim compensation.
Speaking as part of the public inquiry on Wednesday, the widow of a former subpostmaster spoke of her disbelief that her husband was not given a chance to defend himself against charges of theft, fraud and false accounting.
Mrs Karen Wilson was appearing on behalf of her late husband, Julian, who died of bowel cancer in 2017 before his conviction was overturned. He had been a subpostmaster in Worcestershire.
She described Julian's strong business background and how the couple would work until late into the night trying to work out why the Horizon IT system would not balance.
Her husband received a community service order, to clean graves, after arranging a plea bargain with the Post Office.
The couple's assets were frozen by a confiscation order and they had to borrow money from family members.
Mrs Wilson sold all her jewellery - including her engagement ring - to pay the mortgage.
The couple also had to pay £36,000 which the system had shown as missing and £3,000 in court costs.
Mrs Wilson said on Wednesday she would like to see some "accountability" above all.
The public inquiry into this scandal is about establishing why this miscarriage of justice happened, and who should be held to account, but that will take time.
So this Parliamentary committee have made some quick-fix demands of the government that would make a big difference to those who have suffered so much.
Many of the victims I've spoken to have told me of their fear of having to face their accusers at the Post Office once again, and re-engage with a system they have done their best to put behind them.
It's no wonder so few have come forward to request documents from a company they have lost all faith in. An independent go-between could help.
The civil court case brought by 555 sub-postmasters two years ago was the moment the tables were turned in this scandal.
Yet the trailblazers who spent their own money and time bringing the case to court, and creating that vital legal precedent, have been locked out of the compensation scheme.
There are clear indications from the government that it is working behind the scenes to make some kind of payment to those 555 individuals soon.
But time is not on the side of many sub-postmasters who are still suffering financial ruin with many well beyond retirement age.
The Post Office has previously said it is "sincerely sorry for the impact of the Horizon scandal on the lives of victims and their families and we are in no doubt about the human cost".
"In addressing the past, our first priority is that full, fair and final compensation is provided and we are making good progress," it added.
The committee's report also raised concerns about the time taken to make settlements to those who have had their convictions overturned.
It recommended that the government provides regular updates when compensation is refused for sub-postmasters who have had their convictions overturned, the reasons for this, and if compensation is later sought and awarded.
A spokesperson for the Department for Business said that it acknowledged the "devastating impact" on postmasters and their families.
"That is why we have set up a statutory inquiry to set out exactly what went wrong, and we are providing financial support for compensation."
"We are eager to see all Horizon-related issues resolved fairly and quickly, including for the 555, who played a crucial role in bringing this scandal to light," they added.