How nurseries are keeping track of their toddlers
By Katherine Latham
Business reporter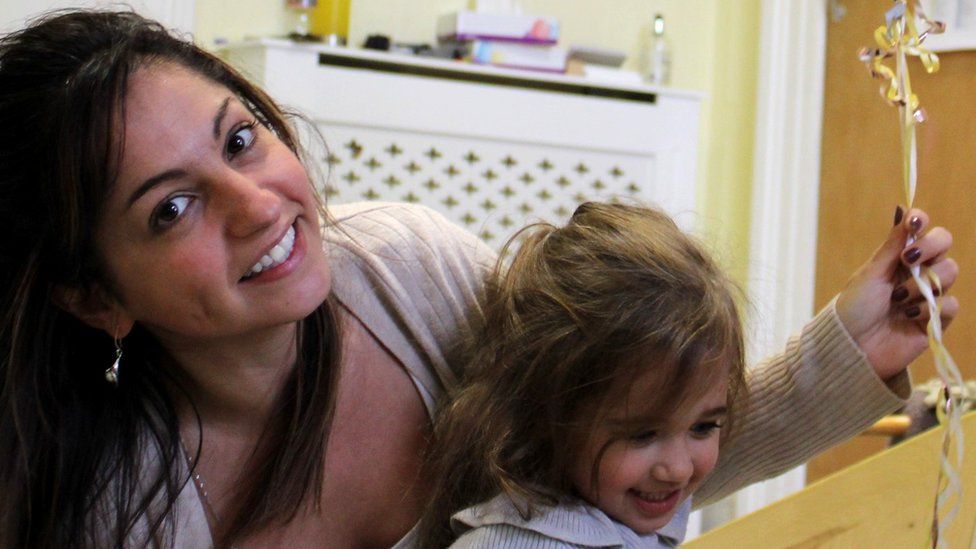 Misty Ardouin set up her nursery, Nestlings, in Cardiff City centre in 2019. At the end of each day, they would have a "good sit down" in the playroom with parents to catch-up on everything the children had been doing.
"It was an integral part of our day," says Ms Ardouin.
"Building relationships and liaising with parents, helped us to know the children better. It meant we worked in sync, with the same ideas for the child's care and education both at nursery and at home."
But the pandemic changed everything. In March 2020, nurseries were ordered by the government to close to all except the children of keyworkers and vulnerable children. By March 2021, more than 3,300 childcare groups had closed their doors permanently.
At those settings that did eventually reopen, parents were no longer allowed inside to stay and chat, or to mingle outside with other parents and children - they were cut off from their child's nursery experience.
Nestlings, like many nurseries, turned to technology to keep communication going. It uses Blossom software, which allows its staff to share children's daily diaries. Everything from nappies and lunch, to big moments like first words can be shared with parents.
Staff plan 'next steps' for each child, and parents can access this information to continue their child's learning at home. It can also handle the more mundane tasks like sending out invoices for fees.
"We had to think quickly about what we could do to keep relationships strong," says Ms Ardouin.
"Parents can check on their little one at any time. This is a big positive, as parents weren't - and still aren't allowed into the setting."
Sara Thakrar, co-founder of Blossom says that parents have been driving the boom in nursery tech.
"There has been a huge increase in nurseries stepping away from paper. Parents want information at their fingertips. They want to know what their child is doing in real time. They want instant feedback."
Caroline Humphreys' son Joe, goes to a nursery in London's Walthamstow that uses Famly, a Danish software application.
"I have never actually been inside the nursery. Our experience of his inner nursery life is through the photos on the app and, other than that, speaking to nursery staff at drop off and pick up," she says.
"We had a massive boom during 2020," says Matt Arnerich, Famly communications director, "and took on 1,300 settings in the last year alone."
Over 75% agreed technology use has helped overcome barriers to engaging with families during the pandemic.
Anna and David Wright set up their nursery, Paint Pots, from their home in Southampton in 1993, caring for just a dozen children at first.
By 2000, demand had outgrown their home and they moved Paint Pots into a separate building. They now run three pre-schools and six day nurseries - caring for nearly 1,000 children a week.
"We used to rely on paper records, but it became impossible to keep track of the details, records and administrative tasks," says Mr Wright. So, the nursery now uses online learning journal, Tapestry.
"Technology releases our team members from time spent maintaining those manual records, giving them more time to spend with the children," he adds.
Dr Helen Edwards, co-founder of Tapestry, previously spent "hours and hours" on paperwork for her own nursery in East Sussex. In 2012, her husband Steve came up with the idea for Tapestry.
"It grew very quickly. We now have around 18,000 accounts across 40 countries and look after the journals of over a million children," she says.
Staff want to spend as much time as possible with the children and technology helps them to do that, she points out.
"What's more, both parents can access the journal - useful when parents are separated," she adds, and external professionals, such as a speech and language therapists or home care visitors can also be given access.
"Everyone can work together to support the child," says Dr Edwards.
But not everyone feels increased use of technology is a positive step forward.
"We can become too reliant on apps and technology, especially where children are concerned," says parent, Alex Mills. "I don't want my toddler to have people constantly taking pictures of him. The main priority should be the care they provide."
Ms Mills' two-year-old son, Max, goes to a local nursery that does not use technology for communication. Instead, staff talk to parents and provide a slip of paper with details of what the child has eaten, nappy changes and sleep.
"I'd rather they were caring for my child than distracted by updating an app all day. It's a very modern phenomenon, the need to feel connected all the time."
Sharon Birch is the owner of Footprints Learning for Life nursery in Hartlepool. The nursery was rated Outstanding by Ofsted and has won a raft of awards, most lately for inclusive practice - but it doesn't use apps.
"Tech is everywhere, in our offices, homes and in most people's hands. The world is saturated with tech," says Ms Birch.
She says that parents like the fact that they do things the old-fashioned way.
"We talk to our parents. A key worker needs to know their key children like they are their own - their likes, dislikes, what makes them them. Those bonds are so important for trust and safe-guarding, for understanding and helping them reach their milestones. An app can't do that."
The first five years of a child's life are critical. Research shows early development in the first few years of childhood has a direct impact on behaviour, social skills and lifelong learning. And parental engagement with preschool children has been linked to improved language and literacy development, and school readiness.
The past 18 months of the pandemic have been very challenging but according to social enterprise Parent Zone, technology had a largely positive impact during 2020, with 77% of parents agreeing that connected tech helped them cope.
"When I opened Nestlings Nursery," says Ms Ardouin, "I wasn't really interested in tech. Welcoming families in and spending quality time with them was so important."
But she now feels that "technology allows us to connect, ensuring those important relationships continue".