'I have had more time, silence and solitude to write'
By Jill Martin Wrenn
Business reporter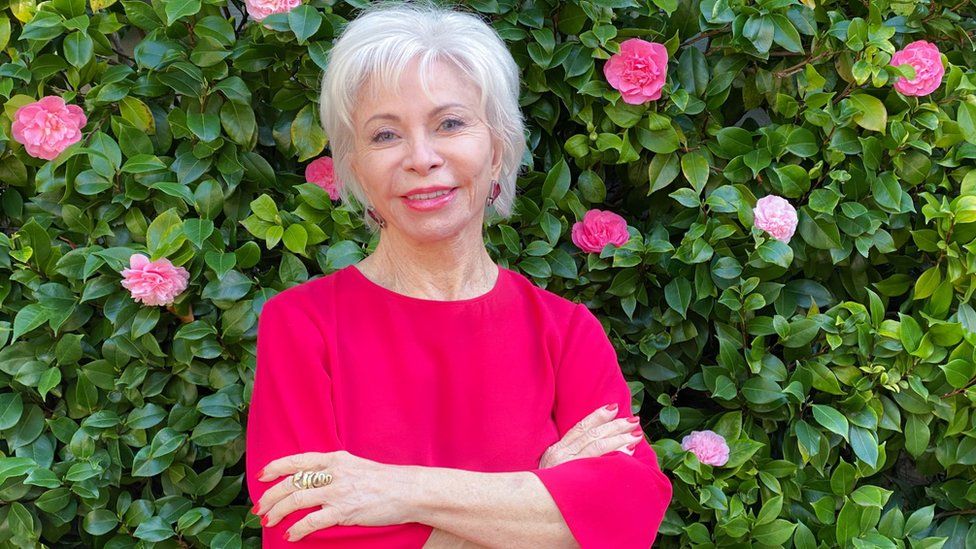 Celebrated author Isabel Allende is no stranger to international book tours.
The Chilean-American, winner of the prestigious Presidential Medal of Freedom, has published more than 20 books over the past four decades. But even before the pandemic she was ready to change the way she connects with her readers.
After a gruelling promotional schedule that took her through the US and Europe, ending in the UK in February 2020, the 79-year-old decided she had had enough of the relentless travel.
Before even leaving the airport on her return to her home, north of San Francisco, she turned to her daughter-in-law who had travelled with her and said that would be her last in-person book tour.
"We swore that we would never do another book tour because we were so sick and fed up," Ms Allende remembers. "And two weeks later, the pandemic hit."
And even as international travel restrictions are being lifted, some writers say they will continue to carry on with virtual events because they are more convenient and accessible. They say this has the additional benefit of leaving them with more time to focus on their craft.
"I have been able to do all the promotion for everything on Zoom... or on the phone," says Ms Allende, who is in the midst of online promotional work for her latest novel, Violeta. "It has been great because I have had [more] time, silence and solitude to write."
Other authors say virtual book tours offer opportunities to those who can't attend in-person events. One such writer is Angie Thomas, whose young adult fiction books include The Hate U Give, On the Come Up, and Concrete Rose.
"I missed - and I still miss - interacting with readers in person," she says, speaking from her home in Jackson, Mississippi. "But what I love about doing virtual online events is that readers who maybe wouldn't have had access before, now have access.
"This includes young readers whose parents might not be able to bring them to in-person events, or readers with restricted mobility. So that's been a huge advantage, especially for disadvantaged young people who don't have always the means [to travel]."
Ms Thomas often does her own social media broadcasts, rather than solely relying on her publisher to organise her virtual events. These include live video broadcasts on Instagram, covering topics beyond books, where readers are often less inhibited than they would be in a more formal in-person setting.
"We get to talk about the publishing industry, about social justice, about just life in general. We do wellness checks, we ask everyone 'how are you doing right now?'," she says.
"We remind them it's OK if you're not OK. We're honest also about our own mental health struggles during all this."
Ms Thomas adds she has pointed readers toward free mental health resources that can help them with the anxiety caused by the pandemic when they say they're struggling.
"You know what? Even once we do get back to in-person events, I still want to do some virtual events for those young people who can't get to them, for whatever reason."
Natalie Tindall is the director of the University of Texas at Austin's Stan Richards School of Advertising and Public Relations, and also a published writer. She says the online world gives authors an opportunity to build "authentic relationships" with readers.
"It's a chance to show a different side of yourself, to be creative and to expand this community you're trying to build - this network of readers, of reviewers, this network of people who are going to support you regardless. It is incredibly important for authors to have community."
New Economy is a new series exploring how businesses, trade, economies and working life are changing fast.
Yet UK author Abigail Dean cautions that there are some disadvantages to giving online book talks, such as not being able to calculate how an audience is reacting.
"The challenge is that it's harder to gauge those readers' responses. You lose some of the potential for debate, for animated discussion," says Ms Dean, whose first book, a thriller called Girl A, was published last year.
Online promotion can be especially important for new authors in getting themselves known. British-Nigerian author Lizzie Damilola Blackburn is currently promoting her debut novel, Yinka, Where is Your Huzband? - which will be published in the UK on 31 March.
The Milton Keynes-based writer uses Twitter, Instagram and other social media platforms to talk to potential readers and other authors. Her editor has encouraged her to share online videos documenting her journey as a new author.
"The more I've used social media, the more I'm starting to warm to it. But I was a bit tentative the first time, just putting myself out there."
She says she is also looking forward to appearing at bookshop events later this year, while maintaining her virtual presence.
Dr Tindall also wants to see writers continue with their digital connections with readers. "My hope is that we don't forsake this in this rush to go back [to in-person events] and then we leave some people behind."