Shoppers avoid city centres on Christmas Eve, figures suggest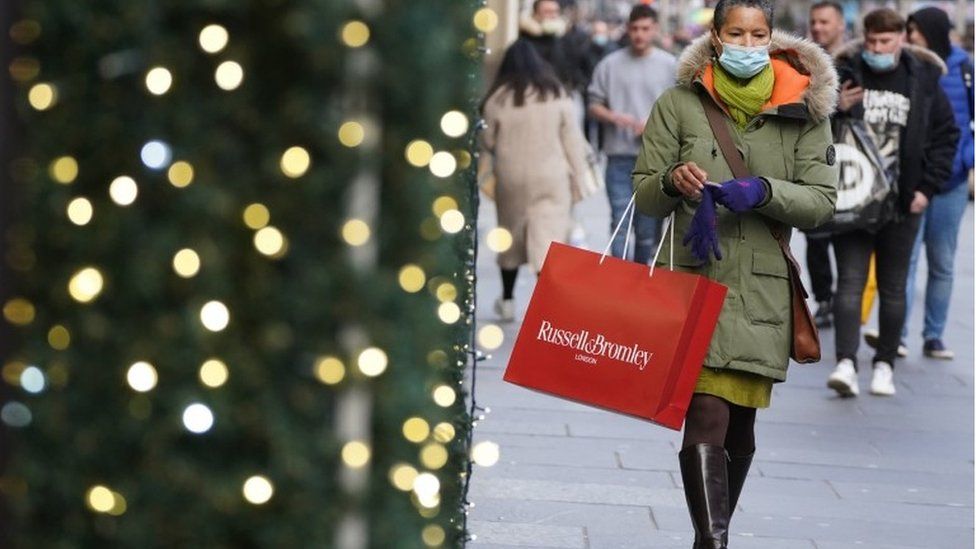 The number of Christmas Eve shoppers in city centre High Streets is down on last Friday, as more people chose to stay local or visit retail parks.
Early data from Springboard showed central London shopper numbers fell 30.3% as the capital's high Omicron cases deterred visitors.
City centres outside London saw a 10% fall in visits from last Friday.
But overall footfall increased by nearly 14%, with a strong showing in market towns and retail parks.
That figure was still 21% lower than on Christmas Eve 2019, before the pandemic started.
The closely-watched Springboard data, which covers up to noon and will be updated later, suggests city centre retailers' hopes of a late shopping surge on the day before Christmas will be dashed.
"The increased activity in retail parks today will in part be due to trips for food and grocery products as the majority of retail parks have a food store," Springboard said, as it revealed retail park footfall was up by 23.6% compared to last week.
"However, since the start of Covid, retail parks has consistently been more resilient in retaining shoppers as they are large open spaces, with large stores which make shoppers feel safer and less nervous."
At shopping centres, footfall rose by 19.6%, Springboard said. Market towns saw a 14.3% rise and coastal towns a 26.3% increase.
Although there are fewer Covid restrictions in place than last year, and footfall in central London is so far 42% higher than a year earlier, Springboard said it seemed that many shoppers were clearly staying at home to avoid the outbreak.
"This has been the trend over the last few weeks, with shoppers self-censoring and staying local rather than making trips to larger destinations where they feel at more risk of catching Covid," Springboard said.
The company said that city centres have seen a slow fall in shopper numbers since Britain first expressed concern about the new variant on 25 November.