Covid: Sainsbury's asks staff to delay Christmas parties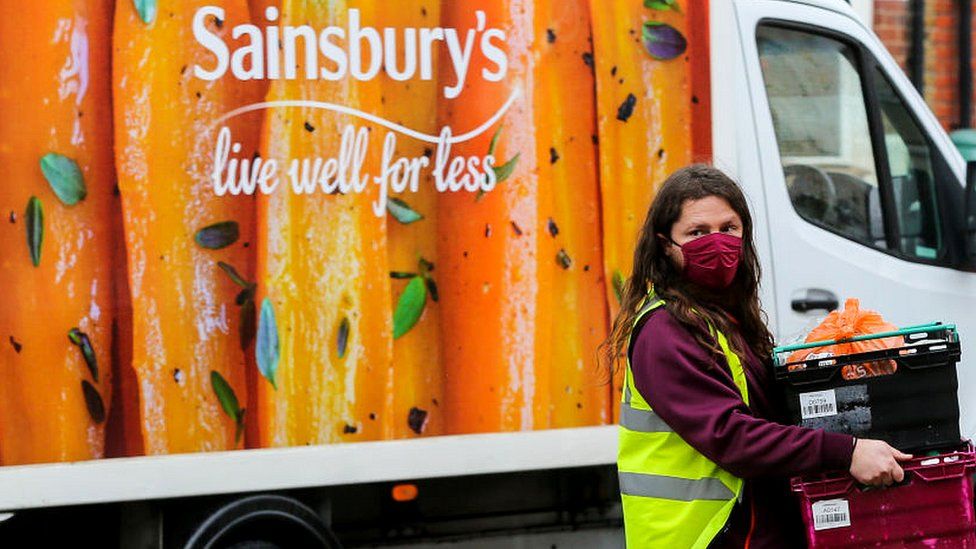 Sainsbury's has asked workers to postpone their Christmas parties until the new year following the emergence of the Omicron Covid variant.
The supermarket said the situation was "very delicate", adding "we need to do everything we can to make Christmas safe" for staff and customers.
Postponing parties would help protect food supply chains, the firm said.
Sainsbury's boss Simon Roberts said the firm "will make sure no-one is out of pocket as a result of this decision".
It follows uncertainty over the new Omicron strain of Covid which has stoked safety concerns over large parties this Christmas.
Last week, Science Minister George Freeman told the BBC it was up to individual businesses to decide whether to hold a Christmas celebration.
"Some companies might normally bring hundreds of people in from around the world to a big party, and they may decide, this year, is that sensible given the pandemic and given where we are", he said.
There are concerns that the emergence of the new Covid variant could lead to higher staff absences over Sainsbury's busy festive period.
"The industry issues on labour and recruitment are well known and are ongoing and we are doing everything we can to avoid increased absence," said Sainsbury's, which also owns Argos and Habitat.
Prime Minister Boris Johnson recently announced that even those who have been fully vaccinated must self-isolate if they come into contact with someone who has the Omicron variant of Covid.
Sainsbury's was among a number of supermarkets in the UK who fell foul of the so-called "pingdemic" in the summer.
Hundreds of thousands of people who used the NHS Test and Trace app in England and Wales were forced to self-isolate if they came into contact with someone with Covid, even if they had received both vaccine jabs. It led to worker shortages and empty shelves.
The rule was changed on 16 August to allow fully vaccinated people to keep working, but if Omicron proves to be more easily transmissible than other variants it could place more pressure on retailers and other businesses during the busiest time of the year.
Sainsbury's said it took the decision to delay Christmas parties after discussions with its store employee representative group.
Mr Roberts said: "We are doing everything we can to protect Christmas for our colleagues and our customers and keep everyone safe.
"As government guidance on face coverings changed on Tuesday (30 November), we have gone above and beyond to put safety first and have asked all of our colleagues to wear a face covering both on the shop floor and in all colleague areas."