Covid debt cycle linked to mental health issues, says charity
By Kevin Peachey
Personal finance correspondent, BBC News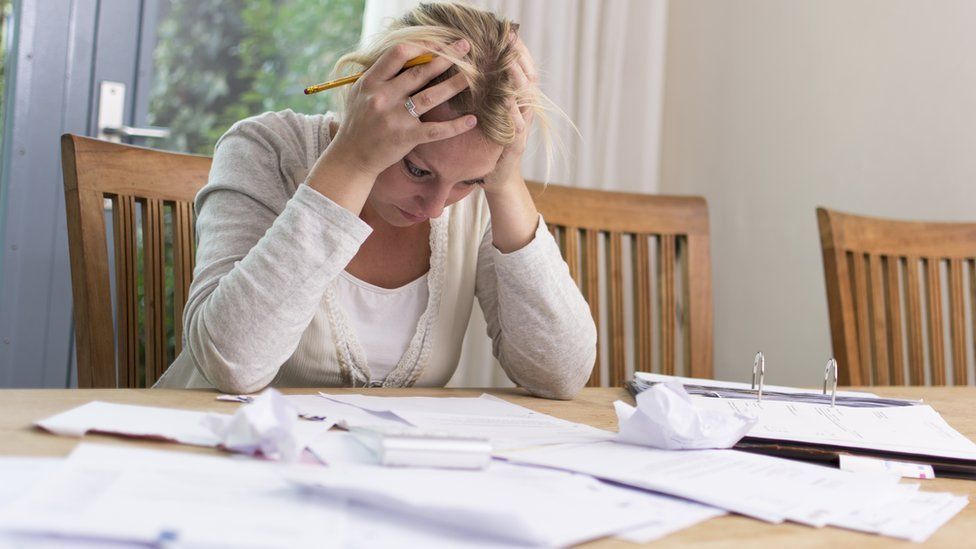 People being treated for mental health difficulties should be routinely directed to financial support, a charity has urged.
The pandemic pushed a host of people into a cycle of debt, many of whom were unable to access Covid support measures, the Money and Mental Health Policy Institute said.
It estimates that 2.5 million people considered suicide as a result.
Signposting for money matters could be provided by GPs and banks, it said.
The charity said that mental health issues could lead to reduced concentration or memory problems, which made it difficult to manage money in general.
These challenges were compounded during the pandemic by loss of income and employment, poor health, and issues with benefits payments.
Rob is one of those whose situation worsened during the pandemic.
"There was no social connection. Therapy moved online and I couldn't see my family who are a huge source of support. The year has been horrendous, you can have suicidal thoughts and think: 'If I did something no-one would know'," he said.
The 55-year-old went on to explain how rising energy bills created further problems.
"When you spend more on heating, and don't have the money to spend on other stuff, there are limitations.
"I've had to deal with an increase in food prices. I had to find out what times the supermarkets put out the discounted food. The fact that you have to go to the shops at a certain time to get the discounted food makes you feel ashamed," he said
"Shame is a big thing that leads to anxiety and depression, then you don't want to get out of bed, you don't want to eat - it spirals."
A survey for the institute suggested that 37% of people with mental health problems were behind on at least one payment in the previous year compared with 14% of those without mental health problems.
One in four had no savings that they could use for an urgent or emergency expense.
Martin Lewis, of Money Saving Expert, who founded the charity, said: "The pandemic financially split the nation. Many gained - those who had support and lower costs often built up savings.
"Yet for others, it was catastrophic, and it is a national tragedy that a disproportionate number of that group are those struggling with their mental health who missed out on the support they need to avoid reaching crisis point.
"Government, health professionals and essential services need to double down on efforts to stop people with mental health problems falling further into financial hardship. Prevention is better, and in the long run cheaper for the nation, than cure."