Wetherspoons: Cocktail sales up but ales out, says pub chain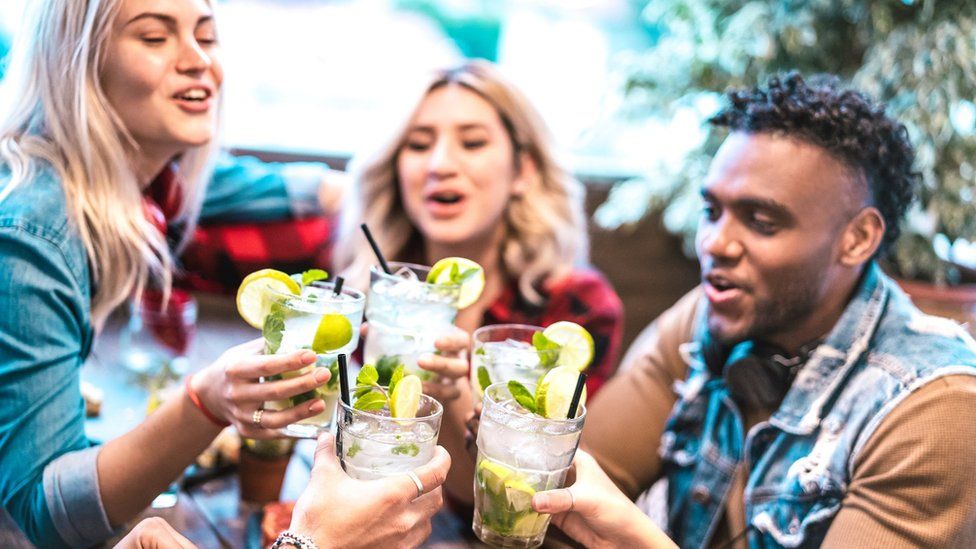 Cocktail sales have soared in comparison with traditional ales as more young people venture out post-lockdown, says Wetherspoons.
In the 15 weeks to 7 November, sales of drinks such as mojitos and cosmopolitans were up 45% on the year before, along with vodka and rum.
Draught products have suffered, however, with sales of ale down by 30%.
The pub chain's chairman said that its older customers had been visiting less frequently.
Under coronavirus-related restrictions, the Wetherspoons chain saw its pubs shut for 19 weeks.
Tim Martin, founder and chairman of Wetherspoons, said that some customers had been "understandably cautious" as lockdown measures eased.
"Improvement in trade will therefore depend, to some extent, on the outlook for the Covid-19 virus," he added.
He also said that he hoped booster vaccinations and better weather in the spring would improve sales.
Overall, like-for-like sales - which strip out the effect of new pubs opening - were 8.9% lower for the first 15 weeks of the financial year than the record sales it saw in 2019.
Bar sales dipped by 9.6%, with the chain saying that its Lloyds pubs, which offer music, had performed a bit better at weekends, "probably reflecting a higher percentage of younger customers".
Laura Hoy, equity analyst at Hargreaves Lansdown, said that a "permanent" shift in favour of younger pubgoers could be bad news.
The more cautious attitude seen among older customers "should wane as the pandemic comes under control, but there's no telling how long that will take", she said.
Food volumes also appear to have been affected by some customers working from home, Wetherspoons added. Breakfasts were down by 22%, for example. Coffee was also a less popular item on the menu.
Trade in airports was still continuing to suffer, it said.
Certain city centres such as Liverpool, Newcastle, Oxford and Chester had seen pubgoers return more recently, it said on Wednesday. In central London, though, sales are still down by 17.4%.
As Covid curbs have eased, the firm has been looking to fill vacancies for pub staff and managers and make the most of the economic recovery.
It acknowledged that the hospitality industry had been affected by labour shortages.
"Wetherspoon had some isolated difficulties in staycation areas in the summer and during the 'pingdemic'", it said.
But it said that overall, there had been a reasonable number of applications.
The number of employees has increased from 36,987 when pubs reopened in April to 42,240.
Like many hospitality firms, it has also been hit by supply chain issues such as driver shortages, which have been exacerbated by both the pandemic and Brexit.
In September, Wetherspoons said some of its pubs had run out of some beer brands, including Heineken and Carling, because brewers had been affected by the shortage of HGV drivers.
On Wednesday, it admitted that it had seen "some problems from time to time", but shortages had only affected a "minority of products".
Problems have eased in recent weeks, according to the pub chain, although the key festive trading period is still yet to come.