US sees strong jobs growth as wages edge higher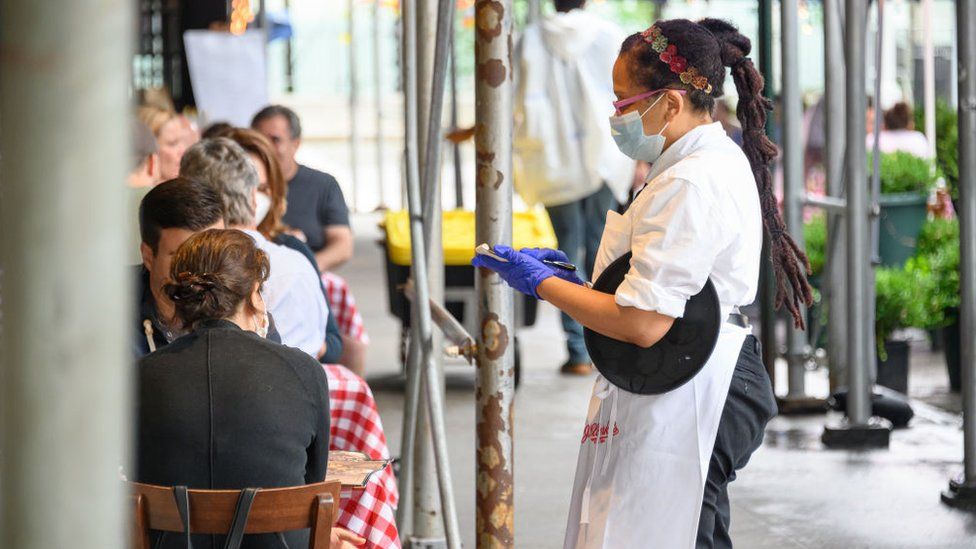 US employers hired more new workers in October than expected, after a slowdown in the summer.
Firms added 531,000 jobs and the unemployment rate fell slightly to 4.6%, official figures showed.
Hiring figures for September were also revised upwards.
The spread of the Delta variant and slower growth had suppressed hiring over the summer, along with an apparent reluctance from parts of the workforce to return to work.
That has left many employers scrambling for staff and struggling to meet growing demand. Many are raising wages to attract and retain staff. Figures from the Bureau for Labor Statistics showed average private sector wages rose modestly in October, by 11 cents, to $30.96 an hour, but the rise adds to six months of strong wage increases.
The 4.9% growth in average earnings over the past year doesn't outpace annual inflation, which was running at 5.4% in September.
Revised data for September showed that many more jobs were created that month, 312,000, than the 197,000 initially reported.
Figures for August were also revised upwards from 366,000 to 483,000.
There were notable gains in leisure and hospitality, in professional and business services, in manufacturing, and in transportation and warehousing, the Bureau said.
Taken together the data shows a strong upward trend, although jobs growth is still below the rates seen in the first half of the year.
by Michelle Fleury, BBC business correspondent
President Biden used the October jobs report to take a victory lap, pointing out that the recovery had been faster and stronger than predicted.
He said unemployment had decreased this year more than in any year since 1950.
The solid jobs report signals that the economic fallout from the Delta wave is finally receding after several months of disappointing data.
Nowhere was that more apparent than in the leisure and hospitality sector which added 164,000 jobs.
And the gains weren't limited to one industry. Across the private sector hiring was strong, including in professional and business services, and manufacturing.
But there is still a large hole to dig out of.
The country has more than four million fewer jobs than it did before the pandemic
And the labour force participation rate - which measures the share of people who have jobs or are actively looking for work - is flat even as the economic rebound gains steam.
A large number of workers who left the American job market during the pandemic, don't seem to be in a hurry to return. And it's not clear that they will.
Today's report shows the US economy is picking up momentum. But with lingering supply chain issues and the unpredictability of the health crisis, whether this performance can be repeated remains anyone's guess.
Analysts welcomed the report as a strong indication of post-pandemic recovery.
"It shows that we're seeing the jobs market healing to the point where we could expect even larger gains next month as more people return to the labour force," said Peter Cardillo, chief market economist at Spartan Capital Securities in New York.
However, the participation rate, which shows what proportion of potential workers are in jobs or looking for one, remained flat, suggesting not everyone is ready for a return to normal.
"The participation rate idled at 61.6% which is consistent with people being hesitant about returning to the workforce," said Joe Manimbo, senior market analyst at Western Union Business Solutions in Washington.
"The market wants to see people come off the sidelines and return to the labour force."
Fear of Covid infection, childcare challenges, relocations and other lifestyle changes have kept some people out of the labour market.
With government support coming to an end, children back in school and savings made during the pandemic running down economists expect more people to return to work.
There are currently 7.4 million people out of work, down sharply from its peak during the pandemic but above the 5.7 million who were looking for work pre-Covid.
In February 2020, before the pandemic the unemployment rate was 3.5%.
Seema Shah, chief strategist at Principal Global Investors, said it was "a little mystifying" why more people were not returning to the workforce.
"At this point, with reduced benefits, a return to in-person schooling and the drop in Covid rates, we should be seeing a recovery in participation," she said.
"Is it because the massive cushion of savings is still weighing on the incentive to return to work? Or is there a fundamental shift in the psychology of working?"
Until more workers return "supply chain issues will only linger", she added.