Will coffee drinkers plump for potato milk?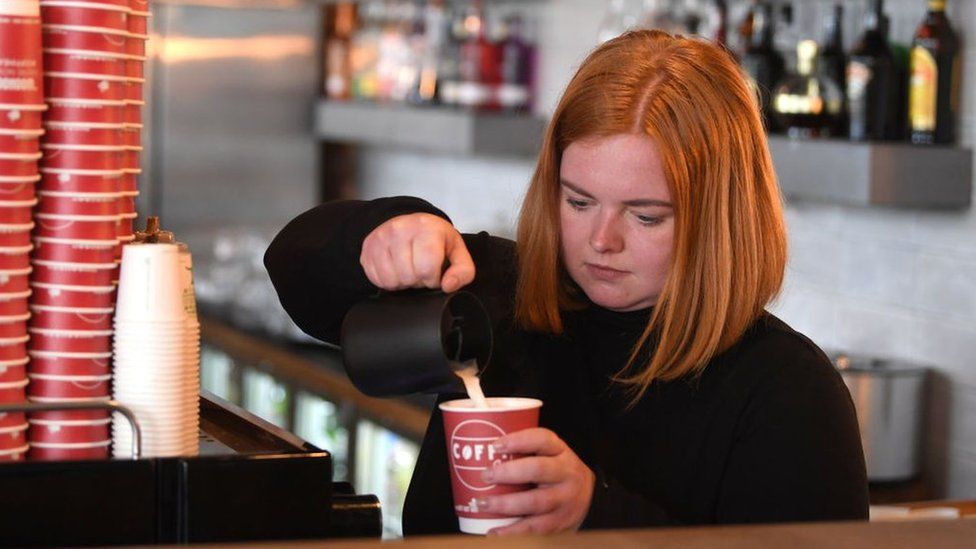 Push the almonds, oats, peas, coconuts (the list goes on) and rice to the side... baristas may soon be whipping up lattes with a new alternative "milk" from potatoes.
Milk from the humble spud is set to be one of 2022's biggest food trends, according to supermarket Waitrose's annual Food and Drink report.
Researchers have predicted that the market for dairy alternatives could almost double over the next five years, as increased dairy allergies and concerns about its environmental impact push shoppers to look for plant-based options.
Shoppers spent a total of £394m on plant-based milk in Britain in 2020, up 32% from 2019, according to market research firm Mintel.
Alice Shrubsall, alternative milk buyer at Waitrose, said more people were adding plant-based milks to their diet, "whether that's a splash of oat milk in their morning coffee or a coconut milk hot chocolate in the afternoon".
She added that the retailer would add potato milk from the Swedish brand Dug to its shelves in February 2022 to meet customer demand.
But Swedish firms such as Dug or Oatly face increased competition from consumer giants. Nestle, for example, launched a pea-based milk under its Wunda brand earlier this year.
The Waitrose report, which takes into account its sales data for the past 12 months and a survey of 2,000 UK consumers, also points to the rise of a new diet it has dubbed "climatarianism".
Nearly 70% of those surveyed said that the carbon footprint of their diet was either "very" or "somewhat" important.
A "5:2" diet, which involves eating vegetarian meals during the week (as opposed to the similarly-named intermittent fasting diet), was becoming more popular, Waitrose said, with sales of its vegan range up 21% on last year.
What's your diet's carbon footprint?
To find out the climate impact of what you eat and drink, choose from one of the 34 items in our calculator and pick how often you have it.
Recent research by Kantar found that climate-conscious shoppers were now worth £37bn to the British grocery market.
Although it suggests that plastic waste remains consumers' biggest environmental concern, intensively-produced meat is responsible for 14.5% of global greenhouse gas emissions, according to environmental campaign group Friends of the Earth.
Friends of the Earth's senior sustainability analyst, Clare Oxborrow, said: "Food businesses are responding to customer demand for food with a lower impact, but the government is still burying its head in the sand.
"We urgently need the government to show leadership, making it easy and affordable for everyone to access healthy, sustainable diets with less and better meat and dairy," she added.
The paper focused on changing public behaviour to hit climate targets and also suggested promoting domestic tourism and portraying business travel as an "immoral indulgence".
It was deleted soon after publication last week by the Department for Business, which said the paper was academic research and not official policy, as opposed to its Net Zero Strategy.
"We have no plans whatsoever to dictate consumer behaviour in this way. For that reason, our Net Zero Strategy published yesterday contained no such plans," it said.