Abolish energy price cap, says Scottish Power boss
By Simon Jack
Business editor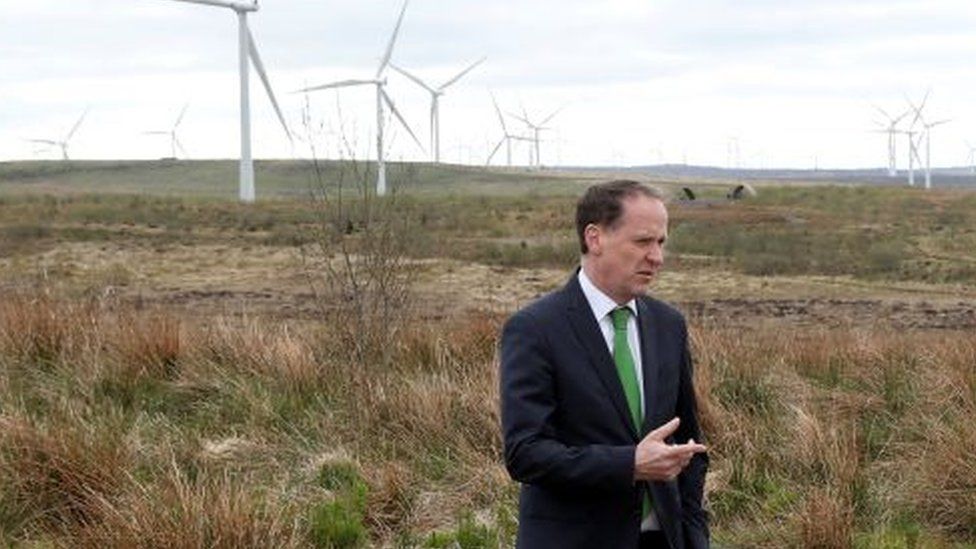 The boss of one of the UK's biggest energy companies has called for the energy price cap to be abolished.
Keith Anderson, chief executive of Scottish Power, said the recent energy crisis had exposed deep flaws in the way the energy market was structured.
He added there had been serious failures on the part of Ofgem.
The regulator said the price cap had helped to keep down costs for millions of households.
Mr Anderson said that the price cap was a popular idea politically but it has caused dozens of companies to go bust.
As wholesale prices soared six-fold this year, companies had to buy gas at a price miles more than the rate they were allowed to sell it.
"There was a fixation about trying to create more and more competition and get more and more companies into the energy sector," he said.
"But it went too far. We ended up with a raft of small, not particularly well-run organisations coming into the retail sector. This crisis has shown this is quite a risky business."
He said that the regulator asking well-run companies to take on millions of customers from poorly-run and resourced companies is placing a massive burden on the sector which will mean prices will have to rise for the next 12 to 18 months.
"Every customer taken on at the price cap means £1,000 of cost," he said.
"We estimate the total cost to the industry of between £4bn and £5bn.
"The risk is that you will end up going back to the big five or the big six."
He added that a one-size-fits-all cap was regressive, as it did not even succeed in protecting more vulnerable customers, who spend a disproportionate amount of household income on energy.
His solution would be the abolition of the cap while having a special tariff for people in fuel poverty.
More affluent customers would pay more but that would be a more progressive way to regulate the industry.
Mr Anderson was scathing about the competence of Ofgem saying the regulations were not fit for purpose.
"The regulator has not kept pace with what has been going on in the marketplace," he added.
Ofgem responded by saying that the price cap had played its part in cushioning millions of households from soaring gas prices.
But it acknowledged that regulations would need to change.
"Ofgem, with industry and the government, will need to build an energy market that is more resilient to shocks like this in the future.
"This is likely to mean an approach to regulation which is more focussed on the business models that enter and operate in our energy market, and on the risk they carry," it said.
Mr Anderson rejected the notion that he is advocating an oligopoly with no price controls in which profit margins were allowed to be higher and people were disinclined to switch because they have seen smaller suppliers go bust.
He said that a removal of the cap would not see profiteering as a market of 10 or 15 well-run companies in competition would provide good value for money.
Mr Anderson noted that would still be more market competitors than you see in banking or supermarkets.
He acknowledged the cost of transitioning to a net zero economy would be hundreds of billions which would end up on our bills or in taxes but said that it would ideally be spread over decades.
The economic activity it generated would ripple right across the UK economy creating thousands of jobs, he said.
His comments come the day after Scottish Power confirmed it was investing £6bn in three offshore wind projects.
It was the centrepiece of a raft of investments the government announced at a global investment summit in London followed by a reception for business leaders at Windsor Castle attended by the prime minister and the Queen.