Former Boeing 737 Max pilot charged with fraud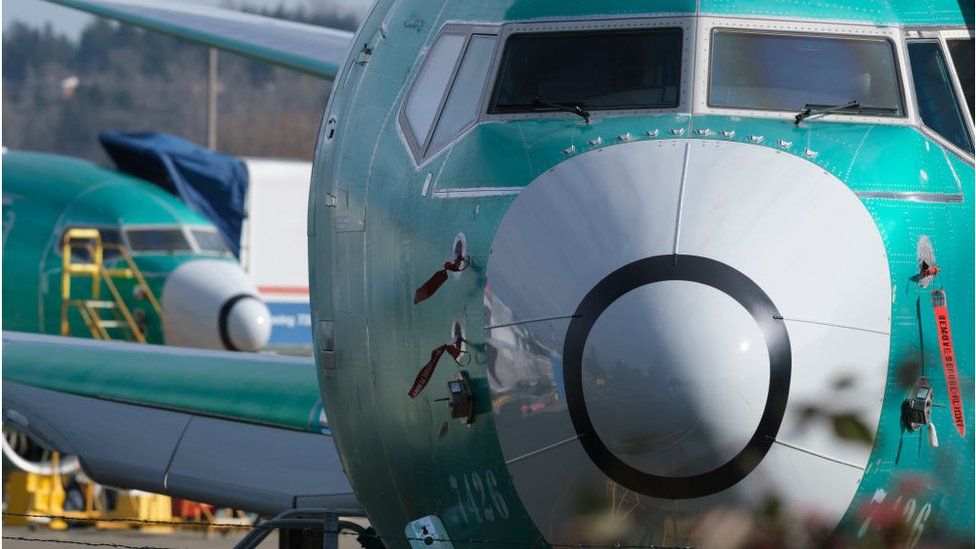 A former chief technical pilot for Boeing has been charged with deceiving federal regulators who were evaluating the company's 737 Max plane.
Mark Forkner, 49, was indicted by a grand jury in Texas of hindering the ability to protect airline passengers and leaving "pilots in the lurch," the US Justice Department said.
Two fatal crashes of the 737 Max in 2018 and 2019 killed 346 people.
A lawyer for the victims' relatives said Mr Forkner had not acted alone.
Prosecutors accused Mr Forkner of "scheming to defraud Boeing's US‑based airline customers to obtain tens of millions of dollars" for the company.
Following the fatal crashes, investigations found a flaw in an automated flight control system called the Maneuvering Characteristics Augmentation System (MCAS).
Mr Forkner allegedly provided regulators with "false, inaccurate, and incomplete information" about MCAS.
Regulators did not publish a key document with any references to MCAS, and so pilot training manuals did not refer to it, and Boeing customers were given incomplete information when buying planes, prosecutors said.
The MCAS, a software feature designed to automatically push the airplane's nose down in certain conditions, was linked to two fatal crashes of the 737 Max over a five-month period and led to the Federal Aviation Authority (FAA) grounding the plane for 19 months, an action which was lifted in November 2020.
"In an attempt to save Boeing money, [Mr] Forkner allegedly withheld critical information from regulators," said Chad Meacham, acting US attorney for Northern Texas. "His callous choice to mislead the FAA hampered the agency's ability to protect the flying public and left pilots in the lurch, lacking information about certain 737 Max flight controls."
Boeing declined to comment. A lawyer for Mr Forkner had not responded to a request for comment at the time of writing.
In the two crashes involving the 737 Max 346 people died.
In both cases an automated flight control system activated at the wrong time, overriding the actions of the pilots and forcing the aircraft into a dive.
It was later revealed that during the development of the aircraft, Mr Forkner sent messages to other Boeing employees claiming that it had been "designed by clowns, who in turn are supervised by monkeys".
He also boasted of using a "Jedi mind trick" to persuade regulators not to impose onerous training requirements on pilots of the new aircraft.
If convicted, he could face up to 20 years in prison.
But a lawyer representing the relatives of crash victims said Mr Forkner did not act alone, and prosecutors needed to go much further in attempting to find out how far the deception actually went.
A lawyer representing victims of a crash involving Boeing's 737 Max in Ethiopia in 2019 described the decision to charge the company's former chief technical pilot with fraud as a "corporate whitewash".
Robert A. Clifford, founder and senior partner of Clifford Law Offices in Chicago, said: "The tragic loss of 157 lives could have been prevented had Mark Forkner spoken up but he certainly didn't act alone."
"This inexcusable type of corporate greed goes far beyond the chief pilot at the company that haphazardly made these aircraft in an effort to increase profits," Mr Clifford said.
He said the US Department of Justice should "go further in its criminal investigation and indictments to determine just how far the deception went and who was at the bottom of it all".
"I think they will find many corporate officials took part in withholding critical information from the certifying agency.
"A deep-dive criminal investigation is owed to these families who gave the ultimate sacrifice and to the flying public that continues to buy tickets on the Max aircraft," he added.