LA port to open round the clock to tackle shipping queues
By Daniel Thomas
Business reporter, New York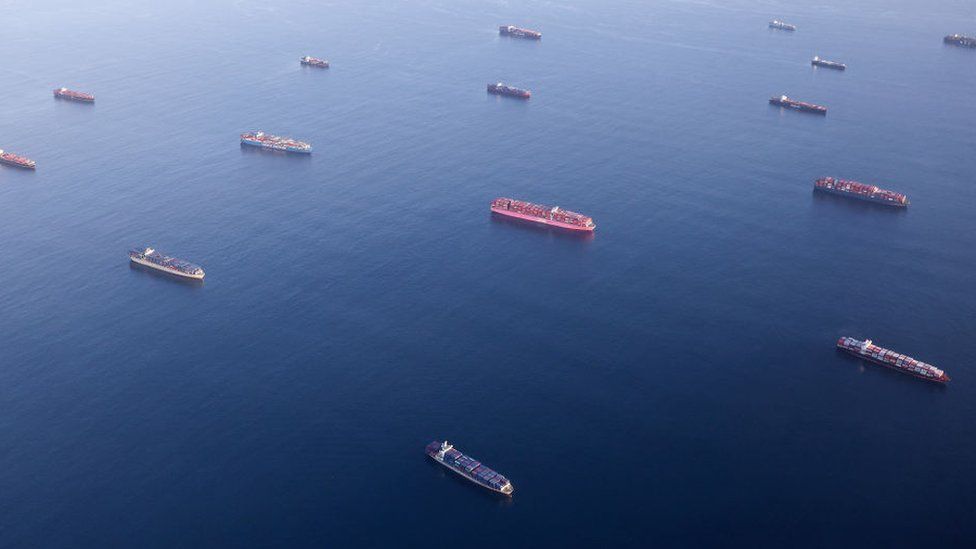 One of biggest US ports will start operating 24 hours a day to try to clear long queues of cargo ships stuck waiting outside.
It comes as officials scramble to ease global supply issues that may lead to goods shortages this Christmas.
The Port of Los Angeles in California will handle more goods at night after a similar move by nearby Long Beach port.
The ports - which handle 40% of all cargo containers entering the US - have faced months of problems.
Major US firms such as Walmart and FedEx have also committed to increasing their round-the-clock operations to help clear the jam, the White House said on Wednesday.
Global supply chains have been disrupted as economies have unlocked and consumer demand has roared back.
As retailers rushed to restock their inventories, the shipping system struggled to keep up. Covid shutdowns at major ports and factories in Asia have added to the problem.
It has led to shortages of children's toys, timber, new clothes and pet food in the US and elsewhere, while also pushing up consumer prices.
The ports of LA and Long Beach - which are the main seaborne gateway to the US - have been hit hard. LA had to move 30% more shipping containers than usual in August, while Long Beach moved an extra 23%.
On one day in September, a record 73 ships were forced to queue outside for a berth. Before Covid, it was unusual for more than one to have to wait at a time.
What is the White House doing about it?
Earlier this year, the Biden administration set up a Supply Chains Task Force and appointed a Port Envoy to find remedies for the disruption.
Both the ports of LA and Long Beach will now offer more new off-peak night-time shifts and weekend hours, so they can unload cargo faster.
On Wednesday, Walmart, UPS, FedEx, Samsung, The Home Depot and Target agreed to boost their night time operations at the port - something that should help clear 3,500 extra containers a week.
The Biden administration hopes the plan will also unlock capacity in the rest of the supply chain, including US highways, railways and warehouses.
US President Joe Biden, who met retail bosses and union chiefs on Wednesday, said he planned the biggest investment in America's ports in history as part of the $1tn (£730bn) infrastructure bill which is yet to pass the Senate.
"Our goal is not only to get through this immediate bottleneck, but to address the long standing weaknesses in our transportation supply chain that this pandemic has exposed," he told reporters.
He added that he wanted to make it easier for US firms to make products on home soil. "Never again should we have to rely too heavily on one company or one country or one person in the world, particularly countries don't share our values," said Mr Biden.
Will it affect Christmas?
Unfortunately, it may do. "There will be things that people can't get," a senior White House official told Reuters.
"At the same time, a lot of these goods are hopefully substitutable by other things."
He added: "I don't think there's any real reason to be panicked, but we all feel the frustration and there's a certain need for patience to help get through a relatively short period of time."
Supply chain-related shortages of goods like semiconductors and cars have already driven up consumer prices. The Federal Reserve last month predicted inflation - the rate at which prices rise - would run at 4.2% in 2021, well above its 2% target.
It appears to be harming the president's approval ratings, as the Republican party capitalises on the chaos. It has dubbed this holiday season as "Biden Blue Christmas", and former US president Donald Trump used the phrase at his Iowa rally over the weekend.