Black Widow: Disney and Scarlett Johansson settle lawsuit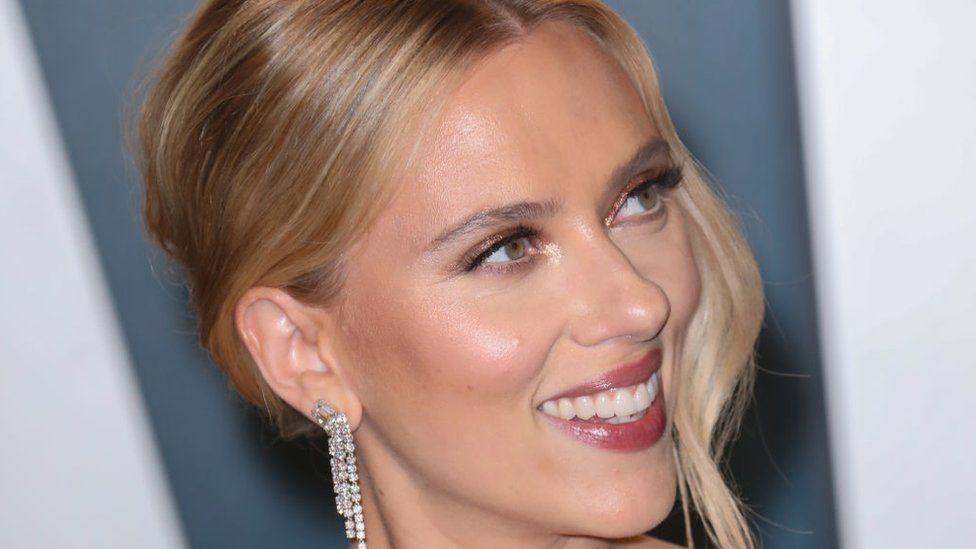 Walt Disney and Scarlett Johansson have settled a legal dispute over the release of the Marvel superhero movie Black Widow.
Johansson sued Disney two months ago, accusing it of breaching her contract when it offered the movie on its Disney+ streaming service while it was still showing in cinemas.
She said the decision meant that she was deprived of potential earnings.
Details of the deal between Disney and Johansson have not been disclosed.
"I'm very pleased that we have been able to come to a mutual agreement with Scarlett Johansson regarding Black Widow," Alan Bergman, content chairman for Disney Studios, said in a statement.
"We appreciate her contributions to the Marvel Cinematic Universe and look forward to working together on a number of upcoming projects, including Disney's Tower of Terror," he added.
Johansson also said that she was pleased to have resolved her differences with the entertainment giant and looked forward to further collaboration.
"I'm incredibly proud of the work we've done together over the years and have greatly enjoyed my creative relationship with the team," her statement said.
Johansson starred in Black Widow as the Russian assassin-turned-Avenger superhero of the film's title, a role she has played in nine Marvel films.
Her complaint was filed in Los Angeles County Superior Court in July.
It argued that she was promised by Marvel Studios, which is owned by Disney, that Black Widow would be a "theatrical release".
She said she had understood this to mean a "window" of time would pass before it would be streamed - a period that has traditionally lasted 90 days.
In response, Disney said at the time that it had "fully complied" with her contract and that her case had "no merit whatsoever".
Black Widow, which debuted simultaneously on 9 July in cinemas and via Disney+, set a box office record for a release during the coronavirus pandemic in its first weekend, grossing $218m (£161m), but box office receipts then fell sharply.
It has now grossed more than $378m in worldwide box office receipts, according to film tracking service Box Office Mojo.
The film also generated about $60m through streaming purchases in its first 20 days of release, Disney has said.
During the pandemic several big Hollywood studios opted to bypass cinemas, many of which had been closed, and release films online instead.
Now that most cinemas have reopened, Disney, along with fellow giant Warner Bros, has chosen to maintain a dual release strategy for their major films.
Johansson topped Forbes magazine's list of the world's highest-paid actresses in 2018 and 2019, with earnings before tax estimated to have topped $56m in the year to June 2019.
You may also be interested in: