Tesco zero-waste trial launches at 10 stores in England
By Mary-Ann Russon
Business reporter, BBC News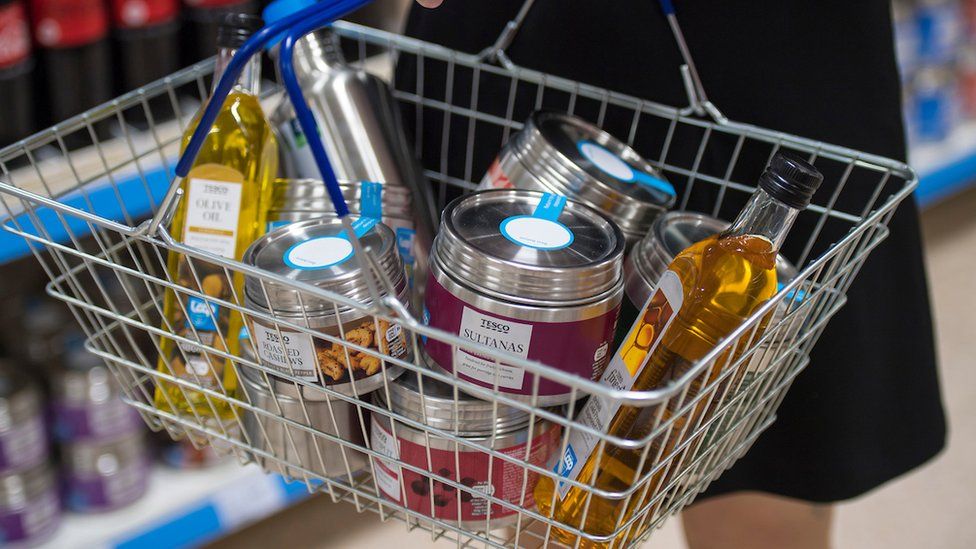 Supermarket chain Tesco is to trial its zero-waste shopping service at 10 stores in the East of England.
Customers will be able to buy common household goods in reusable packaging that can be returned to the store to be used again.
This follows a year-long online pilot where customers could order products and return packaging from their doorsteps.
The trial aims to meet demand for less single-use plastic packaging.
Tesco says that if customers at the 10 stores were to switch just three products in their weekly shop, such as tomato ketchup, a bottle of soft drink and washing-up liquid, the packaging would be used and reused more than two-and-a-half million times a year.
Shoppers will be able to opt to purchase 88 popular products with reusable and durable packaging, including Persil washing up powder, Fever-Tree drinks and mixers, Carex handwash, Tetley Tea and BrewDog beers.
The reusable packaging and zero-waste shopping experience is provided through Tesco's partnership with reusable packaging platform Loop.
But regular versions of these products using single-use packaging, including plastic, cardboard, glass and Tetra Paks, will still continue to be available at the stores.
Tesco has also added 35 of its own-brand essential foodstuff products to the trial, such as pasta, rice, oil and sugar.
The stores taking part in the trial are:
Milton Keynes Kingston
Northampton South
Cambridge Newmarket Road
Wellingborough
Milton Keynes Wolverton
Evesham
Leicester Hamilton
Stratford-upon-Avon
Ashby-de-la-Zouch
Loughborough Rushes
Customers who want a zero-waste shop can visit the Loop section of an aisle, where zero-waste versions of popular products, pre-filled in special reusable containers, are ready to pick up on shelves.
Shoppers take their groceries to the checkout and are charged an extra 20p deposit for each reusable product that is later refunded via an app when the packaging is returned.
Tesco says the products sold in Loop's reusable packaging are exactly the same price as the original versions of products, bar the fully-refundable deposit.
Once customers have finished using the product, they return the packaging to a collection point in the store and claim their refund on an app.
This is different from the zero-waste shop movement run by small, independent businesses.
That traditionally encourages shoppers to bring their own containers or make use of paper bags or existing containers, such as glass jars, Tupperware boxes or old metal biscuit tins, that have been donated by the local community for people to use.
Rival supermarket chain Waitrose began trialling zero-waste shopping in 2019, offering large dispensers for foodstuffs and encouraging shoppers to bring their own packaging, similar to the zero-waste entrepreneurs.
Changing consumer demands
Consumer expert Kate Hardcastle says the pandemic has seen a rise of interest in people looking at going zero-waste, or at least reducing the amount of products they buy that feature single-use plastic.
She calls it a "jolt in social consciousness", as people had more time to think about their impact on the environment during the coronavirus lockdowns.
"It's about time, Tesco," she told the BBC.
"For many years, the independent small businesses have been leading the way on reducing single-waste plastic, but we know bigger retailers can bring an economy of scale to the consumer, which will help with more affordable prices and more access."
The online community of zero-waste shop owners estimates there are now roughly 320 zero-waste shops in the UK, but this also includes community interest companies (CICs) and organic wholefood shops.
According to Ms Hardcastle, it is difficult to collect official data, because many shops go bust and fail.
"What we don't want to see is big supermarket chains bulldozing the small retailers out of the equation," said Ms Hardcastle.
"The best outcome for our environment is if small and big retailers can all trade successfully with far greater ethical packaging and products on sale."
Accessing local zero-waste shops and carrying containers around can prove to be difficult for people who don't drive and do not want to travel too far.
This might make supermarkets a more attractive option, similar to the effect that large chains have had on local butchers and greengrocers in the past.
"Most small zero-waste businesses know this is coming and won't be surprised, but it will concern them in terms of cost as they won't be able to buy on the same scale, but they will hope they have built up a loyal local customer base," she said.