Scrap Covid tests for most travellers, says industry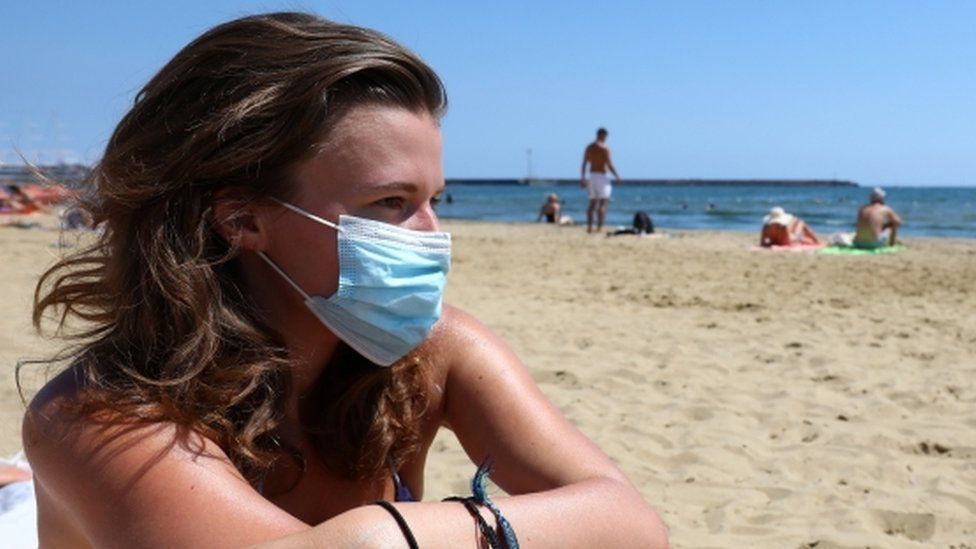 Covid PCR testing should be abandoned for most holidaymakers, says travel organisation Abta.
Fully vaccinated travellers should not need to be tested on their return from lower-risk countries, it said.
It also called for a "significant overhaul" of the traffic light system for travel destinations.
Abta said the policies had "choked off" this summer's travel trade, with seven out of 10 travel firms planning to make redundancies after furlough ends.
It also called for the government to reduce the traffic light system to just a small number of "red list" countries, purely for the management of known Covid variants of concern.
The expense of PCR testing is widely blamed for discouraging people from travelling abroad.
At present, going on holiday abroad means taking Covid tests when you are returning to the UK.
Most private providers charge above £60 for PCR tests and £30 for lateral flow devices. The government has warned more than 80 providers over misleading prices.
The next formal review of the government's travel policies is expected by 1 October, while the furlough scheme is due to end on 30 September.
With more than 80% of eligible UK adults already vaccinated against Covid, it was time for a "stable framework" for international travel, said Abta, which represents tour operators and travel agents.
New summer foreign holiday bookings for 2021 were down 83% on 2019, Abta said, while almost half of travel companies reported they had seen no increase in 2021 bookings compared with last year, despite the rollout of the vaccine programme.
The summer sun is fading, but the travel industry's fears are heating up as the end of furlough approaches.
The industry is disappointed that vaccination didn't open up international travel as they would have hoped. The government said it will review the way international travel works before October and many expect it will come this week. Voices in the industry are hoping to make themselves heard before ministers meet to discuss exactly what might change.
A sticking point could be PCR testing. The government has argued so far that it's needed for all travellers to catch variants of concern as early as possible, but the industry say these expensive tests are putting off travellers.
Winter is approaching and travel companies need to make decisions about their future operations: they are waiting anxiously to see which way the government will go.
Abta chief executive Mark Tanzer said: "The government's travel requirements have choked off this summer's travel trade - putting jobs, businesses and the UK's connectivity at risk.
"While our European neighbours have been travelling freely and safely, the British were subject to expensive measures which have stood in the way of people visiting family and friends, taking that much-needed foreign holiday and making important business connections.
"The government needs to wake up to the damage its policies are doing to the UK travel industry and the impact they will have on the wider economic recovery."
Abta urged the government to extend the furlough scheme for travel businesses alongside a package of tailored financial support for the industry.
A Department for Transport spokesperson said: "Our top priority is to protect public health. Decisions on our traffic light system are kept under regular review and are informed by the latest risk assessment from the Joint Biosecurity Centre and wider public health factors.
"We recognise the challenging times facing the travel sector, which is why we have committed around £7bn of support by September 2021 and continue to work with industry to help them navigate this difficult period."