Emma Raducanu set to earn millions after US Open win
By Beth Timmins and Michael Race
Business reporters, BBC News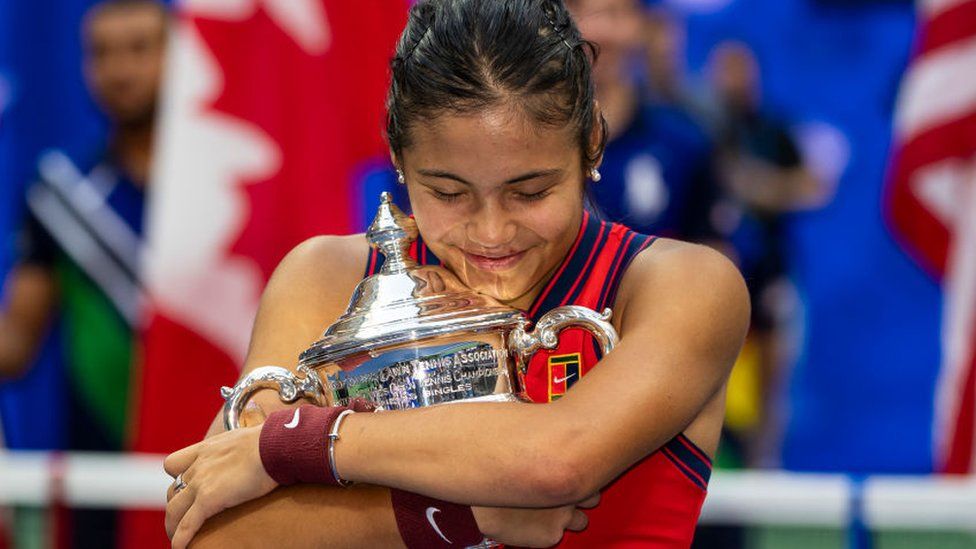 British teenage tennis star Emma Raducanu is set to earn millions through lucrative sponsorship deals and endorsements, experts say, after her stunning win at the US Open.
The 18-year-old took home $2.5m (£1.8m) in prize money for the title, dwarfing the $303,000 she had earned previously during her short career.
However, marketing experts predict she is set to make millions more, with brands queuing up to secure off-court deals.
Tennis players dominate the richest sportswomen rankings with the nine highest paid female athletes in the world all being tennis players, according to Forbes business magazine,
This suggests there is substantial scope for Raducanu, who already has a shoe and clothing sponsorship contract with Nike and a racquet sponsorship with Wilson.
Nigel Currie, a sponsorship and marketing consultant, told the BBC that Raducanu has the potential to earn similar levels to some of the highest-paid female sports stars off the court, so long as she continues her form on it.
"The sky is the limit for her really. She is in the right sport, one of the most lucrative sports for female athletes," he said.
"She has obviously got to keep winning, she is right at the start of her career. There is no reason to assume she won't go on to win other events and other grand slams."
Mr Currie said Raducanu had a "uniqueness" for brands in that Britain had not had a female grand slam champion for more than 40 years. He added the timing of the teenager's success was "perfect" due to superstar Serena Williams coming to the end of her career.
For an unranked player, Mr Currie said, two sponsorship agreements were typical, but the next round of deals the new British number one negotiates will be "absolutely huge, with Nike and Adidas fighting over her".
"She is very personable, very bright. She answers the questions well. She says the right things - from a marketing point of view that is a dream," he added.
"Most top stars have six or seven sponsorship deals. There will be a huge, mega, watch deal around the corner - they (major tennis stars) all have that."
Mr Currie also said clothing brands would seek to secure Raducanu - who features in Vogue's October issue - as an ambassador.
Raducanu is currently managed by Max Eisenbud, vice-president of tennis at entertainment business IMG. He previously managed former world number one Maria Sharapova, who was the world's highest-paid female athlete for 11 years running.
There are "plenty of deals Emma could make with big brands", Simon Chadwick from the Emlyon Business School told BBC 5 live. "There's so much potential on where Emma could go commercially.
"Emma's age, she's Generation Z, her dual heritage, her growing profile and the global platform she's on means big things are ahead for her, " Mr Chadwick added.
Twenty-three year-old Naomi Osaka is the world's highest-paid female athlete at the moment, overtaking Serena Williams in May 2020.
Her total earnings stand at $37.4m (£27.2m) according to Forbes, and Osaka broke Maria Sharapova's 2015 record for the most money ever earned by a female athlete in a year. Osaka is 28th in the world's highest-earning athletes, including male players.
Following Osaka's back-to-back Grand Slam titles in 2018 and 2019, Nike paid about $10m (£7.2m) to take her from Adidas and she now has a total of 15 company sponsors.
The potential earnings from endorsements for Raducanu is immense if calculated from Osaka's benchmark of $34m (£24.6) from endorsements - 10 times more than her total prize money earnings.
Sports industry lawyer Trevor Watkins from Pinsent Masons said that "ultimately, having a strong team around her will reflect the measure of success going forward".
"The power of the personality to drive value is a huge factor for her, but the difficult thing will be ensuring she makes the right choices."
Historic social media posts and negative publicity have reflected badly and ended sponsorship deals for other athletes in sports such as cricket, but Mr Watkins said Raducanu has an "inspiring young image" which businesses will want to capitalise on.
"Brands aren't going to pay a million dollars without commitments back, but she'll be able to pick and choose who she wants to associate with now."
Roger Federer is the richest tennis player in the world, coming in as the seventh richest athlete for 2021. He has an estimated net worth of $450m (£324.3m).