EasyJet rejects takeover bid and seeks to raise more money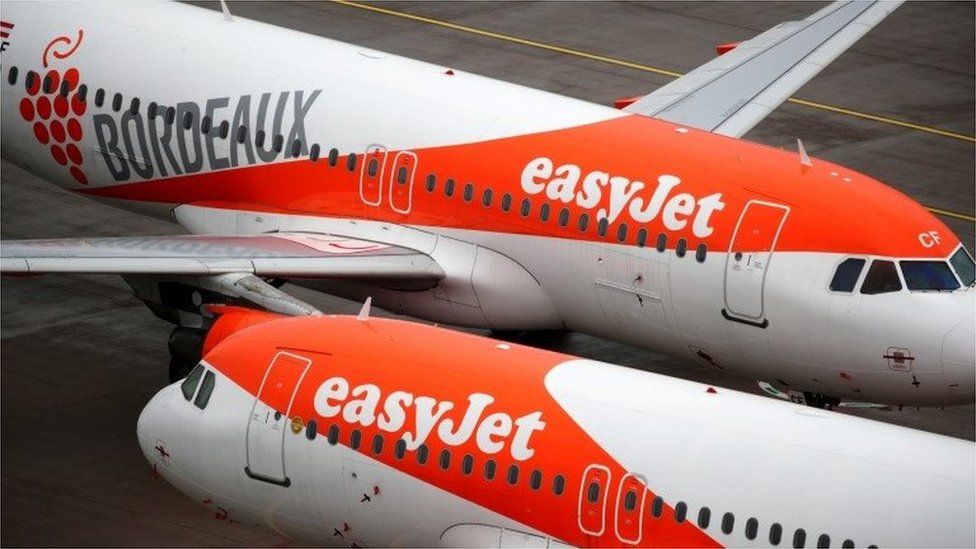 EasyJet has rejected a takeover approach and announced plans to raise £1.2bn from shareholders to help its recovery from the pandemic.
The airline said the unsolicited bid undervalued the company and the unnamed suitor was now no longer interested.
EasyJet's boss said the fundraising would allow the firm "to accelerate our post‐Covid‐19 recovery plan" instead.
The carrier has alreadyraised emergency funds during the crisis, having been affected by Covid-related travel restrictions.
EasyJet also plans to raise $400m (£290m) in debt.
The company said on Thursday it was "well-placed to emerge from the pandemic", but the additional cash would provide a buffer should further coronavirus-related lockdowns delay the airline's recovery.
It has lost more than £2bn as many flights were grounded during the coronavirus crisis and it slumped to its first-ever loss in its 25-year history as a result.
EasyJet chief executive Johan Lundgren has spoken out in favour of reducing the costs of Covid tests required for travel, in order to get customers booking again and the aviation industry back on its feet.
On Thursday, he said the funds raised through the share sale would strengthen the airline's balance sheet.
He added it would also position the firm for growth as the aviation industry in Europe emerges from the pandemic, saying that the airline had seen a spike in customer demand where restrictions have been lifted.
Looking ahead, the company plans to fly 57% of its 2019 capacity between July and September, "with a continued focus on profitable flying".
It also said it would try to grow its sales through the launch of new products such as EasyJet Holidays, as well as a "standard plus" fare.
The airline is in the midst of a huge cost-cutting programme, which it said was set to deliver about £500m of savings in the financial year to 30 September.
Despite this, the carrier took the decision to review and reject the takeover approach from an unnamed potential buyer.
The board said that the all-share offer "fundamentally undervalued" the business and was "highly conditional".
EasyJet shares sank in early trade on the London Stock Exchange on the news,down nearly 8% at 728p.
However, Laura Hoy, equity analyst at Hargreaves Lansdown, said: "There is some potential upside to consider.
"Legacy carriers may pare down some of their routes indefinitely, leaving space for EasyJet to up its presence at major airports. The group couldn't do this without an injection of cash and promised shareholders that at least some of the funds are earmarked for this purpose.
She said that although the move was "risky", it could pay off if EasyJet was able to expand its presence into more profitable travel routes.
Mr Lundgren said during a call with journalists on Thursday that the firm was in a good position to buy more landing slots as other rival airlines rein in their short-haul operations.
"I believe this is really a once in a lifetime opportunity," he said.
All airline bosses have fretted over one issue since the start of the pandemic - do they have sufficient financial reserves to carry them through to when passengers finally return?
It was an almost impossible question to answer, as no-one knew how long the pandemic would last.
EasyJet thought it had done enough last June, when it boosted its bank lending facilities and in addition asked shareholders to stump up £450m. Now, like Oliver Twist, the company is asking for more, tapping investors for £1.2bn.
It is not only about making good the losses racked up in the past year; it is also, the company says, about positioning it to take advantage of what it believes will be a shake-out of the aviation industry in the coming months. It wants to have sufficient firepower to take advantage of "a range of long-term strategic and investment opportunities" that it expects to arise.
Some may regard EasyJet itself as the investment opportunity.
The company also disclosed this morning that it had received an unsolicited takeover approach, which the board had rejected. It is not hard to see why the airline is attracting the attention of suitors - the shares were £18 just three years ago.
By making the approach public, the company is sending a coded message to City investors. If you don't want to see another British company fall to an opportunistic bid, it might be a good idea to support our cash call.