McDonald's plant burger launch late to vegan party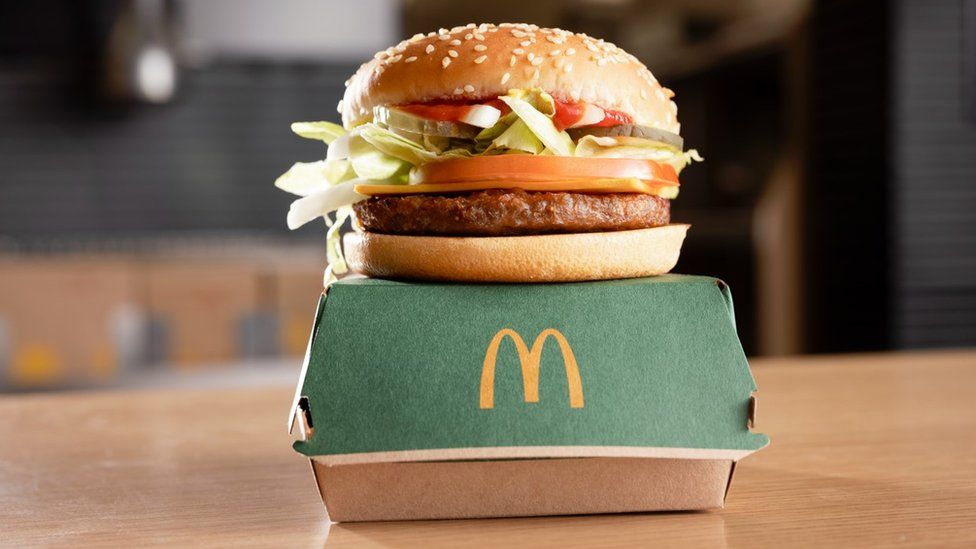 McDonald's has said it is to start selling a vegan burger in the UK and Ireland after years of research to perfect it.
The McPlant burger will be trialled in 10 Coventry restaurants from late September and go national next year.
But the launch lags behind rival fast food chains, such as Greggs with its vegan sausage roll and Burger King with a soy-based Rebel Whopper.
McDonald's said it took its time to ensure it met the highest standards.
The introduction of the McPlant burger comes as vegan brands become increasingly valuable to investors.
The McPlant burger will be made up of a patty supplied by Beyond Meat, vegan cheese, mustard, ketchup, onion, pickles, lettuce and tomato in a vegan sesame bun.
The fast food giant spent three years researching and testing different burgers and cheeses.
It eventually decided on a slice based on pea protein to try to match the restaurant's usual ingredients.
"We're so pleased to be finally launching McPlant in the UK and Ireland," said Michelle Graham-Clare, chief marketing officer of McDonald's UK and Ireland.
"As with every McDonald's offering, we take our time to ensure it meets the highest standards and is something that all our customers will enjoy."
The McPlant burger is also fully accredited as vegan by the Vegetarian Society.
Unlike Burger King's plant-based burger, which was criticised as it emerged it would be cooked on the same grill as some animal products, McDonald's will prepare the McPlant burger separately with dedicated utensils.
But Barclays Bank forecasts that consumption of meat alternatives might be worth $140bn (£106bn) by 2029.
And many brands have committed to offering vegan-friendly options as their customers become more aware of the environmental impact of their dietary choices.
According to Veganuary, the campaign which sees consumers trial a vegan diet for the month of January, last January saw new plant-based products pop up from the likes of Hellman's, Mars and Heinz.