Accountancy giant KPMG to recruit more working class staff
By Beth Timmins
Business reporter, BBC News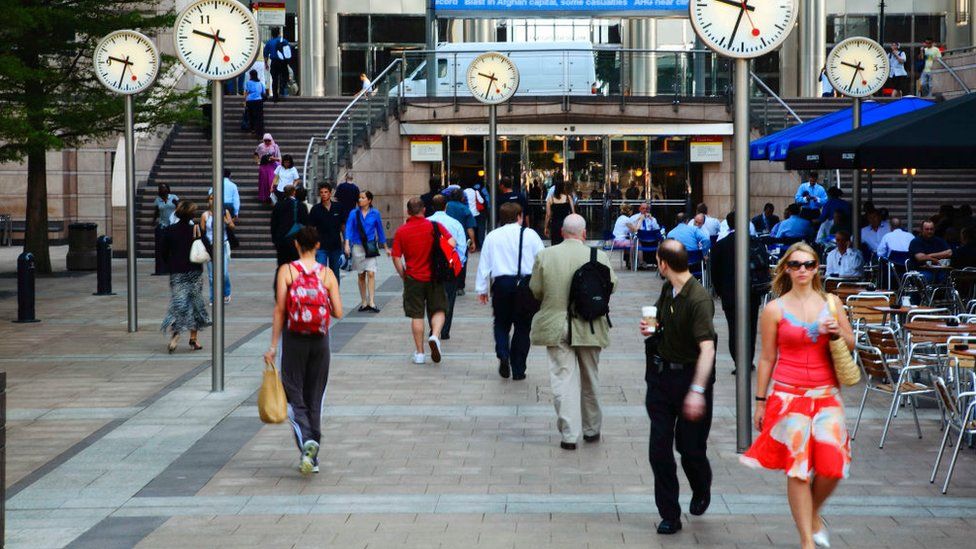 Accounting giant KPMG has become one of the first large UK businesses to set a target for the number of employees from working class backgrounds.
KPMG has defined working class as having parents with "routine and manual" jobs, such as drivers, cleaners and farm workers.
It wants 29% of its partners and directors to come from working class backgrounds by 2030.
That compares with 23% of partners and 20% of directors at the moment.
KMPG said that these employees were paid 8.6% less than those from the other socio-economic groups.
In February, KMPG faced a backlash after its former chairman dismissed the notion of "unconscious bias" training.
The Labour Force survey also showed that 24% were "intermediate", defined as having parents with jobs such as secretaries, call centre agents and nursery nurses. The remaining 37% had "professional backgrounds" with parents working as teachers, finance managers, software designers and accountants.
KPMG said that while its senior and junior colleagues were its most socio-economically diverse employees, working class representation in middle management grades was comparatively lower and this was contributing to the pay gaps.
The firm's diversity data is from a non-mandatory survey in which 70% of staff took part. Out of the 10,444 staff who were surveyed, 1,289 selected "I don't know" or "Prefer not to say" options when asked about their backgrounds.
The company will also train its 16,000 employees to understand the issue of socio-economic background and to recognise "invisible barriers" to progression.
KPMG chair Bina Mehta said she was from a working-class background and was a "passionate believer that greater diversity improves business performance".
"Diversity brings fresh thinking and different perspectives to decision-making, which in turn delivers better outcomes for our clients," she added.
Ms Mehta was appointed to the role this year after the resignation of the company's former chairman, Bill Michael. During a company-wide Zoom call, he said there was "no such thing as unconscious bias".
In anonymous comments on the Zoom call workers complained and one wrote: "There's no such thing as unconscious bias?! Are you joking? Please do your research before just making such statements. Check your privilege."
Along with the other "big four" accountancy firms PwC, Deloitte and EY, KPMG offers unconscious bias training for its staff. It is designed to increase awareness about race, sex, sexuality or disability prejudices and patterns of discrimination in the workplace.
Nick Miller, chief executive of non-profit consultancy the Bridge Group, said: "In publishing pay gaps by socio-economic background for the first time, and using this to inform a strategy for change, KPMG is leading the way."
On the verifiability of socio-economic staff surveys, Sarah Atkinson, chief executive of the Social Mobility Foundation, told the BBC: "We don't see this being any different to the risk of employees lying about work experience on their CV; if businesses implement social mobility into all their practices it will create fairness of opportunity.
"Social mobility in business is about rewarding potential, not polish.
"It demands a whole business approach: recruiting directly from areas where there are fewest opportunities, providing non-degree pathways and creating workplace cultures that are inclusive for all," she added.
Tessy Ojo, chief executive of the Diana Award's employability programme, agreed that there were risks the socio-economic data may not be "properly measured" by the surveys and said if they are "not mandatory how will we know that they (KPMG) are hitting the target?"
"They need to make sure people don't face barriers at the grass root level and ensure staff monitoring is anonymous so people can take part."
Half of adults from the poorest backgrounds receive no training at all after leaving school and even in a professional role, they earn 17% less, on average, than more privileged colleagues, according to a 2020 report by the Social Mobility Commission.
The commission found people who come from a privileged rather than a working-class background are 60% more likely to be in a professional job.
The same report found that where a person comes from is also decisive in what professional opportunities they have. Young people are twice as likely to go to university if they are from a social mobility "hot spot" such as some city centres or high performing school areas (27%), compared with those from remote rural or former industrial areas (14%) across the UK.
However, more people from working class families are now in professional jobs, with the percentage having increased to 39% in 2020 compared with 33% in 2014.
The UK ranks 21st on a global social mobility index, well behind most European countries. It has a high score on access to education, but Dame Martina Milburn, chief executive of the Prince's Trust charity group, said the UK "does poorly on labour market policies to help the unemployed and on fair wages".
'Positive discrimination'
However, employees are divided about whether they would want similar targets in their workplaces.
Thomas from Leeds told the BBC that even as someone who would benefit, he thought it was a bad idea.
"As soon as you set targets like this you are moving towards positive discrimination, which let's face it is just discrimination."
"The mantra should always be to hire people based on their ability to do the job which will include an element of fitting into the workplace culture. Social mobility should happen naturally. I am proof of that."
Jack, an IT manager from Birmingham, said though it was a "step in the right direction", he was "generally suspicious" of quotas.
He left school at 16 and is now in a management position aged 28. He said the reason he progressed was because people assumed he had a degree.
He said that as they "did not bother to clarify", he "didn't bother correcting them either".
"What this does acknowledge is that the main source of inequality in the workplace is class and nothing else - this fits with my views as a working class person."
Would you describe yourself as working-class? Do you think firms setting a target is a good idea? Please tell us your story by emailing haveyoursay@bbc.co.uk.
Please include a contact number if you are willing to speak to a BBC journalist. You can also get in touch in the following ways:
If you are reading this page and can't see the form you will need to visit the mobile version of the BBC website to submit your question or comment or you can email us at HaveYourSay@bbc.co.uk. Please include your name, age and location with any submission.