Mother refused 5pm finish wins £185,000 payout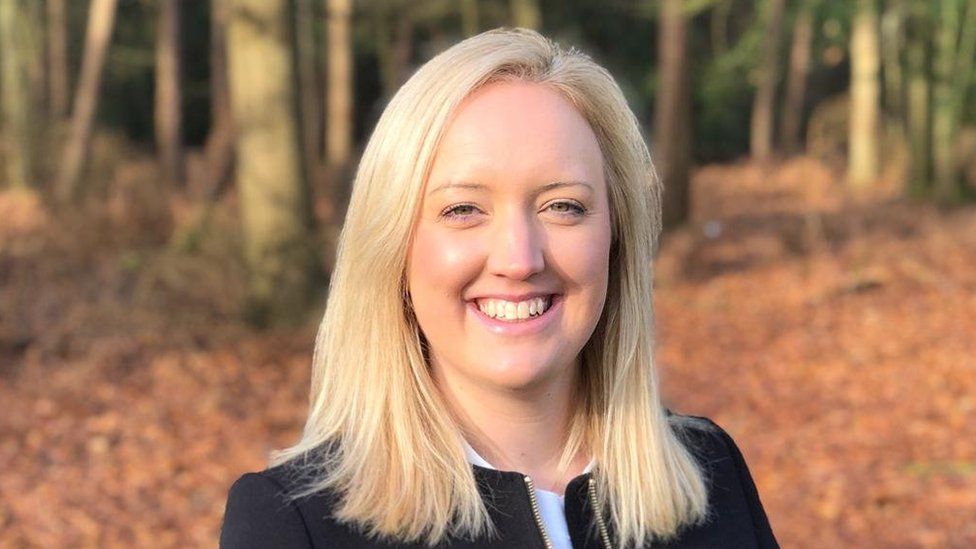 Alice Thompson wanted to work shorter hours to pick her daughter up from nursery, but ended up resigning.
The former estate agent spent tens of thousands of pounds pursuing the case against her former employer.
She was awarded £185,000 by an employment tribunal and this week told the BBC it was "a long, exhausting journey".
The tribunal ruled she had suffered indirect sex discrimination when the firm refused to consider her request.
Ms Thompson was a successful sales manager at a small independent estate agents in central London before she became pregnant in 2018.
"I'd put my heart and soul into an estate agency career for more than a decade," she told BBC Radio 4's Woman's Hour.
"That's no mean feat, it's quite a male dominated environment to work in. And I'd worked really hard to build relationships with clients."
When she wanted to return to work after maternity leave, she asked her employer if she could work shorter hours, a four day week, and leave at 5pm, rather than the normal end-of-day at 6pm, to pick her daughter up from nursery.
Her manager said they couldn't afford for her to work part time.
"I made a request for flexible working that wasn't seriously considered," Ms Thompson says.
"I proposed what would have worked for me. If that didn't work for the company, I would have been more than happy to hear a counter offer, what might work for them.
"If they needed me for the full hours, maybe eight 'til five instead of nine 'til six, that's something I could have worked around.
"But it was shut down, every avenue, not listened to, not considered. And I was left with no other option but to resign.
"How are mums meant to have careers and families? It's 2021 not 1971."
She said she was motivated to pursue the legal challenge in order to prompt change.
"I've got a daughter and I didn't want her to experience the same treatment in 20, 30 years' time, when she's in the workplace."
She said her effort was worth it to "stand up for what is right".
The tribunal found that the firm's failure to consider more flexible working put Ms Thompson at a disadvantage, and upheld her claim. The judge awarded her almost £185,000 for loss of earnings, loss of pension contributions, injury to feelings and interest.
"Losing a job unexpectedly is always a cause of unhappiness, shock, and sometimes anger, as shown by the way many employees react to redundancy, even when there has been proper consultation, and even when it is never suggested their performance was not good enough," the tribunal found.
"Here the claimant resented that flexible working appeared not to be considered properly - as in our finding it was not - and felt that this was an injustice because of her sex, which it was."
Flexible working: Your rights
A flexible working request could involve shorter hours, different start and finish times, a job share or doing your hours over fewer days (compressed hours)
All employees who have been with a firm for at least 26 weeks have the right to make a flexible working request
If you make a request, your employer must consider if fairly and make a decision within a maximum of three months
However several other claims Ms Thompson made regarding her treatment, including discrimination because of pregnancy and maternity, and harassment, were denied by the tribunal.
The tribunal found that the director of the Manors estate agency, Paul Sellar, had moved a staff trip to New York from November to August so Ms Thompson could fly in when pregnant, and there were checks to see when the latest was that she could fly.
When there, she did not join the other six for a boat trip.
"She did go shopping and then back to the hotel. In our finding she was upset that the others had had a good time drinking and were late back. She may have felt excluded, but it was not because of any action on the part of the respondent," the judges said.
On the return journey from New York, Mr Sellar commented that Ms Thompson did not seem to have enjoyed the trip, and she replied that she had felt isolated and became tearful.
A few days later he suggested she should not have gone to New York.
"We can understand that Mr Sellar may have found her response ungrateful when the group trip had cost him £25,000," the judges said.
While she was determined to pursue the legal action she told Woman's Hour it was challenging.
"It's a very emotional process once you've had a child. You have a new identity as a mum, you're trying to figure things out on that field, and then you're going back to work as well," said Ms Thompson.
But she said workplaces that didn't support returning mothers risked "missing out on some fantastic women, who have been really successful, because they are short-sighted and don't want to be flexible".
She said many women had reached out to her in the wake of the ruling, many of whom had similar experiences but didn't have the mental or financial capacity to pursue a claim.
"It did come at a huge financial cost... and obviously there's the risk you might not get that money back if you lose, but there's a greater picture to trying to make some small change in the world for the better."
The BBC approached Manors for comment.
Have you been affected by issues covered in this story? Share your experiences by emailing haveyoursay@bbc.co.uk.
Please include a contact number if you are willing to speak to a BBC journalist. You can also get in touch in the following ways:
If you are reading this page and can't see the form you will need to visit the mobile version of the BBC website to submit your question or comment or you can email us at HaveYourSay@bbc.co.uk. Please include your name, age and location with any submission.