'A hotel without linen is not a hotel'
By Robert Plummer
Business reporter, BBC News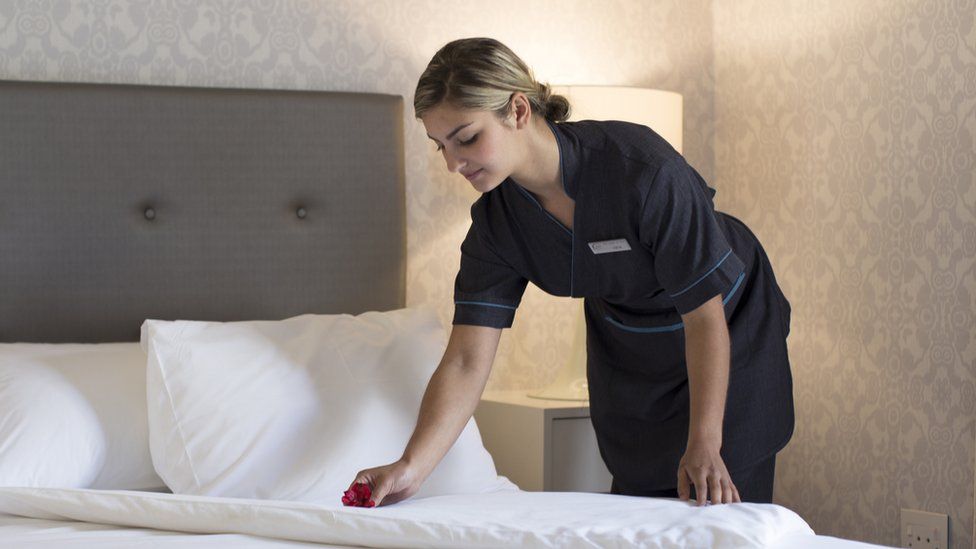 Lilliput Services in Belfast is one of the unsung companies without which the UK's hotel industry could not exist.
The fresh bed linen you're used to seeing in your hotel room is not owned by the hotels themselves, but by laundry firms like Lilliput.
They collect it when it's dirty and bring it back nice and clean. As boss David Griffiths puts it: "A hotel without linen is not a hotel."
But Covid, Brexit and other factors have combined to make life extremely difficult for laundry companies - and that is having a knock-on effect for accommodation providers everywhere.
Sources in the hotel industry have reported difficulties in getting rooms ready for guests because they don't have enough bedclothes.
Kate Nicholls, head of the UK Hospitality industry body, has said the problems are "across the sector".
'We have had general managers taking laundry home in order to get towels turned around because the commercial laundry providers haven't been able to guarantee the delivery," she told the BBC.
Part of this is down to the national shortage of lorry drivers that is holding up linen deliveries, just as it is leading to gaps on supermarket shelves.
But the problems go deeper. Weather-related disasters and India's Covid crisis have caused a global shortage of cotton, so that laundry firms are finding it hard to replace worn-out sheets with new ones.
"I've been in this game 40 years and I've never, never not been able to buy a pillowcase," says Mr Griffiths.
For the past five weeks, Lilliput has been working 24 hours a day, five days a week in an effort to clear the backlog of deliveries. That has meant paying staff extra to work the unsocial hours.
In order to keep going during the pandemic, the firm took out a coronavirus business interruption loan of £1.3m. Although interest rates are low, Mr Griffiths says that planned investments in the business will now have to wait.
"About 80% of our staff were Eastern European and a lot of them went home during furlough," he adds. Brexit has also made it difficult to get materials into Northern Ireland from elsewhere in the UK.
"It's absolutely astonishing, it's devastating," he says. "This will impact on the marketplace unless we can find solutions."
Across the Irish Sea in Blackpool, another laundry firm is finding the going tough as well.
Like Lilliput, Blackpool Laundry makes its living from providing linen to hotels, NHS hospitals and ferry services.
Having started as a local firm in the seaside resort, it now has clients all over north-western England.
But boss Mark Oldroyd is more often found on the shop floor than in his office right now, pitching in to help mitigate a shortage of workers.
"We're struggling to get staff. It's getting quite bad," he told the BBC.
Unlike his counterpart in Northern Ireland, Mr Oldroyd is suffering less from the lorry driver shortage: "Drivers are not too bad, it's getting labour."
David Stevens, chief executive of the Textile Services Association, says the laundry industry is facing "massive recruitment issues".
There are currently 4,000 vacancies out of a workforce of 24,000, he says.
"The industry was overlooked during the pandemic - it wasn't hospitality, it wasn't retail and it wasn't leisure," he told the BBC.
"Firms had a tough time and had to make a lot of commercial decisions. It's very difficult to kickstart the industry in just three weeks."
With the "unprecedented bounce-back" of the hotel industry and a return to 90% occupancy rates, "we just haven't been able to get adequate staff", he says.
Mr Griffiths of Lilliput Services says that whatever happens, change is coming to the industry.
"We have to pay more money and we have to charge more for our services," he says. "It's the only way forward."