Amazon offers punctual staff £50 for turning up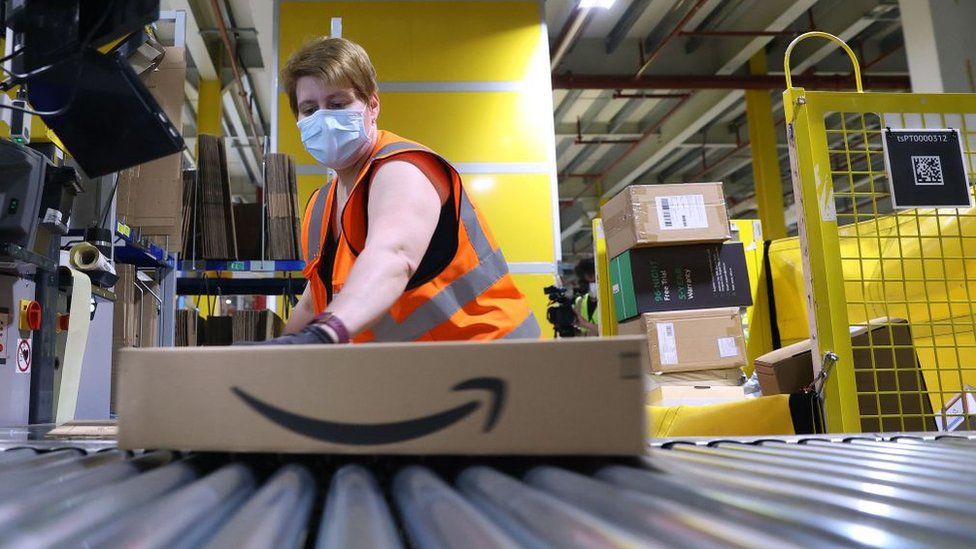 Amazon is offering a £50 weekly bonus for permanent staff at some UK locations for turning up to work on time.
The reward is for people who have 100% attendance, excluding time taken off for sickness linked to disability and Covid.
Amazon said the enticement would help it meet summer and Christmas demand.
Last week, the online retail giant advertised a £1,000 joining bonus for new warehouse workers.
The attendance bonus will be offered at sites including Amazon warehouses in Durham and Gateshead.
As a current or former Amazon employee, what's your view of the scheme?
An Amazon spokesperson said: "We are currently offering an attendance bonus at a number of locations to permanent associates to support our summer demand and help us prepare for the festive season ahead."
The bonus will be paid per week, and will be based on 100% attendance for all scheduled shifts, excluding absences under the Equality Act and relating to Covid.
Amazon recently advertised that new starters who start working before 18 September will get a £1,000 signing-on fee.
The company has faced accusations of poor working conditions in the UK and elsewhere.
In March, Unite, the union, launched a whistleblowing hotline for Amazon workers in the UK. It also called for Amazon to allow British workers to unionise and to have a greater share of the firm's profits.
Some workers described having to run to the toilet to make it back to their workstation on time, and not being allowed to sit down for ten hours.
Other workers described queues for toilets which meant they had to urinate in bottles.
Amazon's recruitment and retention efforts come as UK job vacancies hit a record 953,000 in the three months to July.
Some parts of the UK economy are struggling to recruit, including efforts to try to address a chronic shortage of HGV drivers.