Pingdemic: 'I'm losing hundreds of pounds in tips'
By Beth Timmins
Business reporter, BBC News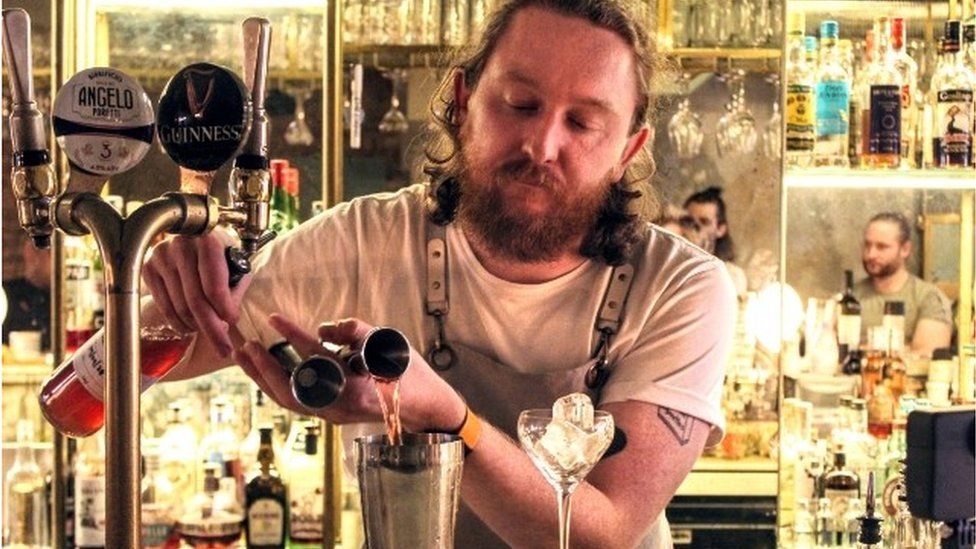 The coronavirus pandemic dealt a heavy blow to small businesses, which are now feeling the knock-on effects of staff shortages.
Many small firms, not eligible for critical worker status, are struggling with the effects of staff being told to isolate by the NHS Covid app.
This problem is exacerbated by existing staff shortages in sectors such as hospitality, where industry bodies say one in five workers left during the pandemic.
While larger businesses are more able to rely on a broader workforce, smaller companies are being forced to close because of too many staff having to isolate.
Employees no longer on furlough are suffering from this loss in earnings. Calum O'Flynn, an assistant bar manager at London's Head + Tails pub in Hampstead, lost out in tip money from having to isolate after being pinged.
"About 25% of my income comes from tips, so if you get pinged on a Thursday or Friday, you're missing a huge amount - it could be two-thirds' rent for most of us," he told the BBC.
In total, there are 12 staff at the venue and each typically makes between £400 and £600 a month in tips. Calum was pinged early in the week, which meant he didn't miss too many critical weekends when more service profit is made.
"On one shift, three were pinged just before and then another while we were working, which is so tough as we're not able to provide service as well as we'd want, with half a team working twice as hard."
Calum was furloughed during the lockdowns, but says it doesn't cover the loss of earnings from having to isolate now. The business reduced capacity from 150 to 60 people, which has also meant a reduction in tips.
"It's a risk for me to go on holiday because I just don't know about whether I can afford it- there's just no buffer zone now," he explained.
"We've had burnout and it's been really stressful, we're all just exhausted," he said.
Emma McClarkin, chief executive of the British Beer & Pub Association, told the BBC that NHS Test and Trace had been a "huge issue".
"Already pubs are closing or greatly reducing their opening hours due to staff shortages caused by app pings - despite staff testing negative on lateral flow tests," she said.
The industry body is urging the government to work with them to find a "sensible solution" to the problem as 43% of pub staff are aged 18 to 25, meaning a wait for their second vaccine shot.
From 16 August, double-jabbed individuals and under-18s will no longer be required to self-isolate if they have been in contact with someone with the virus.
A government spokesman from the Department for Business, Energy & Industrial Strategy told the BBC it was working with the sector as the UK's "world-leading vaccine roll-out continues to enable the safe re-opening of the industry".
"While we recognise the issues faced by pubs and bars, self-isolation remains an essential tool in our national efforts to reduce the spread of Covid-19."
London-based restaurant and BBQ delivery service Cue Point has also suffered, both from last-minute staff shortages and food wastage from cancelled events.
"Staff retention is non-existent because of the app notifications - we've had to employ friends last-minute," Cue Point's director, Mursal Saiq, told the BBC.
"You just can't rely on having staff at the moment. Operationally it's nearly impossible to run events right now."
The problem extends to hiring equipment, with booking windows reduced for fridge vans and extra crockery cleaning costs.
The company also moved to nationwide online deliveries during lockdown, so it still has a container of cardboard boxes, no longer needed now events are their central focus again.
Ms Saiq said the business had lost £10,000 in event cancellations since reopening and an additional £15,000 from wasted food, because the smokery means the meat has a short shelf-life.
"You end up having more than you need or less than you want, almost constantly," she explained.
The business has four festivals booked this summer, which it expects to make between £20,000 and £30,000 at, but Ms Saiq said she was worried about losing staff last-minute.
The chief executive of UK Hospitality, Kate Nicholls, told the BBC the "pingdemic" was endangering the critical summer trading period by "forcing thousands of healthy workers to self-isolate and businesses to limit services, cancel events or close altogether".
A survey of 17,000 venues by UK Hospitality, employing 308,000 people, found that more than a quarter had spent time off work after being pinged by the NHS app.
Four in 10 hospitality businesses surveyed were forced to either fully or partially close and around six in 10 said they were relying on remaining staff to work longer hours. Many have also had to reduce trading hours and reduce menu choice.
"The government should look to bring in a test-to-release scheme as soon as possible. This will allow team members who are fully vaccinated to test after a ping and, subject to a negative result, return to work," she said.
Those not fully vaccinated should be allowed to work after two negative tess, she added.
Functions and weddings have also meant reduced waiting staff for Marco Bosonotto, owner of With Fire catering, but as his firm uses agency waiters, they have managed to find fill-ins at short notice.
"We've been lucky as our chefs and freelancers haven't had to isolate yet," he explained.
He said customers had been "really understanding". He has let them reschedule within 12 months to alternative dates if too many guests are pinged.
"We've lost a few thousand pounds since reopening, but it's not catastrophic," he told the BBC.
"This week we had a corporate event cancel last minute, but they paid in full and we could use the food elsewhere, but that's the rarest thing that ever happens."
Amy Keyte co-owns White Radish Event Catering based in Cornwall. It currently caters for between eight and 14 weddings a month, which is back to pre-pandemic levels.
But she can lose up to £3,000 per wedding if guests get pinged before the event.
"Numbers are typically dropping from 100 to 70 guests, so we'll often not prepare the remainder, so the bride and groom can have the food the next day," she told the BBC.
Depending on differing rules for each venue, Ms Keyte can get up to a week's notice of fewer guests - or just 24 hours if they are testing the night before the wedding.
"I think hospitality has been hung out to dry this year. It's been so difficult with the rules," she said.
"It's nice to be back at work as long as nothing changes. We're getting back to normal, but fingers crossed there's not another lockdown."