'People didn't believe my CV', says board director
By LaToya Harding
Business reporter, BBC News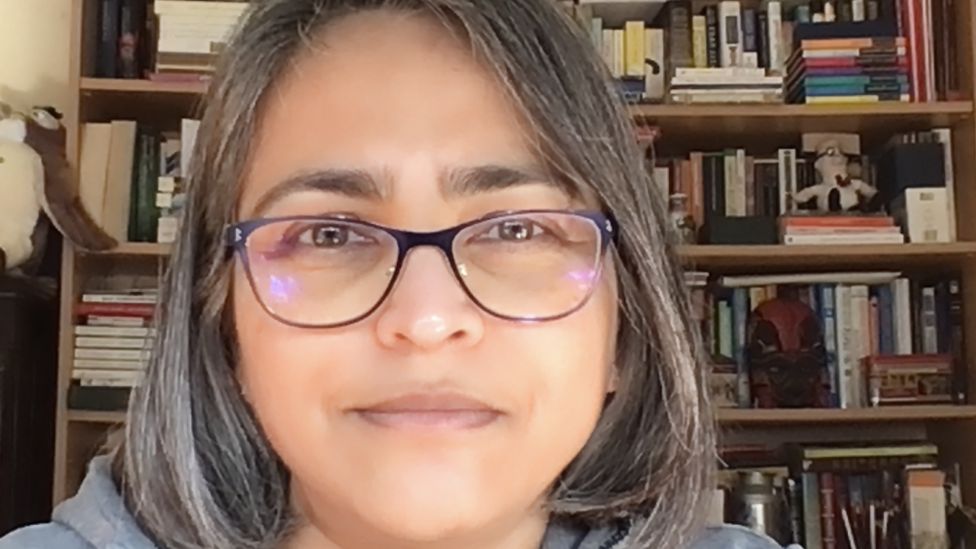 When portfolio board director Shefaly Yogendra first came to the UK, she faced many challenges getting a job.
"One of the first hurdles I experienced in the UK was not having blue-chip names on my CV," she told the BBC.
"Some of the other problems...were people asking if I was here legally, that they didn't believe my CV, or that I was too educated."
She said women and ethnic minorities face a "structural challenge" in getting a position on boards.
The vice chair of London Metropolitan University, who first came to the UK from India two decades ago, said board-level women often face disadvantages "even before they walk into the building".
She blamed headhunting channels for not ensuring that CVs reach the right people.
Research by career coaching firm Women on Boards UK suggests that women and ethnic minorities face challenges in getting on boards at smaller firms.
It says that fewer than half of the 261 companies listed below the FTSE 350 have boards made up of 33% women, while 54% have all-male executive leadership teams.
Around 37% of those firms have just one or no female directors at all, it said. And very few women were reaching the most senior roles, with only 7% being female chief executives and 16% being female chairs.
More than half of the companies researched have all-male executive leadership teams, compared to 8% of companies within the FTSE 350 index.
The data also showed that only 3% of board members in those 261 companies, both male and female, are directors of colour, distributed across just 16% of firms. And of these 46 directors of colour, only eight individuals are black.
"Boards need to have the right culture," Ms Yogendra said. "It is not just about box-ticking, but striving to make a difference."
Ms Yogendra joined London Metropolitan University's board of governors in August 2017, and is also chair of the audit committee, having previously served as chair of the governance committee.
On top of this, she serves as non-executive director of London-listed JP Morgan US Smaller Companies Investment Trust and Temple Bar Investment Trust.
Call to review small firms
Previous reviews such as Hampton-Alexander review and the Davies review had made a positive impact on gender equality, but they only looked at bigger companies.
Women on Boards has called for more scrutiny beyond this, and says many firms have made little to no progress on diversity.
The company aims to help its network of 35,000 professional women take on a board roles as a non-executive director, trustee or governor, or to get to the top within their own company.
"This report highlights that the job is far from done," Women on Boards UK's chief executive Fiona Hathorn said.
"While progress has been made over the past several years much of this has been driven by the largest companies - there are many smaller listed companies who, with a collective market capitalisation value of £63bn, have a significant impact on the UK economy."
Gemma Fleuren, a member of the operating board at Hotel Chocolat, told the BBC that women with children are often affected due to the need for flexible working.
"Businesses being open to flexible and part-time roles at senior levels is critical," she said.
"I think much progress in the market has been made in the last few years, and particularly in the last year through the pandemic, for flexibility in more junior roles, but many companies still won't consider it for senior or director level appointments, particularly when externally recruited."
However Ms Fleuren, who works four days a week and is mum to three small children, said Hotel Chocolat supported her request for flexible working to allow her to balance commitments.
"I was very lucky that Hotel Chocolat is an extremely progressive organisation and culture in this area and so was able to join the business with the flexibility I needed," she said.
"I think organisations need to truly understand the value which diversity brings and also that the right person for a role will always deliver more for their business when they work in a way that fits with their lifestyle, than the wrong candidate who can work 9 to 5, 5 days a week."