UK manufacturing growth at 30-year high, says PMI survey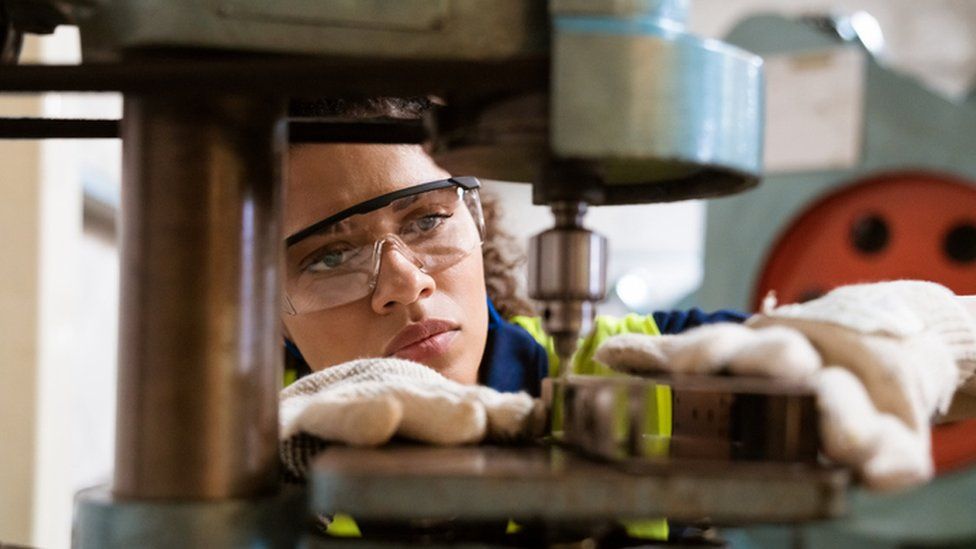 UK manufacturing is growing at its fastest rate for almost 30 years as the easing of lockdown unleashes pent-up demand, according to a survey.
The IHS Markit/CIPS Manufacturing Purchasing Managers' Index (PMI) reached a high last month of 65.6, up from 60.9 in April.
Any reading above 50 indicates growth, and April's figure was the highest since the survey began in 1992.
But there are also signs that suppliers are struggling to keep up with demand.
"Record growth of new orders and employment supported one of the steepest increases in production volumes in the near 30-year survey history," said IHS director Rob Dobson.
Mr Dobson said growth is being boosted by the unlocking of economies from Covid restrictions and ongoing vaccination programmes.
"This is being felt across the globe, as highlighted by a record rise in new export business during the latest survey month," he said.
However, the survey indicated that many suppliers are struggling to keep up with the increased demand, which is pushing up the average delivery times to manufacturers.
Businesses particularly highlighted shortages of electronics, plastics and metals, and there were also delays in transport.
In turn, this has led to the highest rise in the cost of supplies since the survey began in 1992, causing manufacturers to increase their own prices.
Simon Jonsson, head of industrial products at KPMG UK, said: "Confidence is high among manufacturers as demand continues to soar, but there's a danger that many are only seeing the weather in front of them.
"Our closest European neighbours - France and Germany - are also witnessing similar levels of demand for their products. Supply chain bottlenecks are now starting to appear in Germany and fingers are crossed we will not see the same elsewhere."
Duncan Brock, group director at the Chartered Institute of Procurement & Supply, said: "The march of the makers has turned into a sprint as the blocks of lockdowns have been removed, but we haven't seen this level of price inflation on materials for decades."
He warned that supply chain managers anticipate a continuing squeeze on deliveries and are forward-buying and building stocks, so we may not have seen price peak yet.
"This means bigger inflationary pressures for the wider economy and the country's place in international trade," Mr Brock said.
The beginning of a spending splurge?
Bank of England chief economist Andy Haldane has an economic crystal ball that is sometimes dysfunctional. Last summer he predicted a V-shaped recovery that got crushed by Covid's second wave.
But in February, when others were more downbeat he predicted households would drive a rapid recovery in 2021, spending savings of around £250bn. Today's manufacturing data, dominated by the auto industry, suggest he may be right second time round.
While some of the pent-up demand for cars is domestic, much of it is global - not least from the reopened economies of the Far East. The steepest increases in production in three decades is not pure good news because the manufacturers are struggling to meet demand, source enough raw materials and recruit the staff they need.
And there's strong inflationary pressure - with prices of raw materials shooting up faster than they have in three decades.
There's not much you can do with interest rates to curb surging global commodity prices. But Haldane and his colleagues may have to act if that inflationary pressure starts to spread to the rest of the domestic economy, with serious consequences for the affordability of large debts which poorer households and small businesses have been forced to take on.