£300m investment to fuel electric car take-up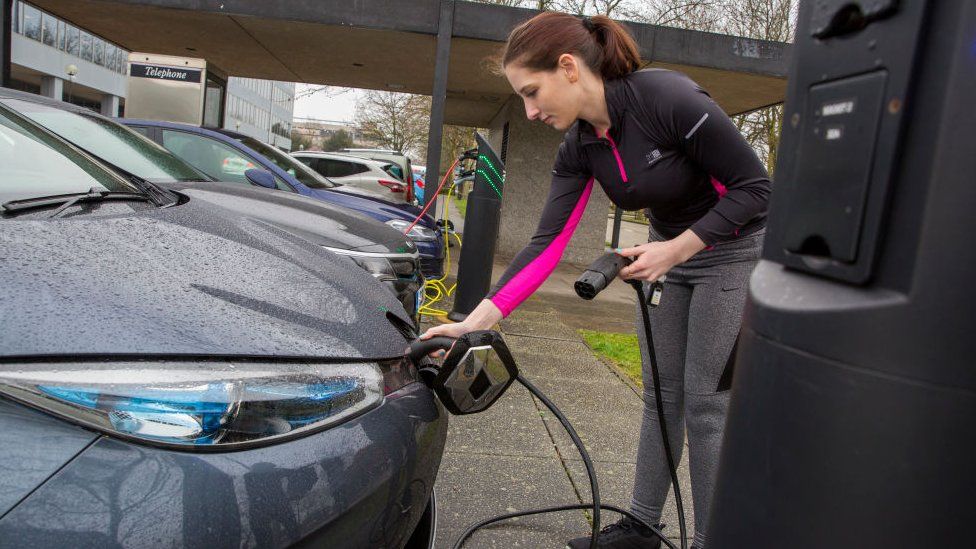 The UK's energy regulator has approved plans to invest £300m in low carbon projects including support for 3,550 charging points for electric vehicles.
Ofgem said the funds would allow energy networks to build robust electricity infrastructure for installing charging points across UK motorways.
It said while more people are buying electric cars, others are put off due to a lack of charging points near home.
Ofgem said a wider charging network would help address "range anxiety".
The new funding will support the infrastructure needed to support 1,800 new ultra-rapid charging points at motorway service areas.
There are currently 918 ultra-rapid charge points in the UK which can add a range of 100 miles to an electric car in around 30 minutes.
The investment will also allow an additional 1,750 rapid charging points to be installed. In addition to motorways, cities and train stations will also see increased network capacity to support more charging points.
In total, the UK has nearly 24,000 charging points, which have more than 41,000 connectors - or cables - that can be plugged into an electric car, according to electric vehicle app and website Zap-Map.
"As drivers make the switch from petrol and diesel to electric, Britain's cables, substations and other infrastructure need a massive upgrade to support this new demand for electricity," Ofgem said.
When it comes to public charging points for electric cars, the UK isn't doing too badly.
According to Zap-Map, there are nearly 24,000 chargers installed around the country. That's less than half the number available in the Netherlands, but not far short of what France and Germany have to offer. It's also more than double the number available in 2018.
But with the sale of new petrol and diesel cars to be banned from 2030, more infrastructure is needed, and Ofgem has acknowledged that fact.
Today's announcement is not a game changer, but rather a statement of intent. Some 1,800 ultra-fast chargers, capable of charging car batteries in minutes rather than hours, will be installed across the motorway network - as reassurance for electric vehicle drivers who want to embark on long journeys.
The £300m investment is, relatively speaking, a drop in the ocean. But it forms part of a much bigger £40bn investment programme for the energy network as a whole approved last year.
It's likely a much more significant portion of those funds will ultimately be allocated towards getting the country ready for electric vehicles.
The investment, which will be made over two years, will also support the provision of more "clean", low carbon electric heating for homes and businesses.
Sales of new cars powered solely by petrol or diesel will be banned in the UK from 2030.
A recent report by the Society of Motor Manufacturers and Traders (SMMT) found that while demand for electric vehicles is growing in the UK - accounting for one in 10 car registrations last year - it was mainly fuelled by businesses or buyers of fleets.
"Just 4.6% of new consumer vehicles were battery powered," it said.
So far, the installation of charging points has mainly been concentrated in London and the South East. Ofgem said the investment by energy networks would support more ultra-rapid charge points in cities such as Glasgow, Kirkwall, Warrington, Llandudno, York and Truro.
While the number of charging points in the UK is growing, it is still far short of the estimated 2.7 million the SMMT said the country would need by 2030, the vast majority of which need to be available for people who park their cars on a nearby street at home.
"Drivers need certainty that they can recharge their vehicle conveniently and on demand," it said. "For many, that means using a charging point at home.
"However, at least one in three households rely on on-street parking as they have no driveway or garage and still more have no designated off-street parking."
The SMMT said that to accommodate these drivers "there must be a commitment to expand on-street public charging in residential areas".