Ryanair: Signs of summer travel rebound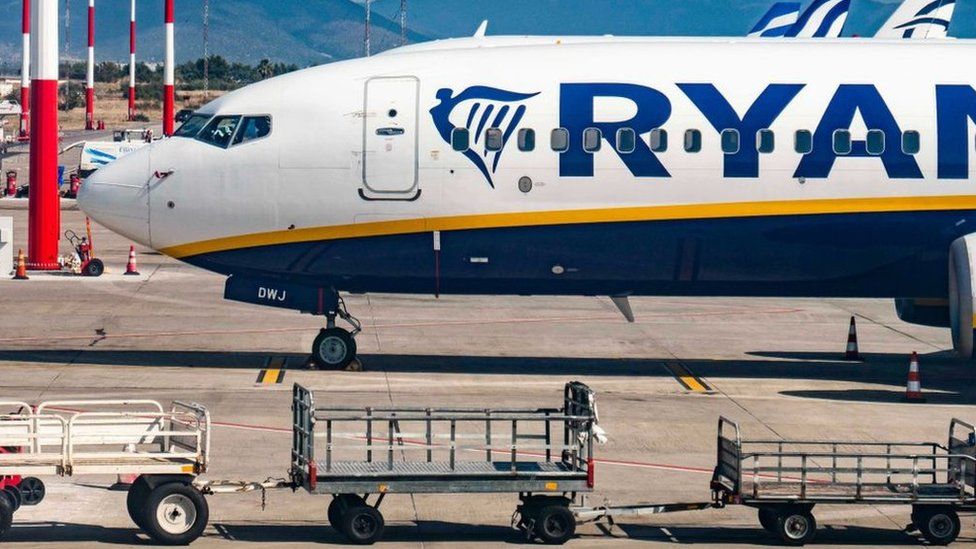 Ryanair boss Michael O'Leary says he is seeing the start of a strong rebound for travel as the easing of lockdown releases pent-up demand.
Europe's biggest budget airline revealed the scale of the coronavirus collapse in travel - an €815m (£702m) loss and traffic down 81% in the year to March on the previous 12 months.
But Mr O'Leary said there were signs the "recovery has already begun".
Bookings are up from 500,000 a week in early April to 1.5 million a week now.
"The rate of bookings suggests there is a huge amount of confidence," he told the BBC. "We are very optimistic for the next couple of months."
And he predicted that after "most European populations are vaccinated by September", the airline should see a particularly strong recovery in October to March, the second half of its financial year.
"For vaccinated Britons going to the beaches of Portugal, Spain and Greece, I think there is very little risk. Everybody is right to be cautious, but I think everybody can take their holiday in Europe with a high degree of confidence."
From Monday, holidaymakers from England, Scotland and Wales can fly off for some early summer sun as the ban on foreign holidays is lifted.
Travellers can now visit 12 countries on the government's green list, including Portugal and Israel, without isolating on their return.
But the vast majority of tourist destinations remain on the amber and red lists, meaning travellers must quarantine when they get back.
Mr O'Leary told BBC Breakfast that the air travel sector was offering some "good deals" for this summer as it tried to kick-start demand after a torrid year.
But he forecast prices would rise in 2022. With the collapse and contraction of airlines like Thomas Cook and Alitalia reducing capacity, carriers will be able to push up prices, he said.
The scale of the financial crisis facing airlines was underlined on Monday when Ryanair posted a record after-tax loss. The airline said it flew 27.5 million passengers in the year ending 31 March, down from 149 million the previous year.
Ryanair's annual €815m loss was slightly better than an €834m loss forecast by many analysts.
"It's better than we predicted, but still a fairly traumatic loss for an airline that has been consistently profitable for our 35-year history," Mr O'Leary said in a pre-recorded statement accompanying the results.