BT vows to give 5m more homes fast broadband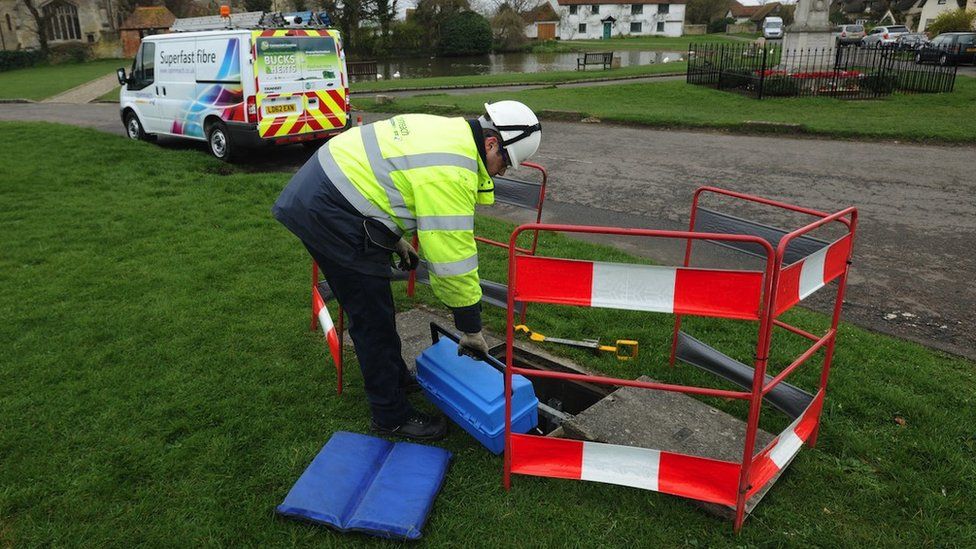 BT says it is speeding up its rollout of full-fibre broadband to five million more households than previously planned in a move it says could create up to 7,000 jobs.
Boss Philip Jansen told the BBC that BT is also bringing forward its deadline to complete the work, with 25 million homes now due to be connected by 2026.
"It's a massive programme - a £15bn investment," he said.
The telecoms giant has been criticised for the pace of full-fibre rollout.
But BT said tax changes introduced on fibre broadband investment to homes and businesses allowed it to accelerate its strategy.
Mr Jansen added that the faster rollout could be done through joint ventures with other parties to share the work and investment with its Openreach operation, especially to speed up broadband access to people in rural areas.
A number of European telecoms rivals and private equity investors are thought to have looked at trying to secure a slice of the UK's fast-growing broadband infrastructure.
Accelerating the plans "will help fuel UK economic recovery, with better connectivity and up to 7,000 new jobs", Mr Jansen said.
Many big companies use the Openreach network to provide their services, including TalkTalk and Sky, but have been critical of the pace of the rollout and prices.
TalkTalk said it welcomed Thursday's announcement, but said that affordability and take-up of services was key. "Whilst this [BT] commitment is great progress, it shouldn't hide the fact that the UK lags far behind other European nations in rolling out full fibre," a TalkTalk spokesperson said.
BT's profit was also eaten into by a bonus for frontline staff, increased cost of services and the continuing investment in the fibre network.
But Mr Jansen said he was confident about future trading: "After a number of years of tough work, and as we look to build back better from the pandemic, we're now pivoting to consistent and predictable growth."
And in a relief for shareholders, BT said it planned to bring back its dividend, which was suspended due to Covid, during the current financial year.
Last month, BT confirmed it was in talks with several companies about the future of its sports arm.
On Thursday, Mr Jansen said he was "open-minded" on options for its BT Sport, but added: "It's very possible we make no changes at all, because BT Sport now has a very clear profile and we're happy with it.
"It's possible that we do some sort of partnership or joint venture, and of course it is possible that we don't end up with BT Sport because there's a better owner of it who can invest more than we will invest. But I think it's too early to call that right now."