Greggs profits set to bounce back to pre-pandemic levels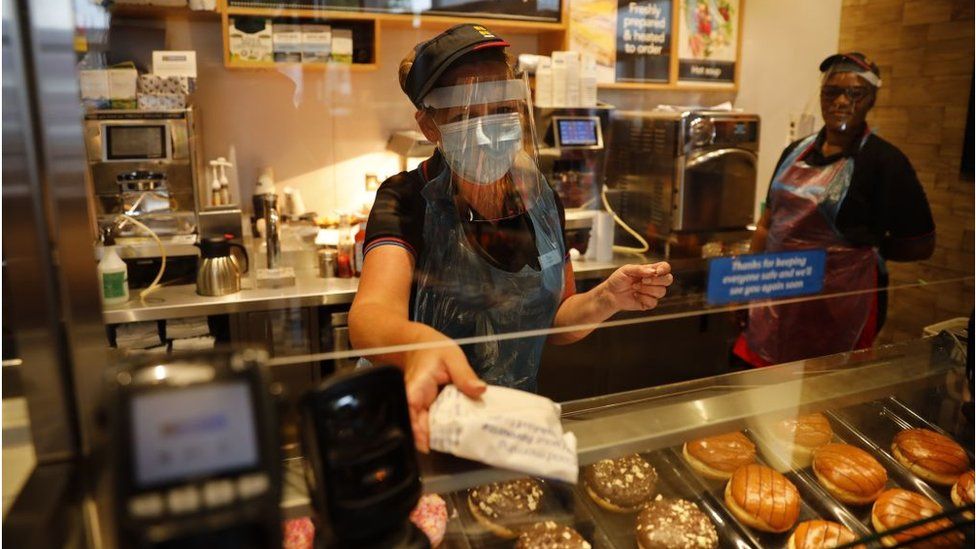 A swift rebound in sales has prompted Greggs to says its profits this year could bounce back to pre-Covid levels.
The bakery chain said sales had seen a "strong recovery" since non-essential shops reopened in April.
While it warned that trading conditions were "clearly highly unusual", it said profits this year could much higher than previously forecast.
Retailer Hotel Chocolat also said sales had been "encouraging" since shops began to reopen.
It added that profits for the year to the end of June were likely to be "significantly ahead of expectations".
Hotel Chocolat also said that, as a results of its successful trading, it would repay £3,1m of furlough funding it has received from the government.
In March, Greggs reported its first full year loss in 36 years after battling a sales slump due to the coronavirus pandemic.
It had said previously that it did not expect profits to return to pre-Covid levels until 2022 at the earliest.
However, trading this year has been better than expected, and in its latest update Greggs said it "saw a significant pick up in sales with the reopening of non-essential retail from 12 April, in part reflecting the pent-up demand for retail which has boosted High Street footfall".
While sales have recovered well in recent weeks, it noted that as coronavirus restrictions continue to relax it will face more competition from cafes and restaurants with indoor seating.
Nevertheless, Greggs said if restrictions ease in line with current plans "then we now expect our overall sales performance for the year to be stronger than we had previously anticipated".
"However, given our recent trading performance, the board now believes that profits are likely to be materially higher than its previous expectation, and could be around 2019 levels in the absence of further restrictions," the bakery chain said.
Whereas like-for-like sales were down more than a fifth in the 10 weeks to 13 March compared with 2019, they were down less than 4% in the eight weeks to 8 May.
Delivery sales had helped Greggs to regain lost ground, it said.
Greggs compared current trading with 2019 rather than 2020 because in that year it was "severely" hit by temporary shop closures.
In the first 18 weeks of the year it opened 34 new shops, including 13 franchises, and closed 11, giving a total of 2,101 shops trading as of 8 May.
Retailers and financial firms have been noting a boost in shopping since non-essential shops could reopen in April, and have been cautiously optimistic about the prospects for the UK economy.
But some saw a pick-up in trade before that.
Chocolatier Hotel Chocolat said it had a strong Mother's Day and Easter despite its physical shops being closed, with revenue up 60% in the eight-week period to 25 April.
This year it looks forward to "strong job creation, particularly in our UK chocolate making and supply teams."
It said would start making more of its vegan Nutmilk chocolate, macarons, and its Velvetiser drinking chocolate flakes.