'I can't read or write, but I can cook'
The Word Matters project
BBC Radio 5 live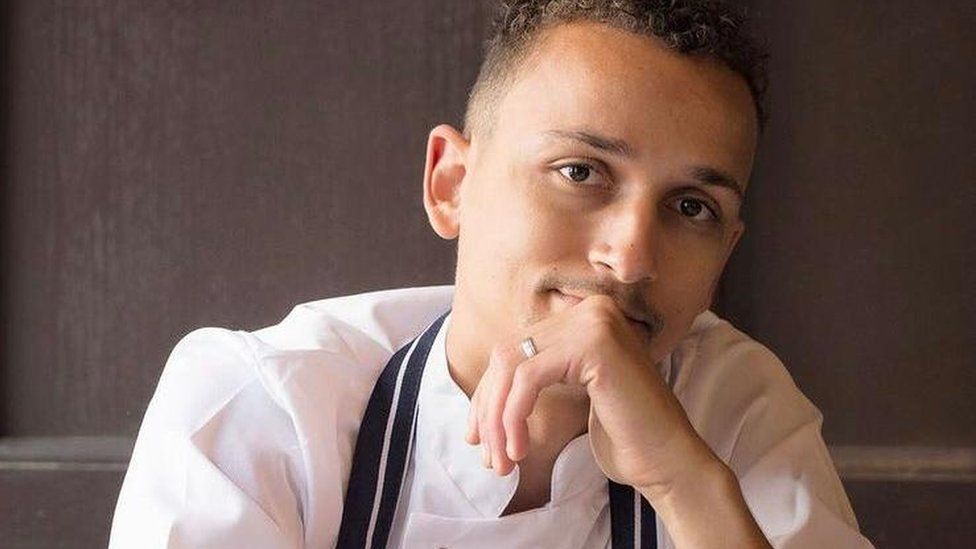 Thomas left school at 16 and went to catering college because he wanted a vocation that wouldn't need strong literacy skills.
A test at the college showed he had the spelling age of an eight-year-old and the reading age of an 11-year-old.
Now a head chef in Cardiff at the age of 34, he runs a kitchen, but still feels flustered if he ever has to write in front of anyone.
Leaving cards at work, he says, are his "worst nightmare".
"People don't mind, people understand, if you just ask for a little help," he says.
"I've had directors and bosses who are very understanding. If I need help, there's always someone I can talk to," he told Radio 5 live.
Thomas has found ways to manage his struggles with reading and writing, but some fear there is still stigma attached to low-level literacy, which could be holding back not just individuals' career potential, but the UK economy as a whole.
The former head of the civil service, economist Gus O'Donnell, has now warned the UK is "facing a literacy crisis".
Lord O'Donnell, chairman of Pro Bono Economics, told the Wake Up to Money programme it was "unacceptable" that several million adults had "very poor literacy skills", calling the issue a "long-term problem".
An estimated nine million adults in the UK have low-level literacy skills. That means they find it hard to do things most people take for granted - such as filling out a job application.
'Crossed out, spell-checked or underlined'
When new people start work, Thomas says he takes his time and tries to avoid situations where he has to write in front of them. Every night, he has to write prep lists and new menus in preparation for the next day.
"I try and take a little bit of extra time in the evening when there's no one there to write that down, so I can make sure it looks presentable, readable and spelt right," he says.
"I've had situations in the past when my chefs come in the morning, take my prep list and, when I come in later, it's been crossed out and spell-checked, or underlined."
At a food demonstration in Battersea Park, cooking in front of 300 people, the presenter asked Thomas why he got into cooking.
He replied: "I can't read or write, but I can cook."
Sam, a 34-year-old builder from London, was diagnosed with dyslexia when he was in primary school.
Close friends and family knew his struggles, but as he got older and friends started getting mobile phones and texting each other, he felt himself slipping further and further behind.
Everyday things such as filling out forms or following recipes were a struggle.
"I'm a builder. Every time you go on to site, you've got to fill out a form and the dread [I feel] if one of my co-workers is not with me. I'd be all panicky," he says.
A TV programme prompted Sam to seek help with his literacy skills.
He rang a charity called Read Easy and is now getting help with his literacy.
He is also now able to read bedtime stories to his son, Ted.
Linda Llewelyn, an essential skills tutor in Pembrokeshire, told the BBC that people often look for help with their literacy after starting a family.
"Often it's somebody who's had their own children, has realised that they need to be able to help their children, and once they're on that road, realise they need to progress their skills and get a better job," she says.
That was the case for Joanne, a 24-year-old mum in Glasgow.
"I needed to be able to read a book to my daughter," she says.
"I thought I was never going to get a good job."
She decided to attend a class at Glasgow Women's Library, which runs literacy courses for adults, and to take a course in childcare, which she has passed.
"I can show my daughter that nothing can stop you doing what you want," she adds.
Lord O'Donnell said it was "really hard to get on to the ladder of work" without reading and writing skills, while improving literacy levels was "vital" to the government's '"levelling-up" agenda.
The crossbench peer - who served as cabinet secretary under prime ministers Tony Blair, Gordon Brown and David Cameron - said: "As we recover from the Covid pandemic, we know that lots of jobs have been temporarily kept, but there'll be big increases in unemployment.
"People will be searching for jobs, a lot of people's livelihoods have been affected dramatically."
Lord O'Donnell added: "If you think about what's been happening to the UK economy over the last many decades, we've been moving away from manufacturing, manual labour, and to be honest, most of those sorts of jobs have already moved overseas.
"There are massive regional disparities in the levels of literacy. The North East has particular problems.
"In the modern economy, in the way that the UK's going to operate and be really effective in the future, we need to think about, 'How do we have the skills that are needed for the jobs that are going to be there?'
"Because if you look at a lot of jobs, like the Nissan factory in Sunderland - you go in there and you see a lot more robots than people - and that's part of the future."
According to the latest adult skills survey by the Organisation for Economic Co-operation and Development (OECD), the UK trailed behind several countries, including Finland, the Netherlands and Japan, for literacy.
"We need to become highly competitive globally," Lord O'Donnell said, or else the UK "will get left behind".
"We have a burning platform if ever there was one," he added. "We need to take a broader view of what education's all about."
A House of Commons education committee report on adult skills, published in 2020, found that there would be a shortfall of four million highly-skilled workers by 2024.
A Department for Education spokesperson said: "We recognise how important it is for all adults to have the chance to learn the skills they need for work and in everyday life.
"That is why we provide full funding for adult learners who do not already have a standard pass at GCSE or equivalent in English and/or maths to undertake a range of courses leading to qualifications such as GCSEs or functional skills.
"As we recover from the pandemic, we've put adult skills at the centre of our plans - ensuring that everyone, no matter their background, has the opportunity to get the skills they need to get a good job."
Low-level literacy 'still a stigma'
Christian Wakeford, Conservative MP for Bury South and chair of the All-Party Parliamentary Group on Literacy, told Radio 5 live more needed to be done to overcome the stigma of adults with poor reading and writing skills.
"We've all seen the stigma of mental health. It's taken generations to overcome," he said.
"We still have the stigma of illiteracy. People aren't as ready or as available to speak about that because it is that feeling of shame."
Mr Wakeford said the 2021 census was "a missed opportunity" to gather new data on literacy, which is not regularly updated.
"We need to fully understand that problem and fully get to grips with those numbers."
Builder Sam has some words of encouragement for other people who have a low level of literacy and are struggling to ask for support.
"It just takes time," he says. "Do it, get the courage and do it."
Additional reporting by Victoria Farncombe and Elisabeth Mahy
Related Internet Links
The BBC is not responsible for the content of external sites.