India Covid: Why Indian bosses overseas are sending aid
By Karishma Vaswani
Asia business correspondent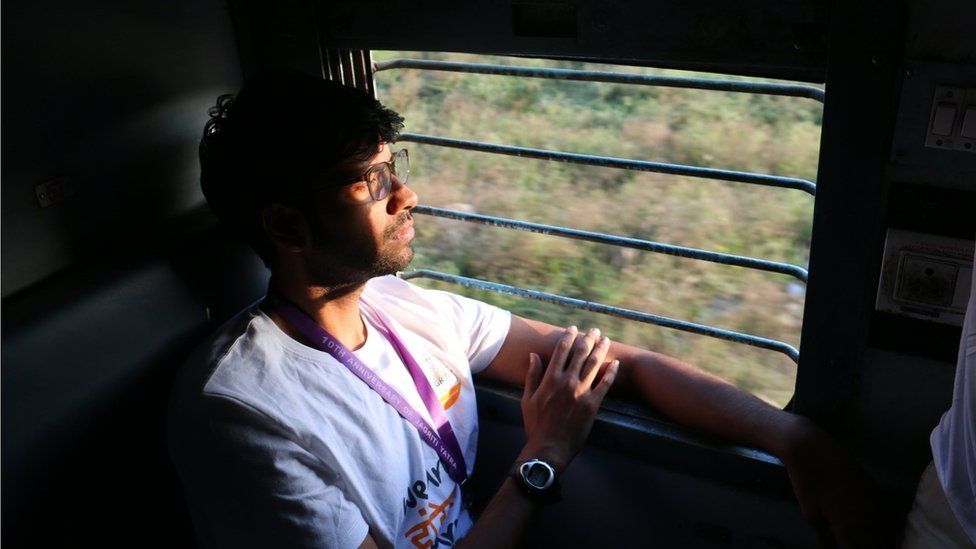 Singapore based start-up consultant Saurya Velagapudi hasn't lived in India since he was eight years old, when he and his family emigrated for a new life in the United States.
But the 32-year-old says he's still closely connected to the country, which is why he's pledged his life savings to fund the relief mission in India.
He lost an extended family member to Covid in India recently. That personal tragedy also convinced him that he needed to step in to help.
"It is a bond that cannot be broken," he said, quoting from a well known Bollywood song that references the emotional ties overseas Indians feel towards the country of their origin.
Mr Velagapudi is donating $5,000 a day until his savings run out to various aid missions in India, including AID India.
"I don't care if I go bankrupt," Mr Velagapudi said. "People need to understand how dire the situation is."
That sentiment has prompted tens of millions of dollars worth of aid coming in from all corners of the world this week, mainly from the Indian diaspora.
'Every one of us has family there'
Some of the biggest names in the Indian diaspora have pitched in including Google boss Sundar Pichai, Microsoft chief executive Satya Nadella, and Silicon Valley investor and billionaire Vinod Khosla.
"We are getting requests from all over India, mainly from Delhi, looking for oxygen, PPE, drugs, ventilators, anything you might need in a hospital right now," Harjit Gill, chief executive of APACMED, a regional healthcare trade association based in Singapore, told the BBC.
Ms Gill is of Indian origin and a British citizen. She added that help was coming from all quarters because almost no one of Indian descent has been untouched by this.
"Everybody is heartbroken. Every one of us has family there. We just want to find a way to help."
The Indian diaspora is one of the largest in the world, with almost 20 million people of Indian origin spread out across the world.
It is a close-knit community, one that maintains strong present day ties to a country many left decades ago, in search of better prospects elsewhere.
Devika Mehndiratta is an Indian economist living in Singapore. This week she has had to deal with the deaths of two loved ones in her extended family back home in India.
She thinks the Indian central government's lack of planning and its lax attitude is to blame for the severity of the second wave of rising Covid deaths.
"This isn't just about the number of cases increasing," she said. "It is about people dying because of a lack of something as basic as oxygen."
She added that the central government chose to focus on gathering crowds at massive rallies to win the West Bengal election, and turned a blind eye to risky religious events such as the Kumbh Mela instead of paying attention to red flags as early as February on oxygen shortages at hospitals.
"People have literally been left to fend for themselves to stay alive. That's why the private sector has had to step up."
India's health minister has defended the government, saying the country's fatality rate was the lowest in the world and that oxygen supplies are "adequate".
Private companies to the rescue
Domestic firms based in India have sought to help.
India's leading private steel firm JSW Group is lowering the production of steel at its plants so it can divert oxygen supplies to patients.
In a statement to the BBC, the company said that it was building large Covid centres on an emergency basis around its plants, where JSW is laying a dedicated pipeline to supply oxygen directly to the patients.
Other firms like the Tata Group, Reliance and Delivhery have also stepped in.
"India's healthcare is vastly under resourced and this is a long term, long running issue," Pavithra Suryanarayan, political scientist at John's Hopkin University, told the BBC.
Ms Suryanarayan says a co-ordinated global approach to India's crisis is necessary.
"This has to be a global effort. If you let India go through this alone, you are going to let the virus come back to bite you.
"You can throw money at it, but you cannot build health capacity overnight.
"Even finding sufficient oxygen or ramping vaccine production will take a few weeks. Until then there are very dark days ahead for India."