More festivals face cancellation without government aid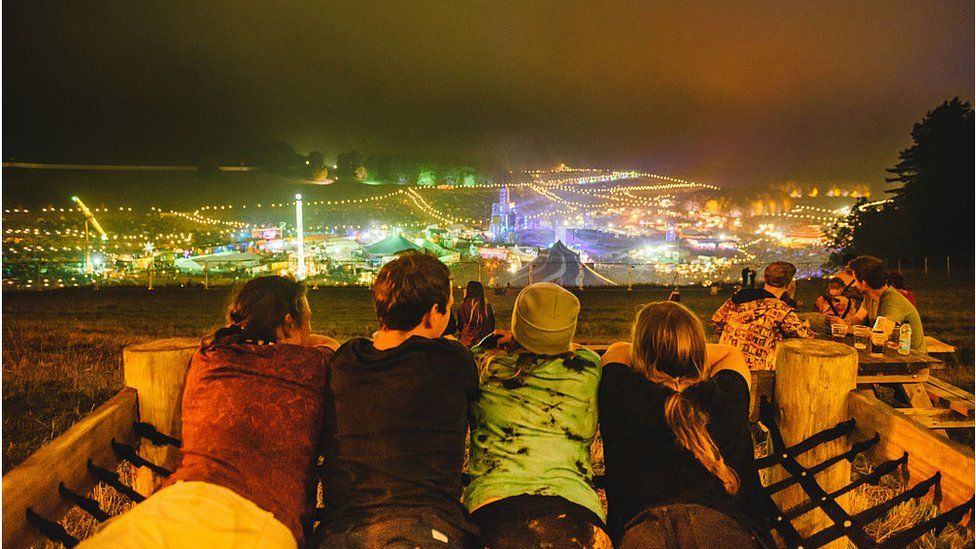 Most of the music festivals still due to take place this year could be scrapped without the safety net of government-backed cancellation insurance, organisers have warned.
A quarter of UK festivals have already been called off, but 76% of the rest are at risk, according to the industry.
The Association of Independent Festivals (AIF) has called for "urgent intervention" to save the season.
The government said it was exploring what further support it could provide.
The AIF said events had been scrapped because of "government inaction on insurance".
It has been calling on the government to back cancellation insurance.
That would allow organisers to go ahead with their plans without suffering financial losses if they were forced to cancel their events due to a new spike in Covid cases.
"For months now, we have been warning government that the UK's 2021 festival season would be quickly eroded if they failed to back their own roadmap out of lockdown and act on Covid related cancellation insurance," said Association of Independent Festivals (AIF) chief executive Paul Reed.
"It's now red alert for the UK's festival season. By the end of this month, 76% of the remaining festivals planned for 2021 could very quickly disappear from the calendar.
"Without a safety net, independent promoters cannot begin to confidently invest in their events.
"If government-backed insurance is off the table, festival organisers deserve to know what [the] government is proposing as an alternative to prevent the widespread collapse of the festival season."
The "long-term survival of many of the businesses behind these events", was also at stake, he added.
A spokesperson said the government was "aware of the wider concerns about securing indemnity for live events and are exploring what further support we may provide".
More than £34m from the Culture Recovery Fund had supported festivals including Glastonbury, Boomtown, and Hay Literary Festival, the spokesperson said.
However, people should be aware that there is a risk in booking festival tickets for the summer, vaccines minister Nadhim Zahawi told the BBC on Thursday.
"People have to be careful," he said. "If you are now booking [festival tickets], then you do carry some risk clearly, because we have to follow the [infection] data.
"The good news is the vaccinations are working. About 70% of the adult population of England now have antibodies... but we have to remain cautious."
Insurance really is a "Don't pass go" issue for many festival organizers, Mr Reed said.
He added that festivals contribute £1.76bn to the UK economy and support 85,000 jobs.
The Association of British Insurers said: "We understand that this has been a difficult and uncertain time for the events industry.
"With the Covid-19 public health emergency continuing to present a significant risk of cancellation or disruption, commercial insurers remain unable to offer this type of cover, or only at a cost that is unaffordable for many."
Of UK festivals with a capacity of more than 5,000, 26% have already been abandoned, including Boomtown Fair and Deer Shed.
That leaves 131 still due to go ahead, mostly in July and August.
"Most of the festivals that are holding their position in July and August will need to commit to substantial, non-refundable costs by the end of May," said AIF.
"And 72% of AIF members have said that if they do not take place in 2021, they will require financial support to return in 2022."
Some festival organisers have already delayed their events.
According to the AIF 22% of festivals it tracks are now taking place in September and October, up from 10% earlier in the year.
Boomtown director of communications and strategy Anna Wade said Boomtown decided to postpone the event until next year as it could not get Covid cover.
"It basically means you're proceeding without the safety net of insurance, which no company or even individual would want to do, because the risks are just so high, with so many unknowns," she said.
Ella Nosworthy, creative director at the Nozstock festival, said they would wait until the results of the government pilot in Liverpool to see whether they could get insurance so their festival could go ahead in July.
Helen Kenny, a freelance stage and production manager, said that typically she would work on 25 to 30 festivals per year over a six-month period in the UK and Europe, including Boomtown.
So far this summer she has only been booked for six, and she is unsure whether any of those will cancel.
"I wake up every day at the moment with a smile on my face, attending meetings, and finally back to doing what I love," she said.
"However, I'm totally aware that we are still in a pandemic and anything declared or planned could change at any time."
Ms Kenny added that she worries about the mental health of freelance colleagues and friends who are finding it difficult to make ends meet.
"Can they feed their families and pay rent? Will we all be able to hug and be on a site somewhere doing what we love, and what we've worked towards for years as our careers?" she said.
"Not enough support has been provided for self employed freelancers and watching them struggle when they come from a background of high grossing events just blows my mind," she added.