Clothes sales boosted UK retailers ahead of reopening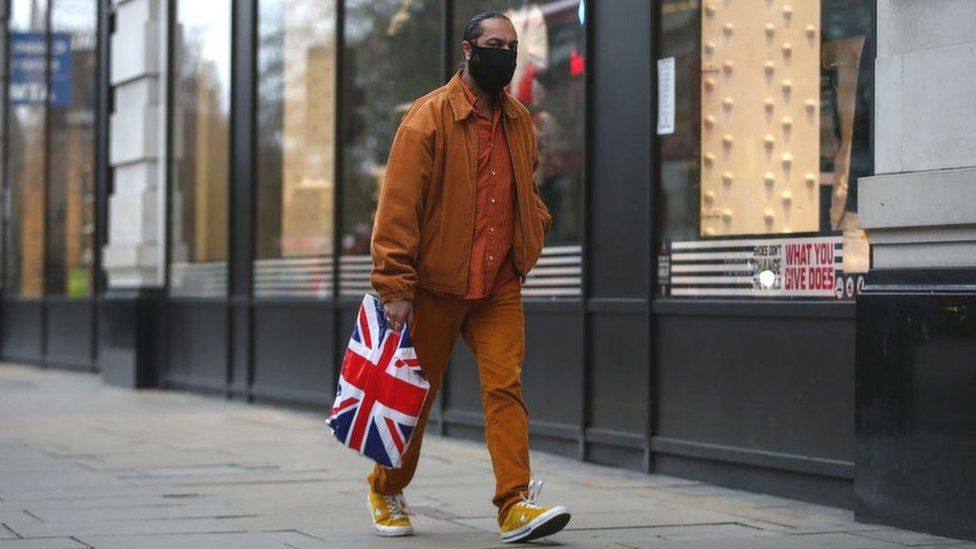 Shoppers on the lookout for new clothes helped to lift retail sales by 5.4% in March, continuing a partial recovery that started in February.
Despite the jump, clothing sales remain far below pre-pandemic levels.
Retailers told the ONS that shoppers may have been snapping up new outfits before lockdown restrictions eased.
From Monday 29 March, the government allowed outdoor meet-ups to resume in England, while groups of up to six could drink or eat together in pubs and restaurants from 12 April.
Other non-food stores reported an uplift of 13.4%, with medical goods suppliers suggesting older consumers were buying mobility equipment and venturing out more after being vaccinated.
Garden centres and flower shops also reported monthly growth of 7.4% as those stuck at home more during lockdowns spruced up their outdoor spaces.
Petrol stations also saw strong growth of 11.1%, reflecting the easing of travel restrictions.
Samuel Tombs, chief UK economist at Pantheon Macroeconomics, said retailers had benefitted "immediately from the rebound in consumers' confidence in March".
He also pointed out that food stores may have profited from restaurants, cafes and pubs largely being closed during the reporting period, which ran until one day before Easter Sunday.
Food retailers saw a sales uplift of 2.5% in March, with specialist shops likebutchers and bakers seeing strong trade as consumers bought goods to celebrate at home, the ONS said.
Elsewhere, online spending increased in March, up 0.6% when compared with February 2021.
This was the largest monthly growth in the sector since June 2020, and was largely driven by customers buying new clothes and shoes to refresh their wardrobes.
Lynda Petherick, head of retail at Accenture UK & Ireland, said: "After a year of what's felt like endless lockdowns, there is now a palpable sense of excitement among retailers and shoppers alike."
The proportion of online spending overall fell to 34.7%, down from 36.2% in February, but still remains far higher than pre-lockdown figures.
But Ms Petherick added: "We expect demand for online to remain strong post the reopening of non-essential retail.
"Though retailers will be keen to capitalise on the return of shoppers to the High Street, they must also strike a balance across both their physical and digital offering, or risk losing out to competitors that learned strategic lessons from the pandemic," she said.
All non-essential shops in England and Wales were able to welcome customers from 12 April, more than three months after closing their doors.
In the first week after restrictions eased, figures from the British Retail Consortium indicated footfall jumped by almost 200% in England.
In Scotland, non-essential retail is due to reopen on 26 April, while in Northern Ireland, only contactless click-and-collect will be permitted for non-essential retail businesses from 12 April.