Billionaire Sir James Dyson moves residency back to the UK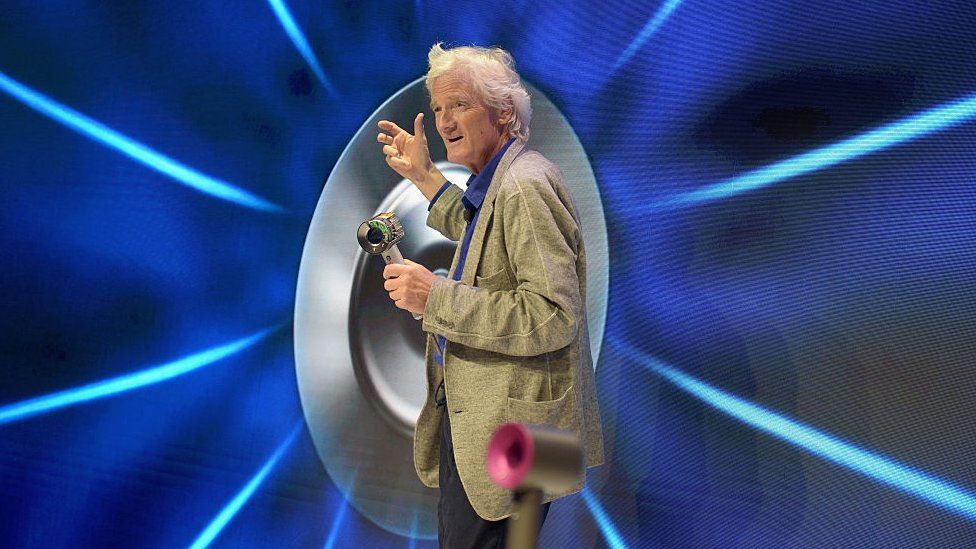 High-profile businessman Sir James Dyson has moved his residency back to the UK from Singapore.
He now lives primarily in the UK according to filings for his companies, which include his family office.
Sir James had faced criticism after he announced that he would relocate his firm's global head office to Singapore in 2019.
This week he was also involved in a controversy over texting Prime Minister Boris Johnson about tax issues.
A Dyson spokesman declined to comment on Sir James' residence and tax status but did say: "The structure of the group and the business rationale underpinning it are unaltered."
"Singapore is, and remains, the global headquarters of Dyson, our leadership team is based here and it is the centre of our sales, engineering and manufacturing operations," he said.
A prominent supporter of Brexit with an estimated fortune of more than $20bn, Sir James was criticised after the announcement in 2019 that Dyson was moving its headquarters to Singapore from Malmesbury in Wiltshire.
At the time, the company said just two senior executives would be relocated and no jobs would be lost in the UK as a result of the move.
Sir James has this week been at the centre of a political row in Britain after it was revealed that he texted Boris Johnson in March last year to get assurance that his staff would not face a change in their tax situation if they came to the UK to help make ventilators in response to Covid-19.
The texts - seen by the BBC - show Mr Johnson saying he could "fix" tax issues relating to Dyson staff who came to the UK to work on the pandemic.
But the prime minister's official spokesman said Mr Johnson had abided by the ministerial code, governing conduct in office, and had "informed officials in a timely manner" after his contact with Sir James.
Labour has called for a "thorough investigation" into Mr Johnson's contacts with Sir James.
"I can't make things here and bring over all the components from the Far East here, assemble them here and then send them back to the Far East. That just doesn't work."
Earlier this month, Dyson announced plans to create 200 new jobs at its research facilities in Malmesbury and Hullavington, Wiltshire.
The plans are part of a £2.75bn global investment plan into emerging technologies and products.
Sir James said the end of the UK's transition period with the EU had enabled Dyson to hire the engineering talent it was lacking in the UK.
Freedom of movement between the UK and EU has ended and the government has introduced a points-based immigration system which it says "treats all applicants equally, regardless of where they come from".
However, some argue that UK companies who want to hire from outside the EU are in no better position than before Brexit, while attempts to hire EU workers now face significant costs and administration that did not exist before.
The text messages between Sir James Dyson and the PM show his concern about the Statutory Residence Test for his company's ability to help make ventilators.
This test is designed to ensure that those working abroad and not paying UK income tax, really do work abroad and have few ties to the UK.
They are quite complex, but broadly speaking if total or consecutive days are spent in the UK above some threshold, or if they are spent working, than the worker no longer qualifies for non residence. In the case of a Singapore-resident Briton that would mean earnings incurring a tax rate of up to 45% in the UK rather than up to 22% there.
Sir James is lobbying the PM, that if, as requested by Mr Johnson in mid-March, help is needed making ventilators, then this barrier to spending more time in the UK needs to be set aside. The Dyson owner clearly felt it was a material barrier to his ability to help.
In the end, the project did not proceed. JCB did make housings for Dyson's prototypes. But it proved too challenging for a new design to get rigorous medical safety approvals. The project to supply the UK was paused on 24 April. Manufacturers turned to mass manufacture of an existing design.
But the government did change the law, with Section 190 of the Finance Bill disregarding working days between March and June 2020 from residence calculations, for those working on treatment, prevention and medical products to deal with the pandemic.
It is unclear how many workers benefitted from this provision, at Dyson or elsewhere. Indeed, it might not become clear, even to tax authorities, until that financial year's returns are filed next January.