Rightmove says Cornwall's Newquay is hottest UK property market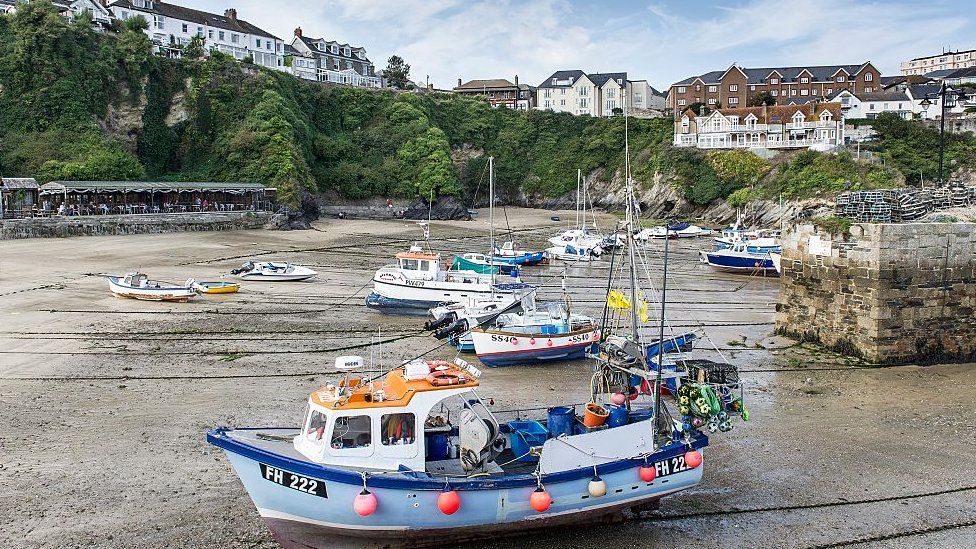 Newquay has been named the hottest property seller's market by online property portal, Rightmove.
It says eight out of 10 listed homes have been sold, subject to contract, since the start of the year, the fastest moving market in the UK.
Reflecting the trend for less-centralised living, it says city centre properties are moving much more slowly.
Birmingham city centre is the worst place for sellers. Only 18% of properties have sold so far this year.
The start of restrictions easing has increased activity in what Rightmove says was already an incredibly busy housing market.
This high demand has pushed prices to record highs in some areas.
Its findings reflect those made by others in the property business.
Last week the Halifax said there was "something of a resurgence" in the UK housing market in March. The Chancellor, Rishi Sunak, moved to help home buyers by extending the holiday on property stamp duty in England, Northern Ireland and Wales.
Early last month the tax, which has been suspended on the first £500,000 of all property sales in England and Northern Ireland since July, was extended for another three months to the end of June.
The Halifax said this was key to the annual rise of 6.5% in house prices, taking the average to £254,606 in March.
Rightmove said the ten hottest sellers' markets it recorded had all seen asking prices hit records since the market reopened last May, with seven of them hitting a price record in 2021.
The most popular market after Newquay is Newton-Le-Willows in Merseyside, where just under 82% of listed properties are sold, subject to contract, followed by Plymstock in Devon, where 81% are at that stage in the selling process.
The findings echo research conducted last month by Rightmove and the BBC.
Bradley Start, partner at Start & Co Estate Agents in Newquay, said: "The stock shortage is the worst I've seen in 30 years and there's just seemingly endless demand.
"We're getting requests for viewings within minutes of a property going on Rightmove and many properties are going to best and final offers due to the competition, something that usually we would only see a few times a year."
Simon Shepherd, manager of Ashtons in Newton-Le-Willows, said: "The past year has just been crazy. Right now I've had to rip up the rule book because the demand means it's hard to predict what a home is going to sell for, as in many cases we're achieving over the asking price."
'Truro is like San Francisco in some ways'
Marshall Moore was among those looking to move.
The 50-year-old spent the last 15 years living in the mega-cities of Seoul and Hong Kong before moving to just outside Truro.
The US academic told the BBC last month :"It is such a relief. It is gorgeous and cultural and, in some ways, like San Francisco - but with more wind."
Mr Moore, who teaches creative writing, was given the chance to move owing to his job, but is clear about the benefits of the location.
"There is openness, space, fresh air, it is calm and there's the mild weather," he says. "We can also afford to live in an actual house rather than an apartment. I feel incredibly lucky."