Test travel regime must be easy and cheap, says PM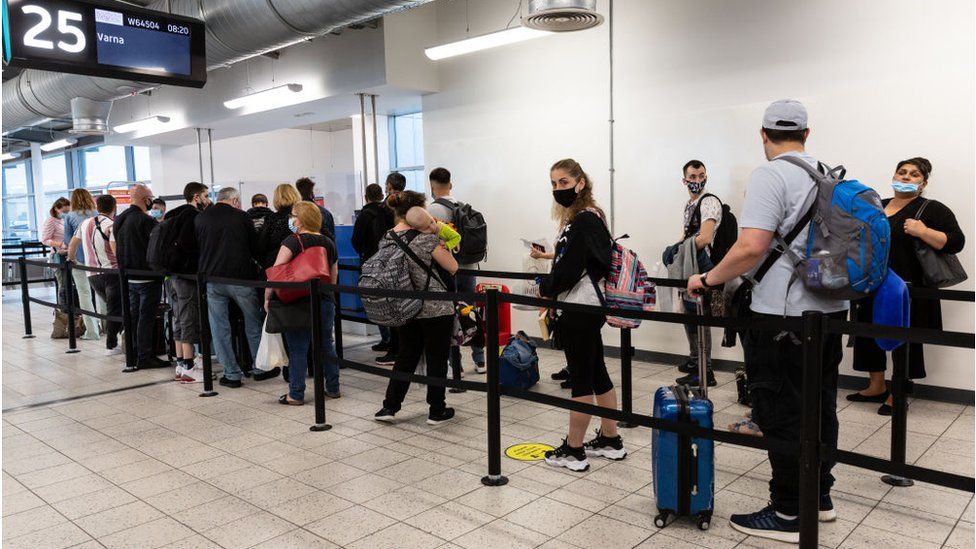 Boris Johnson says any testing regime for international travel should be easy and cheap, after the boss of EasyJet criticised new government plans.
The prime minister also said vaccine passports would be a "fact of life" for people travelling internationally in future.
The government hopes to reopen international travel on 17 May, but is yet to make a final decision.
However, the prime minister said he had "not given up" on the idea.
Under plans outlined on Sunday, destinations would be classed as green, amber or red based on their Covid infection rates and vaccination coverage.
No isolation would be necessary on return to the UK from green countries, but pre-departure and post-arrival tests would be required, potentially costing up to £200 each.
But earlier on Tuesday, EasyJet boss Johan Lundgren told the BBC this would make travel too expensive, with the tests costing as much or more than a flight in some cases.
Asked about the comments, and whether cheaper lateral flow tests could replace PCR tests in the plans, Prime Minister Boris Johnson said: "I do think we want to make things as easy as we possibly can.
"The boss of EasyJet is right to focus on this issue, we're going to see what we can do to make things as flexible and as affordable as possible."
Mr Lundgren told the BBC that if costs were not reduced, the government "wouldn't open up international travel for everyone, but only those who can afford it.
"If you are ticking all of those boxes to become a green destination… [multiple tests] don't make sense to me and it would add to cost and complexities."
Scientists and ministers recently warned that holidays to destinations such as France, where Covid cases are rising, are "unlikely". But Mr Johnson said he "had not given up" on the idea that non-essential foreign travel could begin again on 17 May.
The Business Travel Association said the announcement was "beyond disappointing" and called for "a clear pathway to international travel and trade".
Its chief executive, Clive Wratten, said moves to open borders had "once again been kicked down the road".
"The business travel industry continues to be crippled by today's lack of movement," he added.
The boss of travel firm Thomas Cook, Alan French, also told the BBC's Wake Up to Money that a lack of clarity around what type of tests might be required for passengers and when they would need to be taken was a let-down.
He said that overall, there were "glimmers of good news", in that the earliest date for travel resuming on 17 May was not pushed back. "But actually, the details were missing and that was disappointing," he said.
On Monday, Mr Johnson said he did not want to see coronavirus re-imported from abroad and urged people to wait for a report from the Global Travel Taskforce on 12 April.
But Gemma Antrobus, owner of independent travel company Haslemere Travel, warned that business owners like herself faced a difficult path.
"Disappointed is putting it mildly. Where we hoped confidence would start to pick up, and more people would be interested in booking holidays… that just won't come this week."
She added that some customers had now moved bookings for holidays five times amid changing restrictions.
"Every week we don't have that confidence from consumers, business owners like myself just wonder what lies ahead."