'Lockdown taught us we're more than just a gym'
By Lucy Hooker
Business reporter, BBC News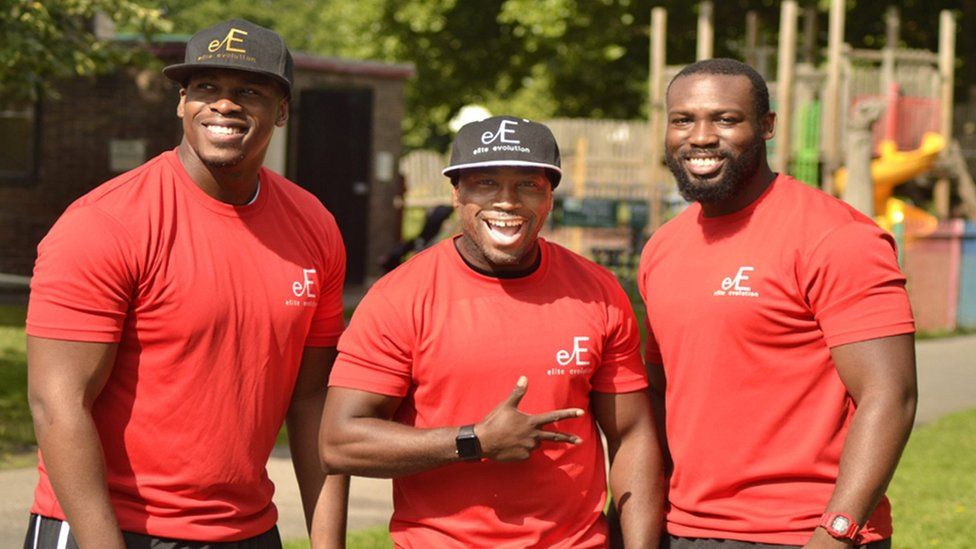 Businesses across the country have spent the last week touching up paint, marking out waiting areas with yellow tape and refilling the hand gel dispensers.
Non-essential shops in England and Wales, as well as gyms, hairdressers and swimming pools, will be able to welcome customers again from Monday, more than three months after closing their doors.
Most are desperate to get the tills ringing again, but they have also had to think hard about what they can and can't deliver under the new rules.
So with customers eager for a return to pre-pandemic life, what are businesses doing to make the "new normal" as good as it can be?
'Our clients had to feel safe'
Afolabi Akinola, Emeka Obanye and Joshua Oladimeji, founders of Elite Evolution in Hackney, know that their members are keen to get back in the gym, because they've had calls from people wanting to come in before Monday.
They had to say no, of course. And even when they do open the doors, it will still be for just six at a time, training within their own taped-out area.
"Reducing numbers has cut our profits down a lot, but it's better for our clients to feel safe," says Joshua.
A lot of the changes they've had to make in the last year are here to stay, he says, including the booking system, sanitising equipment and not sharing boxing gloves.
Plus, they have a closer, more personal relationship with members now. They know a lot of them find a crowded gym quite intimidating. So they are opening 24 hours a day, to let people train at quiet times such as 23:00 or 05:00 if they prefer.
Joshua calls these lessons "Covid keeps".
"We did a welfare call to all our clients," says Joshua. "To really find out who they are. A lot were lonely.
"So we're going to look at how we can help people with mental health issues. I know we're novices, but it's part of our strategy."
He says the "number one thing" Covid has taught them is the importance of community. "Our clients buy into us. We've always said it, now we really feel it, that they believe in us."
'No hugging the dinosaurs'
"I've been saying life is like a rollercoaster for a year now," says Julie Dalton, manager of Gulliver's Valley theme park in Rotherham, Yorkshire.
Anyone trying to cope with the stomach-lurching stop-starts of the past year could be forgiven for feeling apprehensive about Monday's reopening. But Julie thinks it will feel as though a massive weight has been lifted.
She's already feeling cheered by the smell of coffee coming from the catering sites.
"We're training the character performers, teaching them how to walk like cowboys, how to interact. The dinosaurs have all woken up and are moving again. The stilt walkers out again," she says.
But there are differences, of course.
The theme park - which offers rides, attractions and mini-breaks - can't run shows, its fantasy themed characters will not be able to hug, and staff and customers alike must socially distance.
Last summer, some guests were unhappy about wearing face masks on rides, but they are necessary to keep staff safe, when they check lap-bars and safetybelts, Julie says.
This time, she anticipates some friction over the rules banning indoor hospitality.
"It's getting the message across to people that it's not that we're being difficult, it's just we're not allowed."
'It feels like Christmas'
Stacey Manning spent last week painting a bench, so that when she reopens, her clients will have somewhere to wait outdoors.
The front of her hair and beauty salon, Ooh La La in Coventry, has been transformed from wintry grey to a baby pink, while she has stocked up on beauty products and PPE.
"It feels like Christmas, there are boxes of stock everywhere," she says.
But there have been so many last-minute changes before, she finds it hard to relax. "I'm excited but nervous as well."
Ooh La La has already done more than 20 "drive-by patch tests" on customers, popping out to their car windows to put a bit of hair dye or other product on their arm to make sure they don't have an adverse reaction. Some people have found that having Covid alters the way their skin responds.
The biggest demand from clients emerging from lockdown is for treatments that need to be done on a regular basis, such as Botox and having hair roots dyed, says Stacey. "I've had a lot of messages saying: 'Get me in ASAP,'" she says.
But the new rules mean working at about half capacity. She can run numbing cream out to people waiting outside to apply themselves before they come in. But otherwise, there is little scope for overlapping clients the way they used to - for example, while a hair dye is setting.
And while some are desperate for treatment, Stacey is worried some elderly clients won't feel confident enough to come back.
"We're taking every action we can, following every rule from the Hair and Beauty Federation and the government.
"We have lost a good percentage of our customers. But we're doing the best we can."
'There's going to be a party mood'
At Nostimo restaurant in central London, there are brand-new umbrellas up over brand-new tables and chairs, recently laid wooden flooring underfoot, and wooden planters filled with flowers.
"It's going to be like a Greek island," says Michael Petsalakis.
They may not be able to guarantee Mediterranean sunshine, but Nostimo is fortunate to be situated in a pedestrianised shopping area away from exhaust fumes and engines that might drown out conversation.
Before the Covid crisis, they could seat 40 outdoors. But the Mexican restaurant and the grill bar next door have closed and Nostimo has taken over their space. They can now seat 100 and still they're almost fully booked for the next week.
"We are excited, we will come back to a kind of normality. Okay, we will not operate as before, business as usual, but at least we have the chance to offer proper services."
The restaurant has spent £130,000 on making a success of this reopening. Michael says very few Greek restaurants in London have outdoor dining areas and they are banking on the Greek community's eagerness to get out for a proper meal again.
"They are enthusiastic, we hear it on the phone when they book."
The staff are even keener than the customers. Four of them spent the whole of last year on furlough.
"We are going to keep social distancing, but the mood is going to be a party mood."