Royal Mail offers free parcel pick-up as delivery war looms
By Simon Read
Business reporter, BBC News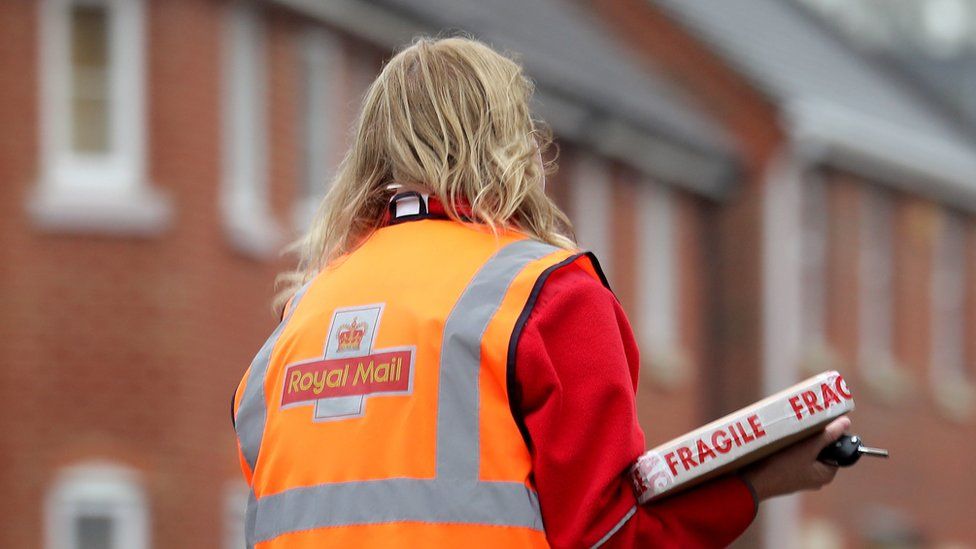 Royal Mail is offering free parcel pick-ups from home for the next few weeks as it tries to boost its delivery business.
The company faced fierce criticism over Christmas for serious delivery delays.
Now it has cleared the backlog, it is hoping to pick up more business by picking up more parcels.
The move is Royal Mail's latest attempt to muscle in on a bigger portion of the UK delivery business, which sees three billion parcels sent a year.
The company normally charges 72p to pick up a parcel, which is on top of the postage fee.
It will waive the pick-up charge until the end of May to try to persuade people to use the service.
Rivals say that Royal Mail is simply playing catch up with its Parcels Collect service which was launched last October.
Delivery firm Hermes UK pointed out it has been offering a courier collection service for a similar price for more than 10 years and it's grown in popularity during lockdown, which may have prompted Royal Mail launching its own version.
"The service has always been popular but has been invaluable during the pandemic when people have been encouraged to stay at home," a Hermes spokesperson said.
"Last year we saw 10 million parcels delivered through our Hermes Send service in December 2020 alone as people saw their Christmas plans changed at short notice and were keen to ensure loved ones received their gifts, while following government guidelines."
Royal Mail's doorstep service has picked up just a million parcels since being launched six months ago, compared to the 10 million Hermes picked up in December.
That has prompted the free offer in an attempt to try to encourage more people to use it.
"The promotion is an opportunity for all consumers across the UK to try out this service free," said Nick Landon, chief commercial officer at Royal Mail.
"Parcel Collect is part of our commitment to continuously make our services more convenient as we re-invent the way we deliver to and from our customers."
As part of the offer, Royal Mail's postmen and postwomen will collect up to five parcels free from customers' doors or nominated safe place, as long as they've already paid the postage.
Customers need to pay the postage online and print out proof for the parcels.
The home pick-up service is also available free for the next few weeks for pre-paid return items. The company normally charges 60p per item on top of postage for them.
The company blamed "exceptionally high volumes" of seasonal post and anti-Covid measures for the problems.
Last week, there were fresh warnings about a postal scam which tries to trick people into handing over personal details by pretending they owe postage for a non-existent package.
The con involves a text message being sent that claims a parcel is awaiting delivery by Royal Mail.
Trading standards officers warned people not to click on a link which connects to a copycat website run by fraudsters, where crooks could steal people's personal information.
Royal Mail said it would never send a text message of that kind.
A similar scam that used DPD branding did the rounds in January, Trading Standards warned.