More big investors shun Deliveroo over workers' rights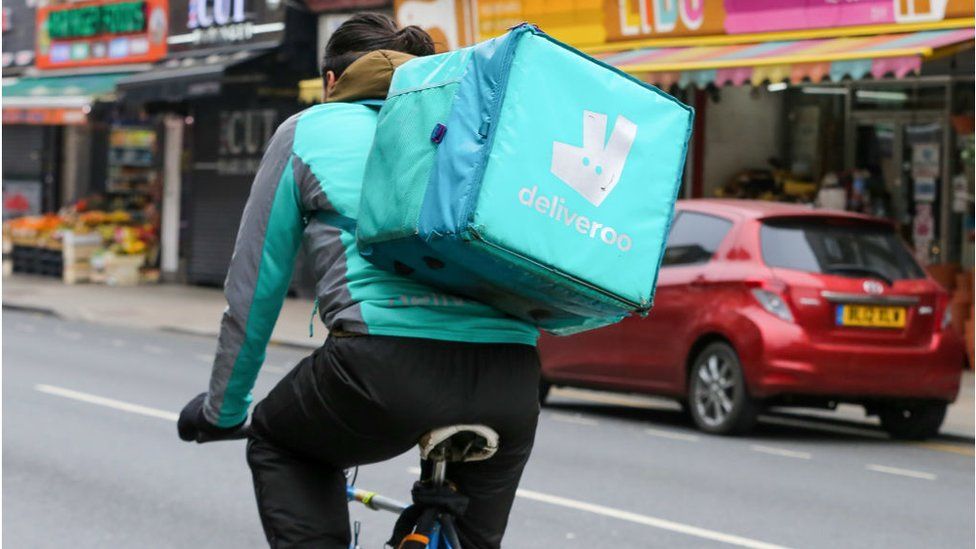 Six big UK investment firms say they will not buy Deliveroo shares after concerns over workers' rights.
The delivery company hopes to be valued at up to £8.8bn when it lists its shares in April.
But Aberdeen Standard, Aviva Investors, BMO Global, CCLA, LGIM and M&G said they were put off by factors including the working conditions of its riders and lack of investor power.
Deliveroo said it had seen "significant demand" for stock with interest rising.
"We look forward to welcoming new shareholders next week alongside our currently highly respected existing investors," it added.
Deliveroo riders are self-employed, meaning they are not entitled to earn a minimum wage from the company, or holiday and sick pay.
Rupert Krefting, head of corporate finance and stewardship at M&G, said the company's reliance on gig-economy workers made it a risk for investors.
He pointed out that Uber had recently had greater legal rights enforced by the Supreme Court for drivers previously categorised as self-employed.
"Deliveroo's narrow profit margins could be at risk if it is required to change its rider benefits to catch up with peers," Mr Krefting added.
Legal & General Investment Management (LGIM) said it was put off by an "unequal voting rights" structure.
Deliveroo is planning to let its founder and chief executive Will Shu have more than 50% of shareholder voting rights.
"It is important to protect minority and end-investors against potential poor management behaviour, that could lead to value destruction and avoidable investor loss," LGIM said.
Phil Webster, a portfolio manager at BMO, said labour issues represented a "ticking bomb on the side" for Deliveroo, which contributed to making it "uninvestable".
Andrew Millington, head of UK Equities at Aberdeen Standard, told the BBC's Today programme that the conditions were a "red flag", adding: "We wouldn't be comfortable that the way in which its workforce is employed is sustainable."
He compared Aberdeen Standard's recent decision to sell off Boohoo shares, following allegations of worker exploitation at suppliers to the online clothing company.
Large institutional investors such as Aberdeen Standard can use their financial muscle to try to influence the way firms are run - such as through relationships with managers and shareholder votes.
But Mr Millington said that sometimes "disinvesting or not investing in the first place is our only option".
He added that it would be interesting to see whether Deliveroo can attract investors over the longer term "without making progress" on worker rights.
One of the biggest-ever floats on the London market of a home-grown technology company should have meant a feeding frenzy among the City's institutional investors, the companies that have the job of putting trillions of pounds of retail and pension investors money to work.
For years they have watched with envy as their US counterparts have put cash into a steady stream of technology companies.
Not all have been big hits after listing their shares on public markets, but enough of them have been - think Apple, Alphabet, Amazon, Tesla and a string of others - to have made it a big source of investment returns. Deliveroo's listing, which could value the company at just short of £9bn, should have been a rare similar opportunity on the London market.
Instead some big players, including Aviva Investors and Aberdeen Standard, are turning their backs, saying the way the company employs its riders is not socially acceptable, and poses a risk to its future.
Deliveroo deems its riders to be self-employed, and points out that the High Court has upheld that view. What is more, Deliveroo says its riders value the flexibility that employment status gives them, although it is worth noting that Uber maintained the same thing until it eventually decided its drivers were in fact workers, not self-employed contractors.
There is no danger to Deliveroo's float - there are enough investors around who are happy to buy the shares. The buying strike by large investors could have ramifications well beyond one company, however. Does this mean that all gig economy companies are off limits? Does it signal that all companies on the London market will now have to ensure their worldwide organisations meet the best employment standards?
Andrew Millington of Aberdeen Standard told the Today programme that would be the battle to come - that his firm would hold on to a company's shares as long as it was moving in the right directions, and paid proper attention to employment standards. That is a subtle warning to boardrooms that they will in future be judged by the way their treat their most junior staff.
David Cumming, chief investment officer at Aviva, said investors were taking social responsibilities "a lot more seriously".
"A lot of employers could make a massive difference to workers' lives if they guaranteed working hours or a living wage, and how companies behave is becoming more important."
However, Deliveroo said the sample of 300 people was "not a meaningful or representative proportion" of their riders and that they can earn up to £13 an hour "at our busiest times".
"These findings [by the BIJ] raise concerns," said Tom Powdrill, head of stewardship at shareholder lobby group Pirc. "Investors considering taking a position in Deliveroo should familiarise themselves with these matters and the risks and responsibilities involved along with all other relevant factors."
Mr Cumming also warned of the risk that drivers will have to be reclassified as workers, which would entitle them to rights such as sick and holiday pay.
"It's an investment risk if the legislation changes," said Mr Cumming.
Uber recently reclassified its drivers as workers after a landmark UK supreme court case last month.
Since losing a five-year legal battle with drivers who claimed it had wrongly classified their employment status, Uber has offered holiday pay, a guaranteed minimum wage, and pensions benefits to its drivers.
Other gig economy companies have been looking closely at the Supreme Court's verdict in February, although it does not directly apply to Uber Eats - the food delivery arm of the business.
Deliveroo has set aside more than £112m to cover potential legal costs relating to the employment status of its delivery riders.
It warned potential investors of the risk of litigation around the world in documents setting out its plans for a stock market debut published on Monday.
"The European Commission is set to draw up new legislation governing how the gig economy model works across the bloc," pointed out Susannah Streeter, an analyst at Hargreaves Lansdown.
"If Deliveroo is forced to change the way it classifies its riders in the future, it is likely to puncture its profits prospects, and could even derail the delivery giant."
Deliveroo, which was founded in 2013, has said it will hand its riders bonuses of between £200 and £10,000 when it floats, depending on the number of orders they have delivered.