Budget 2021: Rishi Sunak to extend furlough scheme until September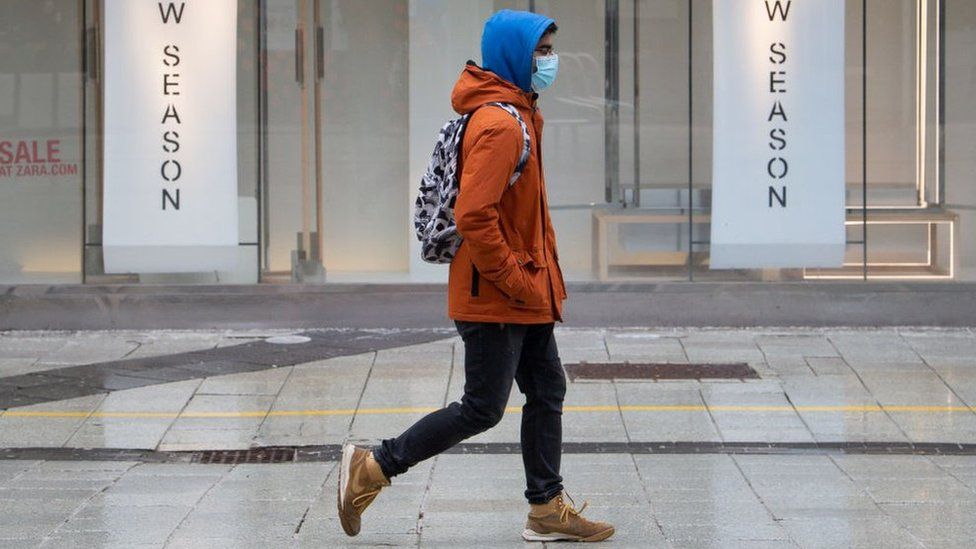 The furlough scheme will be extended until the end of September by the chancellor in the Budget later.
Rishi Sunak said the scheme - which pays 80% of employees' wages for the hours they cannot work in the pandemic - would help millions through "the challenging months ahead".
Some 600,000 more self-employed people will also be eligible for government help as access to grants is widened.
But Labour said the support schemes should have been extended "months ago".
The Coronavirus Job Retention Scheme has protected more than 11 million jobs since its inception last March and had been due to close at the end of April.
It has been credited for slowing the pace of job losses as tens of thousands of businesses remain shut.
Employers will be expected to pay 10% towards the hours their staff do not work in July, increasing to 20% in August and September, as the economy reopens.
Government support for self-employed people has also been extended until September.
A fourth grant under the Self-Employment Income Support Scheme (SEISS) scheme will run from February until April, covering up to 80% of three months' trading profits up to £7,500.
There will be a fifth grant from May to September.
People whose turnover has fallen by 30% or more will get the 80% grant, but self-employed people whose turnover has fallen by less than 30% will get a 30% grant.
The government is widening access to grants, meaning some 600,000 more self-employed people will be eligible.
People who filed their tax returns for 2019-20 by midnight on Tuesday are now eligible.
Speaking ahead of the Budget, the chancellor said: "Our Covid support schemes have been a lifeline to millions, protecting jobs and incomes across the UK.
"There's now light at the end of the tunnel with a roadmap for reopening, so it's only right that we continue to help business and individuals through the challenging months ahead - and beyond." However, he is expected to warn in his Budget that there are tough economic times ahead.
Are you currently on furlough? Share your experiences.
'The jobs are the great hope'
It is incredible to think that last year's Budget did not even contain the word "furlough". Official confirmation of a pandemic came hours after its publication, swiftly rendering most of its numbers obsolete.
But so far in this crisis, unemployment has gone up only modestly. Furlough and the separate support scheme for the self-employed have prevented mass unemployment.
These extensions now aim to prevent a rapid rise in joblessness at the end of the schemes. The BBC understands that unemployment forecasts will be revised down on Wednesday as the chancellor promises to deploy his "full fiscal firepower" to "protect livelihoods" - the theme of the Budget red book.
At more than £10bn, this intervention is almost worthy of a Budget in and of itself.
But the full document will reveal whether the chancellor's borrowing spree is limited to the "rescue phase" of this crisis, or if his confidence in a jobs bounce-back means the economy does not need further stimulus and could even sustain some business-focused tax rises.
After the jabs, the jobs are the great hope.
Economic think tank the Resolution Foundation's chief executive, Torsten Bell, said the phased tapering-off of the furlough scheme would avoid a "risky cliff-edge" for employers, but warned that the "peak of unemployment is ahead rather than behind us".
However, Bridget Phillipson, Labour's shadow chief secretary to the Treasury, said the changes to support schemes "could have been made months ago" - accusing Mr Sunak of focusing on "getting his moment in the sun rather than protecting jobs and livelihoods".
The SNP leader in Westminster, Ian Blackford, has said furlough must be in place "as long as businesses and devolved governments need it".
He said he was "concerned companies are going to have to step in and pay greater contributions".
And Len McCluskey, general secretary of the Unite union, said that while the extra months of furlough support offer "some stability in the rocky months ahead", the scheme should be extended until 2022.
But Chris Wootton, chief financial officer at Sports Direct, said that although the furlough extension was helpful, other assistance was needed for businesses such as his, chiefly through business rates, payment of which has been suspended for almost a year.
He told the BBC: "What we really want is structural reform. This is just kicking the can down the road.
"We don't know what the systemic changes to consumer behaviour are going to be. We said even before Covid happened that a number of House of Fraser stores where we're working very closely with landlords, paying zero rent, they are still losing money because the business rates are far from fair."