Nike exec quits after son's trainer resale firm revealed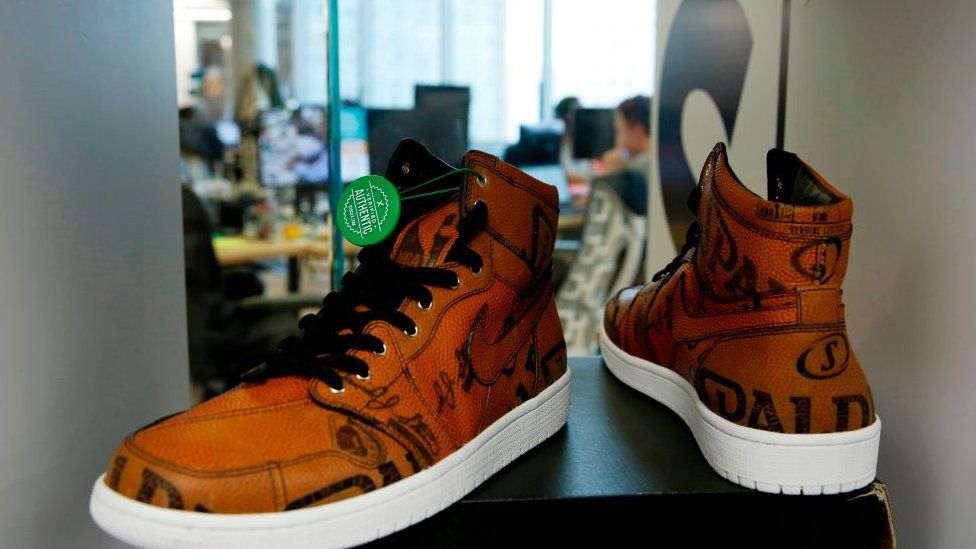 A top Nike executive in the US has resigned from the company after 25 years after her son's booming sneaker resale business became public.
It reported the son used a credit card in her name to purchase shoes for his business, which he resold for a profit.
Nike defended Ms Hebert's conduct, saying she had disclosed her son's West Coast Streetwear firm in 2018.
"There was no violation of company policy, privileged information or conflicts of interest, nor is there any commercial affiliation between WCS LLC and Nike, including the direct buying or selling of Nike products," the company told Bloomberg.
The article describes how 19-year-old Joe Hebert used bots to swarm online sale sites, overcoming systems meant to restrict purchases, to buy up popular, limited edition sneakers.
In one case, he bought $132,000 (£94,780) worth of shoes, which he resold for a profit of $20,000.
He told Bloomberg he never received information from his mother, who worked for the firm for more than 25 years.
Nike holds a delicate place in that market. While the brand benefits from the hype that comes with sky-high prices, limiting shoes too much risks angering customers - and losing out on possible sales.
The firm's decision to release some shoes via its own SNKRS app - opening it up to manipulation by the bots used by Mr Hebert and others - has fuelled debate about its role.
UK-based reseller Tahsin Sabir said Nike and other companies haven't done enough to crack down on such activity, which can lead releases to sell out nearly instantly.
"I think they don't actually mind people doing it because it sort of drives the hype," he said. "They're multi-billion pound companies. At the end of the day, they could do a lot more with their technology to try to stop it."
Nike in a statement said Ms Hebert, who oversaw that app, had made the decision to resign.
On social media, where West Coast Streetwear promoted its trainer finds, the younger Hebert was also hit with criticism, as commentators said the reports of the familial ties cast the business hustle he portrayed in a new light.
"Thanks mom", one commentator posted under one of the firm's pictures.